Ever fancied a family holiday to Hong Kong? Or maybe just want to treat yourself to some childhood nostalgia? Rachael Hawkey has all the best Disneyland Hong Kong travel tips, from places to stay to what to see when you're there. 
Disneyland Hong Kong hotels
Hong Kong Disneyland Resort
This hotel is only a 15 minute drive from Hong Kong International Airport, making it great for stopovers. You can check in online and there is an official app and complimentary WiFi in all three hotels.
A complimentary shuttle service is available between the Hong Kong Disneyland Hotel, Disney's Hollywood Hotel, Disney Explorers Lodge and the Hong Kong Disneyland Park. Departing every 10-20 minutes depending on the time of day, the shuttle can be picked up in front of the hotel to the right of the main lobby. Between the hours of 1:00 AM and 6:00 AM, shuttle service can be arranged by contacting the Bell Desk in the main lobby.
Hotel guests receive the Priority Admission Pass to at least one park attraction, based on the type of hotel room booked.
Disneyland Explorers Lodge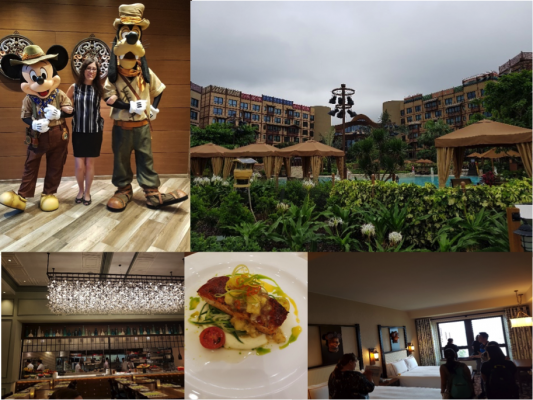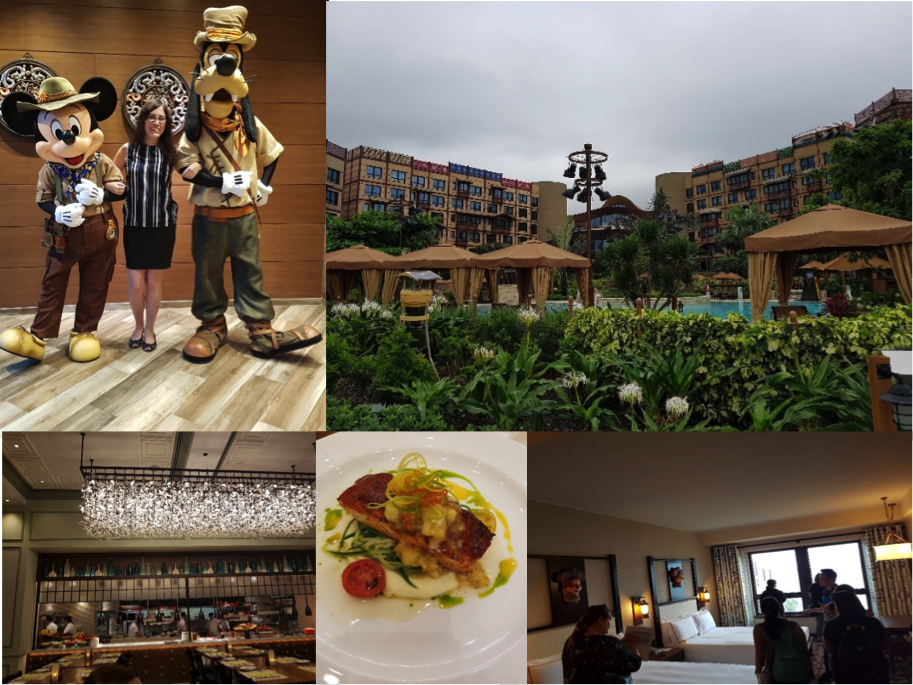 This 4 star hotel – and the newest and largest of the three hotels at Hong Kong Disneyland Resort – is based on four explorers and their journeys: Mickey, Minnie, Goofy and Donald. All four characters can be seen walking around hotel at various times. Its 750 rooms cater to families and interaction.
The hotel has three restaurants. Dragon Wind restaurant is a Chinese restaurant. World of Colour Restaurant is more high-end, artistic and modern with international cuisine. It's not too expensive and has a variety of food with good service. We had a buffet breakfast at Dragon Wind Restaurant Disney Explorers Lodge. There were lots of options, with both Western and Chinese cuisine. We also got to have our pictures taken with Mickey and Goofy. They have a professional photographer there whom you can buy photos from also.
Disney's Hollywood Hotel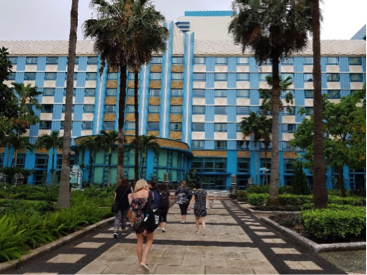 This four star hotel is normally the cheapest of the three hotels. Its decor is Hollywood 1930s deco, evoking classic, antique movies. There are 600 rooms, a free arcade room, five restaurants and an outdoor pool.
Hong Kong Disneyland Hotel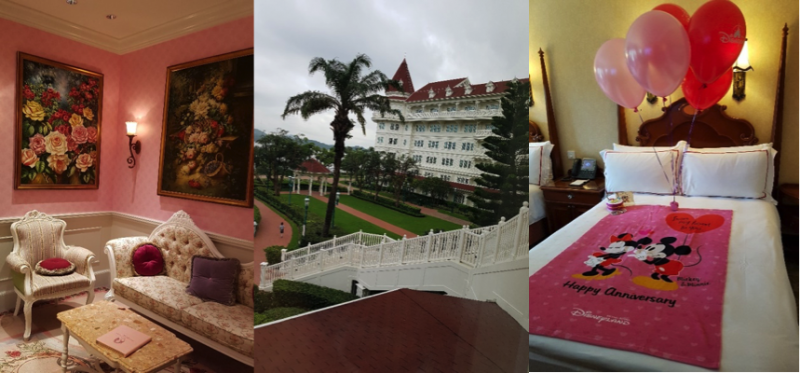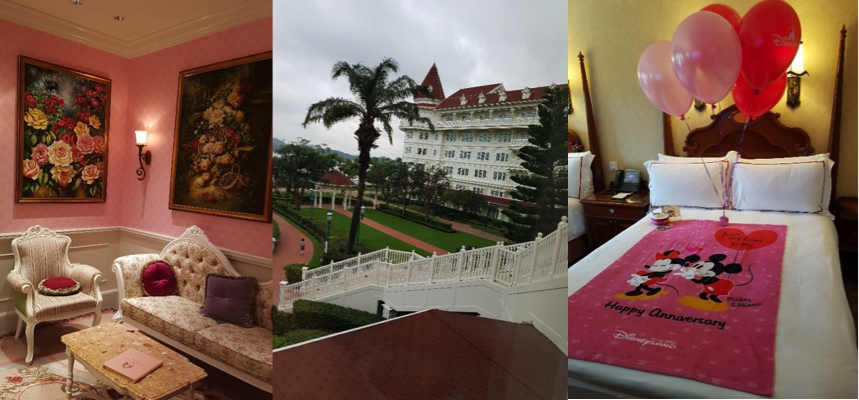 This 5 star hotel has a classic Victorian theme and provides the most activities out of the three hotels at Hong Kong Disneyland Resort. Rooms are themed (e.g. Frozen or Ironman) and you'll find princesses walking around the hotel.
There are three restaurants and an outdoor bar, indoor and outdoor pools, and the Bibbidi Bobbidi Boutique where girls can get dressed up as Disney princesses.
Harbour Plaza North Point
A standard city view room at this hotel has high ceilings and is of a good four star level. There are also one and two bedroom suite style rooms and 50 premium harbour view rooms available.
There's a gym and swimming pool for guests to enjoy. The hotel's Hoi Yat Heen Chinese Restaurant has been honoured with the Silver Award in the Dim Sum Category in "Best of the Best Culinary Awards" by the Hong Kong Tourism Board. It was busy and had very authentic Hong Kong style food.
Hotel Vic On the Harbour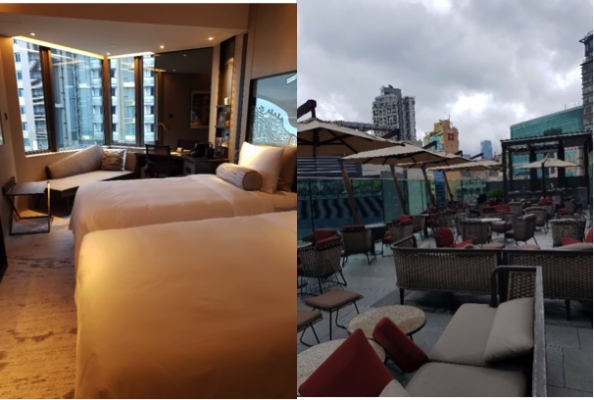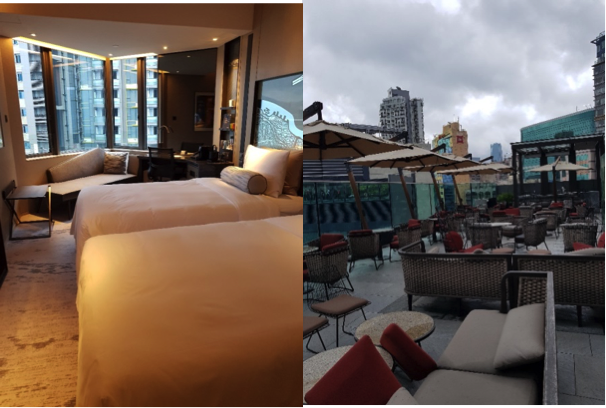 This five star hotel is less than one year old and located in North Point. The first two levels are a shopping mall. All rooms have Victoria harbour and cityscape views. There's an outdoor rooftop infinity pool, along with a rooftop restaurant and bar with an outdoor area providing panoramic views of the harbour. You get a free mini bar on your first day and Nespresso in your room.
The hotel offers a complimentary shuttle bus service to Hong Kong Island's main shopping and business districts, including the Hong Kong Convention & Exhibition Centre​.
Harbour Grand Hong Kong
The Harbour Grand is a five star hotel located in Causeway Bar close to MTR. The lobby is large and spacious and the rooms have good views.
There's a Health Club, spa and swimming pool (separate children's pool also), club lounge and business centre. Modern dining options can be found upstairs with great views and there's also a large light restaurant downstairs with extensive breakfast buffet options.
Eaton HK
We had lunch in the hotel's buffet food area which was incredible. There were different stations with different ethnic foods. I'd recommend going to this even if you're not staying at the hotel. There's also a cheaper food hall also with grab and go options.
The hotel is four star with 465 rooms, a pool and gym. The family room is 28 sqm and has bunks, a sofa bed and separate parents rooms.
Cordis Hotel
The Cordis Hotel is close to the markets and is connected to the Langham Place shopping mall and MRT. The hotel has an emphasis on wellness and includes a gym, spa and pool. The rooftop pool has a bar and icebox.
Those with a penchant for the grape will enjoy the free wine tastings offered at the wine cellar, while foodies will like the Michelin star Chinese restaurant.
Park Hotel
The 347 rooms in this hotel are spacious with high ceilings and are well suited to families. There are 45 family rooms that take four people and have multiple bed options.
Harbour Grand Kowloon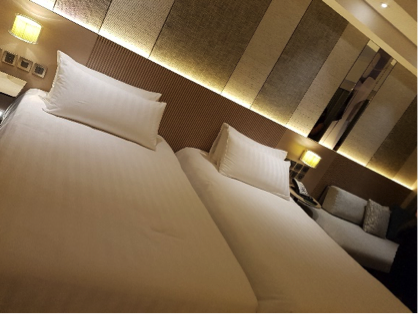 This was my favourite hotel, and I'd especially recommend the new tower rooms that connect via skybridge. There's a good pool area and a spa pool with loungers, along with a 24 hour fitness centre. Six food restaurants provide an array of options. We had a really good buffet dinner with lots of tasty options in Promenade.
The hotel offers a complimentary downtown shuttle bus service to Hankow Road, Tsimshatsui, and drops off at MTR Hunghom Station and Mody Road at Tsimshatsui every half hour between 8:00am and 9:30am. Airport transfer options are also available.
Things to see and do
Disneyland Hong Kong


Disneyland Hong Kong is English speaking – a little different to Shanghai Disneyland which is more Mandarin focused. It's also not as busy. There are seven themed areas with two more planned, and some of the rides are the same as the ones at Disneyland Anaheim (though this theme park isn't quite as lively or large as the one in Anaheim).
Hong Kong Disneyland  is accessible via train from Hong Kong International Airport and the city centre and has a capacity for 34,000 visitors daily. We tried out some of the new rides. Ant Man, the Wasp Nano Battle Attraction and Iron Man Experience Attraction were fun but pretty quick and basic. We didn't see the night parade or projection show due to the wet weather and both being cancelled.
For somewhere to eat that isn't too expensive and more Western food there is a bakery on main street and a Starbucks.
Tour East Hong Kong Island Tour ½ day tour
We visited the famous fishing village of Aberdeen to see the floating community. Our tour guide said this will all be going as Hong Kong wants to reclaim land on the harbour. Our tour guide also recommended we do the Sampan boat trip that goes out around the boats. The fee was $HK70.00. There is such a variance in boats parked up, from super expensive yachts to cheap fishing boats.
We also went to Stanley Markets. We had an hour there which didn't seem like quite enough time. However this markets had an assortment of items to buy so would be worth a trip there another time.
We then drove in the bus up to Victoria Peak. This can get a bit windy in some areas. There is an area to look out and take photos, a Madam Tussauds, shopping and a Gordon Ramsey Bread Restaurant. The Sky Terrace 428 is the highest platform above Hong Kong. There is also a Hard Rock Café Hong Kong Store.
Symphony of Lights Harbour Cruise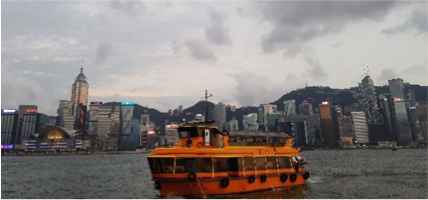 Operated by Tour East, this tour picks up at Kowloon Pier and Hong Kong Pier. You're on a Chinese Style tour boat for 1.5 hours.
A 13 minute display set to music starts at 8pm. 44 buildings around Victoria Harbour erupt in coloured lights and laser beams and searchlights in sync with music.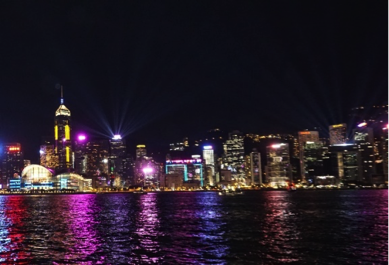 The first time we watched the show we watched from the pier at Kowloon as we missed our boat pick up.
We didn't find light show as bright as expected. It was as good to see it both from the pier and from the boat. There were lots of people standing at the pier so go early to get a good spot.
The second time from the harbour cruise we had unlimited drinks for the duration. The boat goes from one side of the harbour to the other and back. Make sure you get off straight away when returning. People get on from both sides. Try to get a seat upstairs for best views. Because the boat turns you get views of the whole area but it's not necessarily any better than just standing on the pier. I recommend boat appropriate shoes.
Disneyland Hong Kong travel tips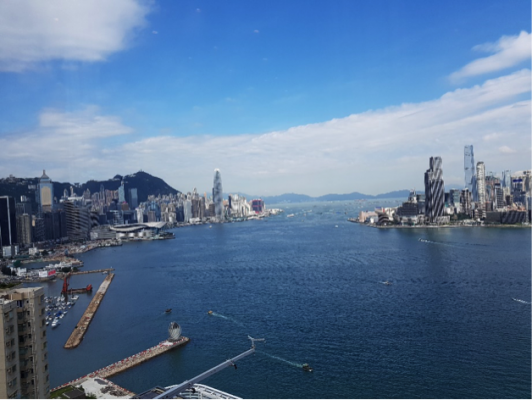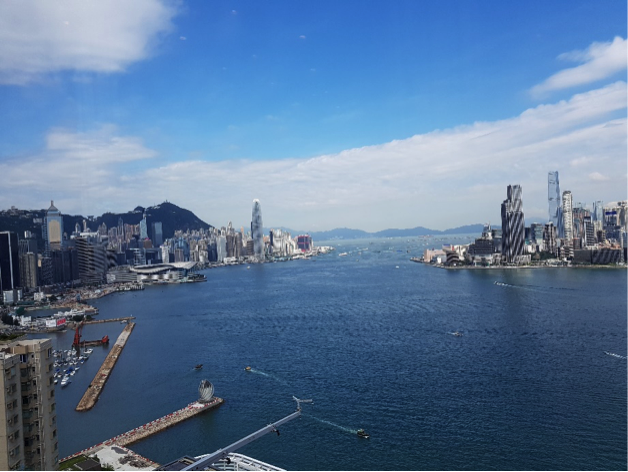 Take your multi international plug converter.
Found it hard to find rubbish bins when we were out and about.
Hotels recommended not to drink the water due to the chlorine and gave us free bottled water.
Hotels recommended getting a taxi receipt.
Found a lot of high-end shopping or stores we have here which were similar to our prices.
Citigate outlet shopping isn't what we view as an outlet shopping mall. Not cheap.
Ladies Markets has designer knock off handbags and purses.
Stop by the Peninsula Hotel for high tea in the lobby or a quick drink in one of their upstairs bars.
Hong Kong International Airport is big, so allow time to get to the gate.
Want some more Disneyland Hong Kong hotel and activity suggestions? Talk to our friendly team about what they recommend.