Sandy Trengrove gives her best tips on what to do in Honolulu and gives us the lowdown on flying Premium Economy from New Zealand to Hawaii with Air New Zealand. If you're thinking about planning a Hawaii holiday, give this a read!
New Zealand to Hawaii flying Air New Zealand
During some months of the year, there is an Air New Zealand flight departing Auckland that travels during the day. It is a bit easier if you are not as young as you used to be and don't want an extremely long day ahead of you. Coming home is easier, as it is a day flight.
We chose to travel Premium Economy with Air New Zealand, which to my delight was fabulous. The food was excellent and it was a relatively small cabin – 2 x 4×2 seats across. Nice seats and a good amount of leg room as well as a recline option. Note that this does not give you Koru access.
We took the night flight and arrived in Honolulu early in the morning. Thankfully, we were given access to our room – I'm not sure how I would have felt if we weren't given our room at the usual check-in time of 3pm – some hotels are now 4pm. Consider reserving your room the night before.
We stayed at The Grand Islander by Hilton Grand Vacations and had a one bedroom apartment with a pull out double sofa bed which suited our daughter perfectly. We were graced with a balcony and a partial ocean view. The apartment had a huge kitchen with everything one could ever need and a wonderful laundry for the washing and drying – a blessing.
The Grand Islander is well positioned within the Hilton Hawaiian Village – perfect for children and the lagoon and then a few yards away the beach. ABC stores are on every corner and you can buy anything from a beer and a bottle of watermelon to reef shoes. It was great to get some takeaway salads, sushi, rolls, fresh fruit, alcohol and so on. Try the dried mango and the tabasco chocolate. There are a number of hotel options in this complex and it a fabulous gym.
Things to do in Honolulu
Here are my top tips on what to do when holidaying in Honolulu:
Take a helicopter flight: It is well worth it – over 45 minutes in the air and we got a fabulous overview of Oahu. We travelled with Blue Skies Oahu.
Hike up to Diamond Head: This is for those wanting some good exercise.
Hire a rental car: Drive around the island and explore the North Shore – a 50 minutes drive north.

Haleiwa is the main town.

Beaches to visit: Waimea Bay/Ehukai and Sunset Beaches, go snorkelling in Sharks Cove or Sans Souci (Diamond Head) or at Hanauma Bay (20 kms from Honolulu).

If driving visit the Makapuu Lighthouse Trail, Nuuanu Pali Lookout, or Tantalus Lookout via Round Top Drive.

Learn to surf: Take a lesson near the lagoon of the Hilton Hawaiian Village with Sam at A'O Mai Surf. Follow him on Instagram – @a_o_maisurf – he was fabulous – US$80.00 an hour and it was over 1.5 hours.  

Visit Pearl Harbour or take a Catamaran Sunset tour.

Watch the sunset: Have a cocktail at the "House without a key" at the Halekulani Hotel (enjoy the free crisps) and watch the show they have every evening. Go about 5-5.30pm to get a seat – US$5.00 cover charge. Then go across the road and have dinner at Roys – their molten chocolate soufflé which they make from scratch is fabulous (20 minutes). Good seafood restaurant – sashimi plate very good at US$38. You must make a booking.

The Modern Hotel has fireworks every Friday night at 7.45pm.

On Wednesday and Thursday nights from 57.30pm the Kailua Farmers market is held in a carpark where the locals eat (this is on my next to do list).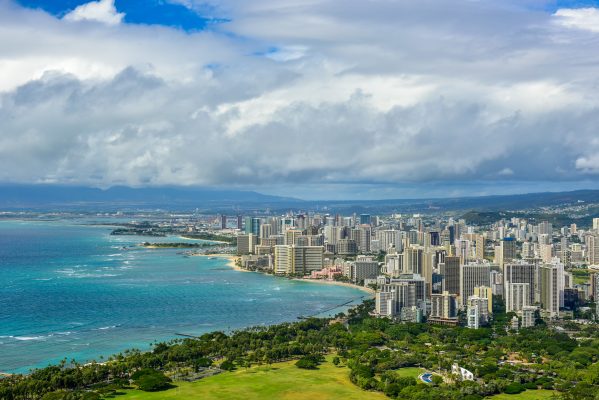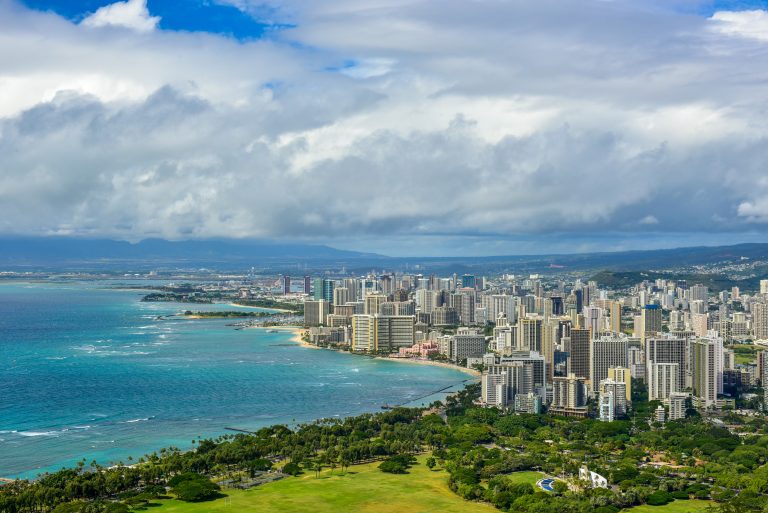 Shopping in Honolulu
If you need a bit of retail therapy, here's where to go:
Alamoana Centre: This is the biggest outdoor mall in the United States, with over 600 shops. It can be overwhelming so it may pay to go twice. Foodlands Farms which is on the ground floor of the centre in the carpark is worth a visit if you would like to grab some takeout food – easy and good food. They make incredible sandwiches with loads of fillings to choose from.

Old Navy, Sephora  and the Nordstrom rack are three of our favourites.  

Waikele Premium Outlets: You need to take the bus or an Uber – it is some distance but worth the effort. Lots of shops to choose from. Make sure you walk across the road to another selection of shops including Old Navy.  
Eating in Honolulu
Here's where and what to eat if you find yourself in Honolulu:
Try Poke – a culinary staple in Hawaiian cuisine – raw fish salad served usually as an appetiser. Delicious!
Our favourite restaurant was The Pig and the Lady in Chinatown – Vietnamese Fusion. It took me four days to get a booking! The Portuguese doughnuts (3) were the best and the Gado Gado salad was to die for. Everything was amazing and I should have booked it before we left and gone more than once. They do have a sister restaurant near the Ward Centre called Piggy Smalls also.  
Arvo Coffee – great coffee (double shot) and fabulous things on toast, salad bowls, etc.This is on the outside of a group of buildings (small – just sit outside). There's lots of great street art including a dedication to Obama. This is a destination. Just around the corner however, is:
Moku Kitchen – we sat outside – fabulous – their specialty as a starter is the roast squash ravioli – delicious. The burgers and tacos were also very good and good value. There's something for everyone, and if you sit outside, there's an area for kids to run around in that's quite safe. There are lots of restaurants in this complex.
Goofy Café and Dine – near Hawaiian Village – organic surf café – casual. One of my favourites – the best omelette ever and great for breakfast and lunch. Wonderful green juice and kale salad too.
The Laylow hotel just behind the International Marketplace in Waikiki has an outdoor area called "The Hideout" on the first floor – great area for having a drink in the evening and breakfast was good also.
Leonards Bakery – famous for its fluffy golden brown malasadas (Portuguese doughnuts).
Chef Chai – they have an early bird menu – seating 4-5pm. US$40.00 per person for a four course dinner. You must order before 5pm and it's closed Mondays. Happy hour from 4-6pm
Bill Grainger from Australia has a restaurant right in the heart of Waikiki – "Bills" – great for lunch and dinner and suits everyone. A large restaurant upstairs – we just walked in.

Chef Morimoto is an Iron Chef America – he has two new restaurants down in the heart of Waikiki opposite the beach:

Upstairs – "Morimoto Asia" – more upmarket. Beautiful setting and you can sit outside also and look at the ocean. Food is very good and service is excellent. People were dressed casually.
Downstairs – "Momosan" – a much more casual affair specialising in Ramen bowls. They also do dumplings, skewers, bao buns – the most tender skewers ever. The Tsukemen ramen was outstanding. Generous serving of wine too. Lovely outdoor setting – brollys and nice comfy outdoor furniture. We just walked in twice.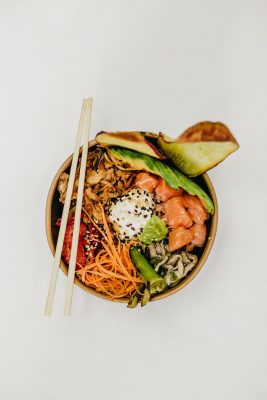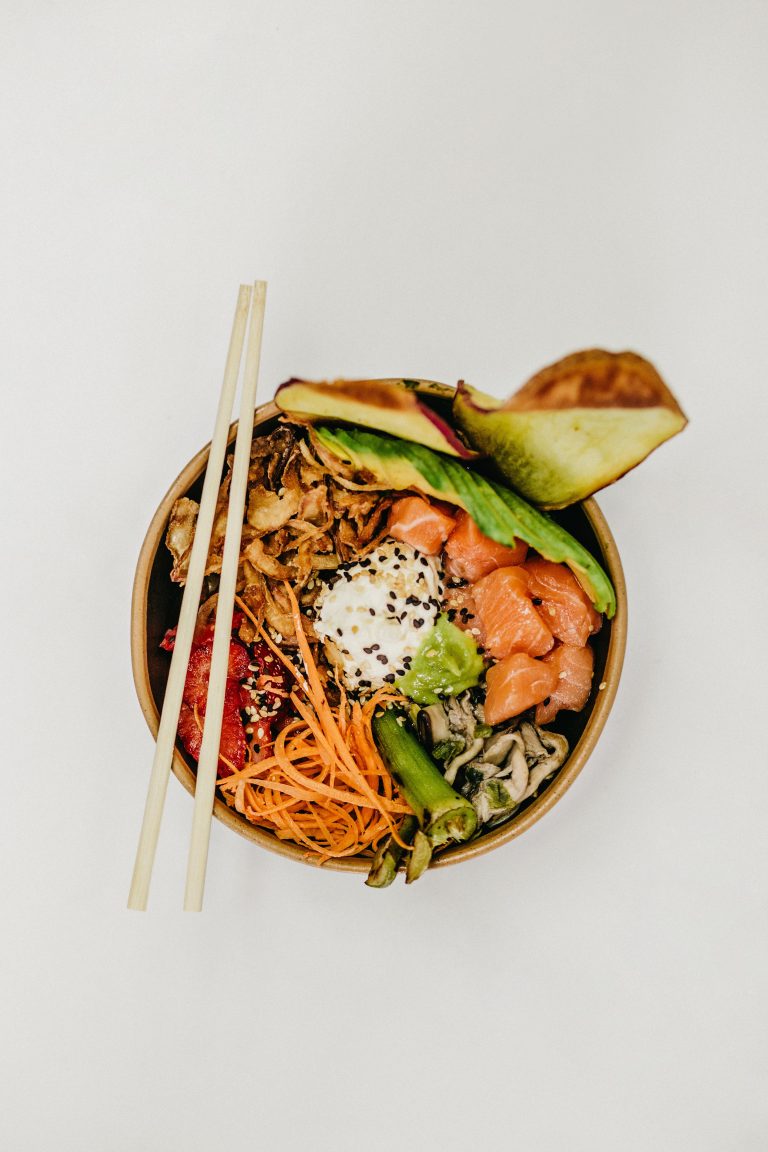 If you're hot and bothered, have sore feet and just want a good coffee or an iced chocolate (the best) then stop off in Waikiki at Gorilla in the Café.
Fancy a takeaway sandwich or salad to have back at your apartment or hotel? Dean and Deluca in the main shopping of Waikiki is also very good and more upmarket than ABC for about the same price.
The Cheesecake Factory is good for lunch. It has good family American food – allow 30 minutes to read the menu. I can recommend the avocado on toast. Similarly PF Changs upstairs is also great and good value.
And finally for sunset drinks try the legendary Mai Tai Bar at the Royal Hawaiian – right on the beach.  
Tips for travel to Honolulu:
If you are a tea drinker and have an apartment take a small packet of teabags with you.

Reef shoes are helpful for children swimming in the sea and the lagoon.

Download the app "OpenTable" to make restaurant reservations – easy and works perfectly. Some restaurants took me four days to get a table. Next time I will book some before I arrive.

We Ubered everywhere – fast and efficient.

When you are waiting for your bags take note that they take the bags off and line them up at the back of the carousel – go there first and see if your bag is there.

Tipping is mandatory and most restaurants offer you choices of the percentage on the bottom of the bill. The minimum is 18%.