The travel agents at World Travellers Riccarton love to share their travel stories with you. Here's Tiffany McCrea-Lennon's account of her incredible trip to the Rockies.
The journey begins
We departed Auckland at 8.10pm on an Air New Zealand B777-200. I was sat in 48D – the bulkhead, perfect! Great service, good meals.
We arrived in Vancouver after 12hours (nice to be able to fly at night). Customs and immigration was fast, but unfortunately that not friendly! It only took 10 minutes to get through, even with long lines of people. We then checked in for our one hour Calgary flight with Air Canada – again, great service. Coffee, tea & cold drinks were complimentary, and you have the option to pay for beer and wine.
On arrival it was only a 20 minute drive to the city. Calgary has a few high rises and lots of cool art around the streets. We saw where the Calgary Winter Olympics were and where Eddie the Eagle did his jump. The day we were there it was -2°C and snowing lightly. It's important to remember that Calgary is 3,500 feet above sea level, Banff is 4,500m and the Rockies 5,200m, so the air is thinner and after a couple of wines you're exhausted!
We stayed at the beautiful 5-star Fairmont Palliser hotel that the Rocky Mountaineer uses as part of their tour. Meals are not included, but can be added. Food in the main restaurant is amazing. The entry level room is the Fairmont, the next room type is the Junior Suite and then there's the Gold Room with separate living area.
Day trip to Banff
We took a day tour to Banff in the Kananaskis area. It's a small resort town similar to Queenstown about a one hour drive from Calgary, but once there, there are lots of outdoor activities including helicopter sightseeing tours (but ours was cancelled due to weather). In the National Parks you can spot cougars, wolves, coyotes, buffalo and elk. There's a natural history museum, Bow Falls and golf courses. Taking the 8-minute gondola ride usually affords you stunning views of the Rockies, but as it was snowing we couldn't see anything. We stayed at the beautiful Banff Fairmont Hotel.
I would only recommend one night in Banff unless you're a big outdoors person who loves skiing, tramping fishing, etc. Visit the Banff Visitor Centre especially if traveling on your own – it has all the ski details, fishing licenses and so on.
We also stayed at Rimrock Hotel. It's a lovely hotel, but room lighting minimal, so it felt quite dark. There are 350 rooms with four room types. Reasonably priced food is offered in the main restaurant, however there is also a fine dining restaurant. Very friendly staff, mainly Aussies. Perfectly located next to the Banff Hot Springs and walking distance to the gondola. The hotel also provides a handy free-of-charge bus card, as the hotel itself is about 3km up the mountain.
Some of us booked a wildlife tour for $49 in the hope to see moose, elk, mountain sheep, cougars and bears. Unfortunately we didn't see any bears but we did see the rest. Really cool! A bear had been seen in the town earlier that day and also around our hotel in the past few days.
Lake Louise
Our next stop was Lake Louise and the iconic Chateau Lake Louise – a huge hotel perched overlooking the lake. When we were there Lake Louise was totally iced over and covered with snow. In the winter the lake can be skated on and in summer you'll see non-motorised boats.
We stayed at Emerald Lake Lodge – perfect for honeymooners, couples and friends. It's away from everything, with no TV or internet connection in rooms – heaven! There's a hot pool outside overlooking the lake and mountains. Rooms are quaint and very Swiss-looking. There's an open fire in every room with either twin or double beds. Amazing food in the restaurant with all sorts of game meats e.g. bison (delicious), duck and salami made from elk!
The hotel is ideal for skiers in the winter, or for tramping, water sports and nature enthusiasts in the summer. It may not be so good for the elderly, or those with physical limitations, as there are many steps.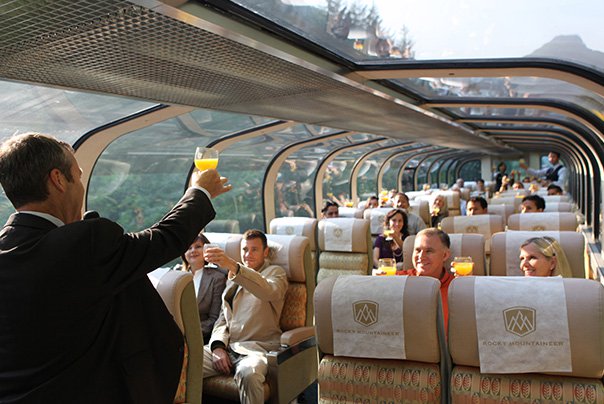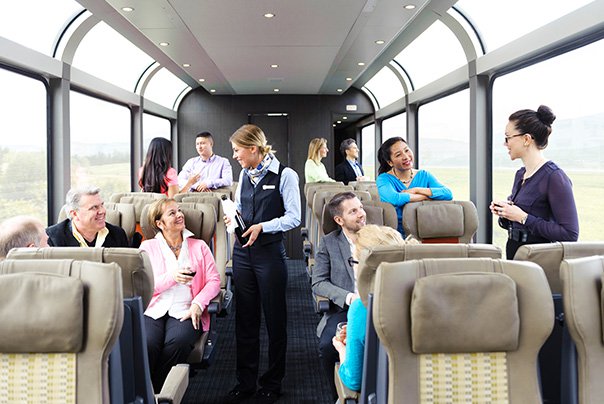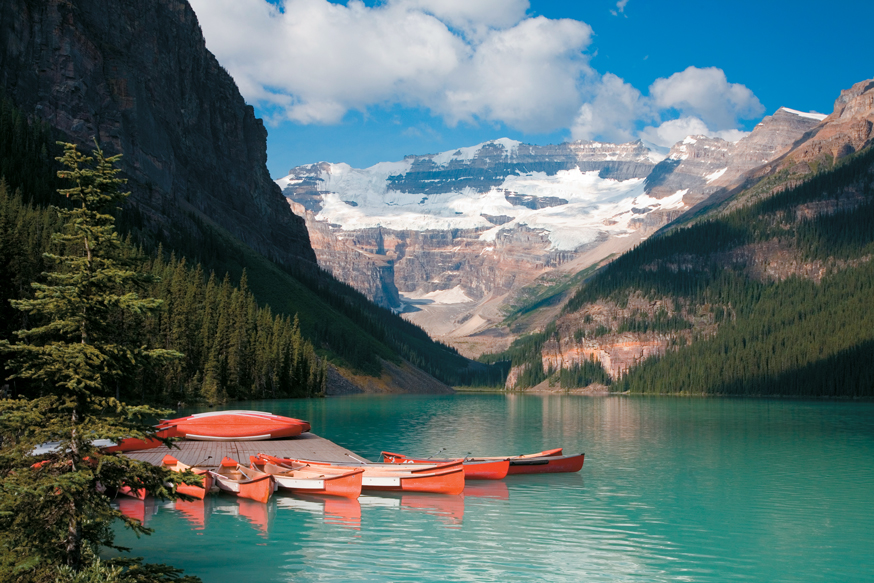 All aboard the Rocky Mountaineer
After Lake Louise it was time to board the famous Rocky Mountaineer bound for Vancouver with an overnight stay in Kamloops. Luggage doesn't come on the train as it gets trucked to your destination. At the beginning of the journey your luggage is tagged with both hotel names and is miraculously in your room when you arrive!
There are two service level options: GoldLeaf and SilverLeaf. GoldLeaf cars are split level, with panoramic views enjoyed from fully domed glass windows on the top level. The dining area is on the lower level and features large picture windows. SilverLeaf is single level and guests still enjoy views through large domed glass windows – they just don't go quite as far up the roof as GoldLeaf. Both options have gourmet meals and drinks, including alcohol, as part of the package. GoldLeaf meals are freshly cooked onboard and served on the lower level of the car in rotation – the group that ate first on day one eats second on day two. In SilverLeaf the meals are pre-cooked, heated on the train and served at your seat. You are confined to this one seat for two days and if you don't know the person sitting closest to the window this could be annoying when you want to see out of it! There are four staff per car for GoldLeaf and two staff per car for SilverLeaf.
We were lucky enough to travel in GoldLeaf Service. Boarding time was 9am and we were immediately served orange juice. Breakfast was served downstairs with about seven choices on the menu. Each one was freshly cooked and beautiful! Throughout the day unlimited drinks are served, lunch is three courses and while the first group is having lunch the second group gets a small cheese board.
The scenery is absolutely amazing, with mountain after mountain (there are 1,100 mountains in the Rockies!), rivers and lakes and wildlife like mountain sheep, elk, deer, eagles and osprey. Arrival into Kamloops is estimated to be between 5.30pm and 7.30pm – we arrived at 7.15pm.
For our overnight in Kamloops we stayed at Hotel 540, a 4-star hotel close to the train station. It has a pool and fitness room, and is close to shops and restaurants – if you feel the need for more food that is!
Pick up from the hotel is 7.15am to begin day two on the train. The red carpet and Canadian flags lead the way to the door where staff are happy to greet you onboard again. And so it all starts again today, except the people on our carriage have started to mingle with each other which makes it a different type of day. The scenery has changed dramatically since leaving Kamloops with massive lakes and rivers, small towns, ghost towns and it's all very green (it's very comparable to Central Otago just on a much larger scale). We can see so much more bird life today – eagles and osprey AND a brown beer right near the track! The one thing we had all been looking for for days and we thought our luck had run out! So cool!
As we approach the station the ground staff are lining the platform to welcome us, waving and smiling. The Rocky Mountaineer was such an amazing experience, nothing was a problem for them. I definitely recommend travelling in GoldLeaf.
Again, arrival time is approx 5.30pm-7.30pm. We don't arrive until 8.15pm, but knowing we were running behind, the onboard chef cooks up a light dinner for everyone! While approaching Vancouver the staff thank us for being an awesome group and they take us through a short yoga session to get everyone limbered up for disembarkation and help stop "train legs".
The overnight hotel for GoldLeaf is the Four Seasons Hotel, a beautiful 5-star hotel with 28 levels and you are allocated a Deluxe Room, which is one room type up from the lead-in Superior. The Deluxe Room is huge with a 3-seater couch and two double beds or a king size bed, welcome cookie and chocolate from Rocky Mountaineer. Anyone who chooses the meal plan gets a special menu from Rocky. 3-course dinner and the food is exceptional.
Vancouver and Whistler
In Vancouver we walk to Stanley Park which is 8km in circumference, hire a bike, go up the lookout and take a ferry ride across the river.
We took a shuttle transfer to Whistler where we stayed at the Delta Whistler Village Suites. Great accommodation with full kitchen facilities and laundry. Separate bedroom with either king bed or twin beds and a double pull-out sofa fits up to 4 pax. Two bedroom units fit up to six people, all with a small patio and outdoor seating. There's a full-size swimming pool that's inside/outside, two spas and a small gym. There's a restaurant attached to the hotel and staff are friendly.
Whistler has many ski slopes and a 360° gondola accesses them all. In the summer the mountains transition into mountain bike tracks. For CAD$117 per day you can purchase a one or two day lift pass. I recommend the Brewhouse restaurant for good food and craft beers brewed on-site, all served in a very nice atmosphere.
We are transferred back to Vancouver airport, which takes approx. two hours. We check-in for our 13 hour 45 minute flight home, which was easy and reasonably quick!
Must sees in Canada
Two Jack Lake (actually more beautiful than Lake Louise)
Lake Minnewanka
Tunnel Mountain
Cascade Mountain. Ski in the winter and a scramble in the summer. 11-12 hours return from Banff – scramble means steepest climb before needing ropes.
Best ski resorts: Kickinghorse near Banff and Lake Louise
Tiffany travelled to Canada in April 2017 courtesy of Adventure World, The Rocky Mountaineer and Air New Zealand. Want to experience something like Tiffany did on her trip to Canada? Check out all of the Canada experiences we have available.