Myanmar is a magical destination filled with incredible history, culture, landscapes and people. Travel specialist Sue Beechey tells us all about this wonderful country she had the opportunity to visit.
Myanmar (also known as Burma) is a land of great history, with thousands of ancient temples and, in latter history, a colonial influence. It offers beautiful scenery with lakes and mountains and the great Ayeyarwady River. It's a very traditional and deeply religious country, but it was refreshing to visit a country where some of our guides had never met kiwi tourists before and to also have the locals wanting us in their photographs – such was our experience in Mandalay.
Where is Myanmar?
Myanmar sits North of the Bay of Bengal; with Bangladesh to the West, India to the North West, China to the North East, Laos to the East and Thailand to the South West.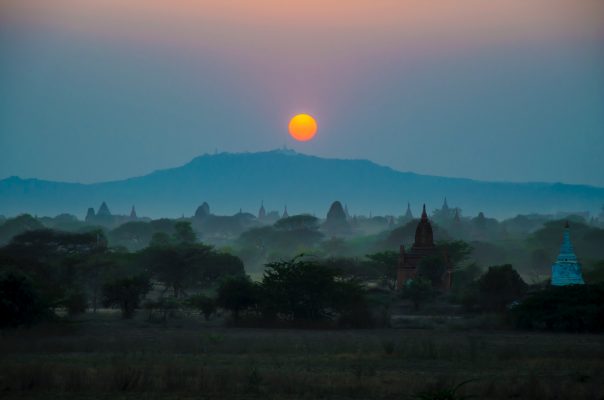 Entry requirements for Myanmar
To enter Myanmar your passport must have 6 months validity beyond your departure date. A visa is required, however New Zealanders are now able to apply for the new e-visa (at a cost of USD50) that grants you a 28-day single visit entry.
Once you complete the online application, the Visa Approval Letter can take up to a week to come through, so bear this in mind and allow plenty of time. Print the letter off and take it with you to present upon entry to Myanmar. The validity of the approval letter is 90 days from date of issue, so don't be too organised and request it too far in advance!
At the time I visited it was so new it was a bit confusing to see which queue you needed to stand in to go through immigration. There was a long queue for a 'pre-approved visa on arrival' which is different to the e-visa. The great thing about the e-visa approval is that you head straight for immigration, where there are two further forms to complete upon arrival. The airport staff were really friendly and welcoming.
Getting to Myanmar
We flew Cathay Pacific there and back, with an overnight flight going over, but a lengthy full-day in transit in Hong Kong coming back. We were lucky enough to fly business class on the way there (with the fully flat bed!) and premium economy class on the return. Premium economy is essentially the same as economy, but your seat has 6 more inches of leg room. Perfect if you're slightly taller than average. For couples travelling business class on the A340 I would suggest trying to secure opposite aisle seats A and D.
Other international airlines that service the route to Myanmar from New Zealand are: Thai Airways, Malaysia Airlines, Singapore Airlines with Silk Air, as well as Vietnam Airlines via Australia.
Population
Over 70 million people live in Myanmar with more than 7 million living in Yangon (previously Rangoon). 85% of the population is Buddhist and although poor, they are cheerful and friendly, and genuinely interested in the outside world.
Climate
There are 3 seasons in Myanmar:
Hot season: March – April
Rainy season: May – October
Cool season: November – February
However that is not to say the cool season is cold! Average temperatures in Yangon in the cool season range from 18-32 degrees Celsius vs the hot season which is 24-39 degrees Celsius.
If you're visiting northern Myanmar take a sweater or jacket for the cold season. Don't be deterred by the rainy season, as the rain is generally sporadic. Mandalay, which lies to the north, is drier than Yangon and receives only a quarter of the rain Yangon receives. Bagan lies in between Yangon and Mandalay; it's the dry, hot area and can reach temperatures of 40 degrees+ in April and May.
Lower Myanmar is more humid. As a result there is often haze that develops in the morning. A direct result of the haze means the domestic flights are scheduled as early departures. The smaller aircraft used for the internal flights do not have navigations systems on board and therefore are not equipped to fly in any haze due to the low visibility of the pilots.
Domestic flights
We flew Asia Wings domestically. Even on a short flight a meal was offered (albeit not very nice). The aircraft on all the domestic carriers is either an ATR turboprop or a small Airbus. Baggage allowance is 20kgs and hand luggage is very restricted due to the limited overhead compartment space. Interestingly, not every flight has seat assignment and on one of our internal flights we could choose where we sat.
Airport tax
Although there was mention of a US$10 departure tax, we did not pay, so presume this is now part of the collectable ticket taxes.
Burmese food
Burmese food is delicious – mainly rice, rice noodles and curries, and more subtle tasting than Indian food. If you live in or are visiting Christchurch head along to the Rangoon Ruby Restaurant for a sample of what you can expect (but be sure to pre-book as it's very popular). If however, you prefer international food, there are plenty of choices for this too.
Shopping
Lacquerware was a popular purchase. Prices are negotiable, so try your hand at bartering. If you can barter down the price by 20% you have done well. Please be aware it is prohibited to export antiques out of Myanmar.
Belmond's Road to Mandalay
River cruising is a great way to explore Myanmar! Belmond offer a top-end product with cruises from 3-11 nights. They have two ships, The Road to Mandalay and the newer ship the Orcaella. We enjoyed a  three night cruise from Mandalay to Bagan.
The Road to Mandalay is a converted Rhine Cruise boat which has been gutted and remodelled to house guests after a luxurious experience. There are 43 cabins with a maximum capacity of 82 passengers.
Cabins types include Single, Superior, Deluxe, State Cabin and one Governor's Suite. I stayed in a State Cabin, which is the most popular category. The deluxe deck was right on the water line which is important to consider, but I did not see a problem with this, as you still had a view of the passing scenery.
It would be difficult to fault this cruise. The staff are fantastic, the cabins are very comfortable and the food excellent. By choice, I would have appreciated more Burmese food. We did have a Burmese themed lunch one day and a couple of Burmese dishes here and there, but when talking to one of the other cruise passengers, he stated that he really liked the international food choices, as he is not fond of curries.
Meals consisted of buffet breakfast and lunch and table d'hôte dinner. There was a free cocktail of the day prior to dinner and free beer or juices throughout the day.
Although the dress code was smart casual, the ladies did dress up a bit for dinner. Men were fine in long trousers and an open-necked shirt.
Facilities included a pool deck; boutique, medical centre and a Well Being Centre.
Wifi was extremely slow and only available in the lounge area.
The cruise was nicely paced with plenty of time to relax, free tours each day and also nightly entertainment such as a traditional puppet show. Some things were at an additional cost such as a personal reading with the astrologer for USD$20. The highlight of my trip was sipping champagne on a gondola watching the sun setting behind the world's longest teak bridge 'U Bein Bridge' which is 1km long and over 200 years old. The light over the lake was amazing!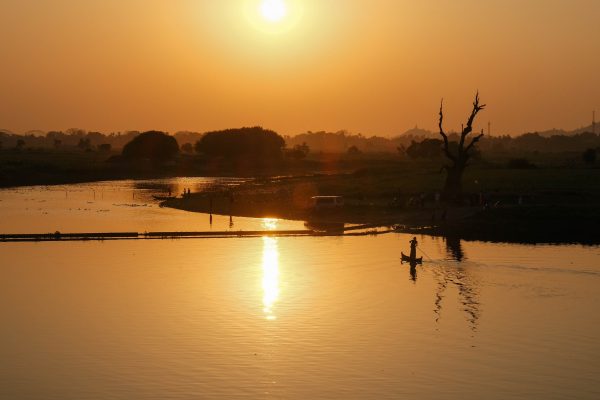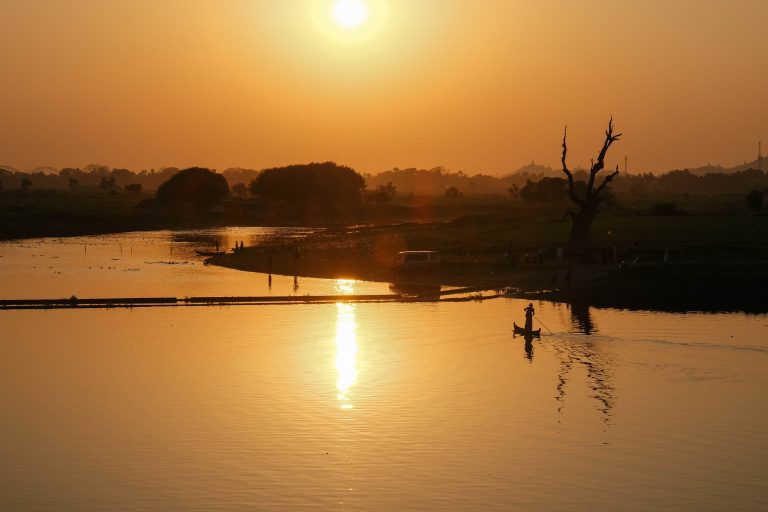 My visit was just a small taste of what Myanmar has to offer and would ideally be extended to explore the country more. An additional night in Mandalay prior to the cruise and at least one additional night in Bagan post cruise would have been good. Also a side trip to Inle Lake for three nights would have been an interesting add-on. For those chasing sea and sand, you could fly to Ngapali on the coast for a beach stay.
We had one night pre and one night post-cruise at the Sule Shanri-La in Yangon. It's in a handy location and walking distance to Scott Market which is open daily and offers good shopping for last minute souvenirs. The hotel was extremely comfortable (as you would imagine with the Shangri La chain). Despite it being very busy with lots of wedding breakfasts, the service was top notch. Breakfast was excellent as was the Horizon Club Floor Lounge, which was great to use until our late airport transfer departing at 11.15pm.
We visited the usual hotel for Belmond guests in Yangon, the Belmond Governor's Residence. It's full of colonial charm and a real gem with only 49 rooms. We all loved this hotel.
We also visited The Strand Hotel in Yangon which is part of the Small Leading Hotels of the World. Again a very charming property and an excellent stop for a lunch visit. The only down side was there is no pool at this hotel.
Impressions of Yangon
It is not the prettiest of cities but has a lot to offer. There are many temples and pagodas including the mighty Shwedagon Pagoda which had serious Buddha Bling – amazing!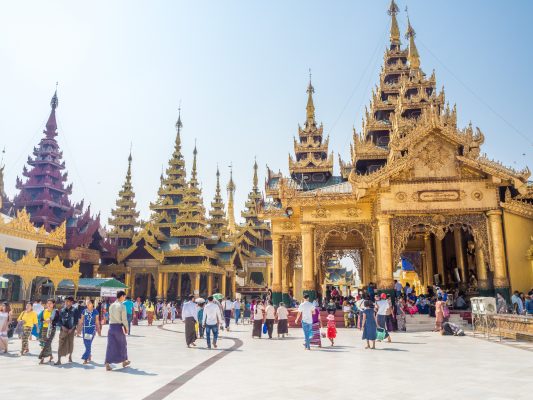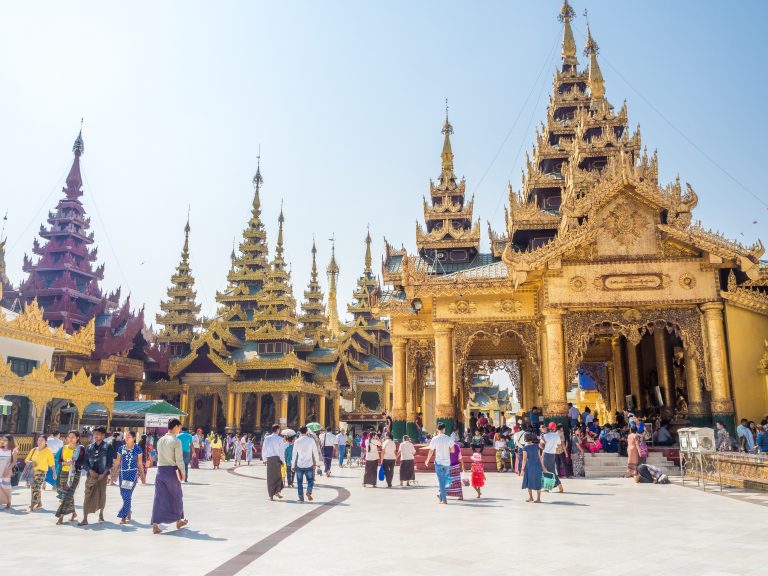 You can stop outside the home of Aung San Suu Kyi where she was placed under house arrest in 1989. She is the hero of the Myanmar people. We were told by our guide she would be very likely to win an election if she stood for Prime Minister.
Traffic was unbelievable. You would need to be very aware of the transfer time for any flight connections.
Helpful hints for travel in Myanmar
Contact your health clinic in plenty of time prior to your departure to check on any health requirements recommended.
Take enough US dollars in cash to cover your expenses. Credit cards are not widely accepted unless you are staying in a deluxe hotel and even there they will charge fees up to 8% for a credit card payment. Notes must be unmarked without wrinkles, folds or tears. I noticed on several occasions that USD notes were rejected as they were not up to their preferred standard. Be careful to also inspect the change you are given to ensure these notes are also in a new and unwrinkled state.
ATM machines are now available in the main cities BUT will only allow withdrawals of very small amounts, currently around US$20 + they incur a high service fee per transaction. The ATM machines can also be very unreliable.
The local currency is known as 'kyat' pronounced as 'chat'. If you work on an exchange rate of 1000 kyat to US$1 you can't go far wrong.
Tipping, although not compulsory, seemed as though it was expected. You would tip US$10 – 15 per day for a guide; US$5 – 7 per day for a driver if less than 4 people in the group. If you are part of a bigger tour group, then a guide would be US$5 – 10 per day and US$3-5 per day for a driver. Maid service US$2-3 per day and porters US$2 per service. In restaurants tip 5 – 10 % of the bill but first look at the bill to see if a tip was automatically included in the final charge.
Mobile phones – unless you buy a SIM card (best to purchase at Yangon airport) you will not be able to use mobile roaming.
Internet – is very slow and intermittent even in the large hotels. Do not save your password on public computer terminals!
Electricity 220 – 230 v. The most common socket is 2 pronged although the boat and the hotels we stayed in all had international plugs. I took UK plugs and they were fine.
Wear light-weight clothing BUT ALWAYS cover up when visiting temples, monasteries and pagodas. The signage at the entry points was very clear about this and no spaghetti straps were permitted. Knees and shoulders must be covered. Only long shorts permitted.
Wear sensible, comfortable walking shoes which can be easily removed when required. Socks must also be removed when visiting a religious site so sandals and jandals are ideal for short trips out.
Take an umbrella for sun shade – which is also handy if it rains.
Take Evian face spray to cool you down.
Hong Kong
Use the MTR System to get around and also the Star Ferry between Kowloon and Hong Kong Island (buy a token from the machines first).
We visited during the occupation of the students in the Mong Kok area. The students had been carrying out their occupation for a month. Roads were blocked off and the protesters gathered at night time. We saw the barriers, tents, and placards stacked during the day, but no sign of any students. The locals are now getting fed up. An expat Kiwi gentleman was telling me their petition had been signed by 855,000, but what was not covered by the media is the one million plus signatures against the student action.
The Luxe Manor Hotel
We stayed here on the way over. It's a boutique hotel in a great location in Kimberley Road. The rooms were small and comfortable and slightly wacko with cardboard cut-out fireplaces in the rooms (it would not be to every one's taste!) They had the novelty of free use of smart phones for guests during their stay allowing for unlimited free international phone calls – BONUS! Plus they offered a great buffet breakfast.
Regal Airport Hotel
We had a day room on the return leg of our journey. Although attached to Hong Kong airport this hotel is not easily signposted and you may have to ask the airport staff for directions. It has a lovely pool area and very comfortable rooms. The only thing that let it down was the reception staff who are very slow and could not seem to get the basics right, like assigning inappropriate rooms.
A FREE shuttle bus runs to the Citygate Mall every 30 minutes. Citygate is a huge Mall with every shop going. The Novotel Citygate Hotel is attached to the Mall and is also a popular choice as an airport hotel and comes with the added bonus of a FREE airport bus. It's such a popular hotel it is sometimes difficult to get in.
Sue travelled to Myanmar courtesy of World Journeys in October 2014.