Sue Beechey informs us of some of the hotels in Bangkok, Krabi and Phuket and the type of travellers they're best suited to. She's also got some great tips for travel to Thailand and what to see and do while over there.
The flight over
We flew economy class with Thai Airways on a direct flight from Auckland to Bangkok on a 777 300 series which took 12 hours 15 minutes. Business class has comfortable lie flat seats. The inflight service was efficient and we were served two meals and a snack over the 12 hours.
The internal flights from Bangkok to Krabi and Phuket to Bangkok were both around 1 hour 20 minutes. They were excellent with comfortable seats and a tasty hot snack and beverages served during the flight.
From August 2018 Thai introduced their Dreamliner between NZ and Thailand. Our return flight to Auckland was around 10 ½ hours. The inside of the cabin felt spacious with a high ceiling and large windows. There is no blind to pull down on the window; the outside light is controlled by the crew so when it was time for breakfast it suddenly became daylight – very clever. The cabin air was certainly fresh.
Thai were good and have a great network to Japan, India and Europe.
Transfers and sightseeing in Thailand
Tour East operated our transfers throughout and were excellent. The meeting point was not easy to spot upon arrival at Bangkok Airport. However, after asking the airport staff for directions we were soon whisked away to our hotel which only took around 40 minutes at the later hour of 9.30pm.
Aside from Singapore and Hong Kong which have efficient airport transportation options, I would always suggest pre-booking arrival and departure transfers with Tour East in Asia. On our transfer to the Phuket airport, we passed a bus which had crashed off the road in the opposite direction and caused a tailback for miles. The Tour East staff have a group chat and are able to report any incidents to each other. I would have confidence in them being able to assess enough journey time for clients to catch their flights if there was a delay en-route.
Damnoen Floating Market, Bangkok by Tour East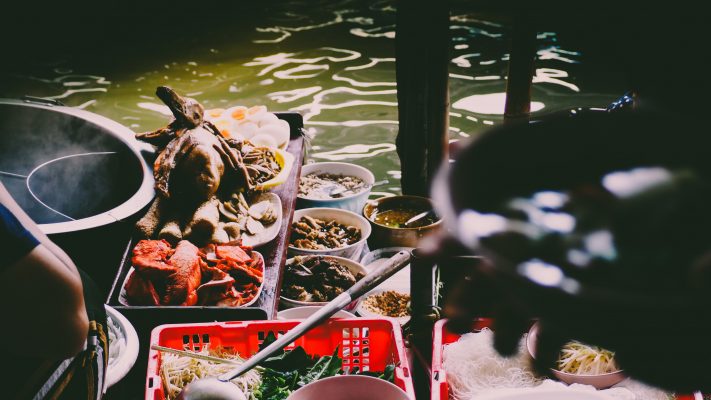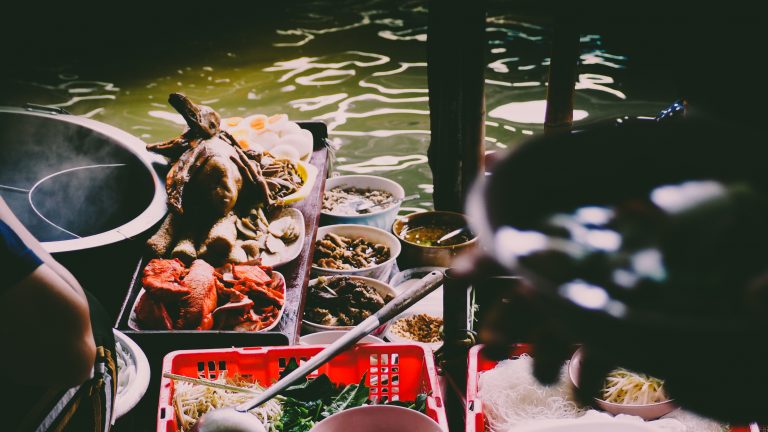 Damnoen is the original floating market. Whereas it used to sell veg, produce and flowers, it is now purely aimed at the tourist and sells overpriced souvenirs, however it is a great photo opportunity. Our guide told us that since Tesco had arrived into Bangkok the locals no longer had need to go shopping in this way and so it's now evolved into something aimed at tourists.
After a 6.30am start we picked up passengers from one other hotel then embarked on a 90 minute journey with a stop en-route at a Coconut Sugar Producer with demonstrations, and of course the inevitable tourist stalls but also toilets. We were dropped off at the Damnoen Floating Market but to do the floating market by boat you were charged another 900 baht for a boat for four passengers. Alternatively, you just wandered around the market stalls which are located either side of the canal and connected by a bridge.
Full day Hong Island Tour, Krabi by Tour East
Pick up was at 9am and we were back at 3pm.
This was well worth doing if the weather is good. You are taken to two beautiful beaches before reaching Hong Island where we enjoyed a yummy lunch and a couple of hours to snorkel and swim or do a walk along the cleared path in the forest. The water was quite cloudy due to the monsoon season. There were hardly any fish as there was no reef.
Be aware for clients with mobility issues, as the access to Hong Island is by a floating pontoon.
Sea sickness tablets were supplied for those that needed it and good quality life jackets were provided.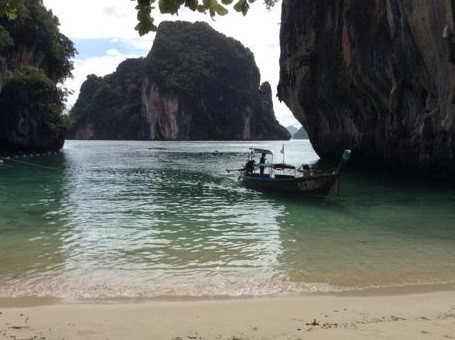 Bangkok Hotels
Amari Watergate Hotel – 5 star
We stayed here for our first night. The position is great, especially if you love shopping as it's in the heart of the Pratunam area. The Platinum Shopping Mall is opposite the hotel and the Pratunam Market is in the same block as the hotel.
The large airy lobby is very impressive and the service good. Our room was a lead in category 'de-luxe' and very comfortable. We inspected a grand deluxe room which is the same size but higher and instead of dark wood furnishings had light wood and a more modern bathroom. There are also Executive Club Rooms.
It had a fantastic restaurant with the best choice of breakfasts I have seen in any restaurant.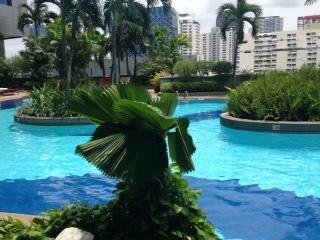 Royal Orchid Sheraton – 5 star
We enjoyed a hotel inspection with a difference. We were first given a walk around the hotel surrounds to appreciate the unique location. Close by were some very arty warehouses which had some cool stores and cafes. The hotel is positioned right on the river so very handy to take a boat across the river for BHT 5 to visit a market and also handy for boat tours.
It is built in the shape of a Y which means that every room has a river view. The club lounge had amazing views over the river.
Rooms permit two adults and two children – just request at the time of booking.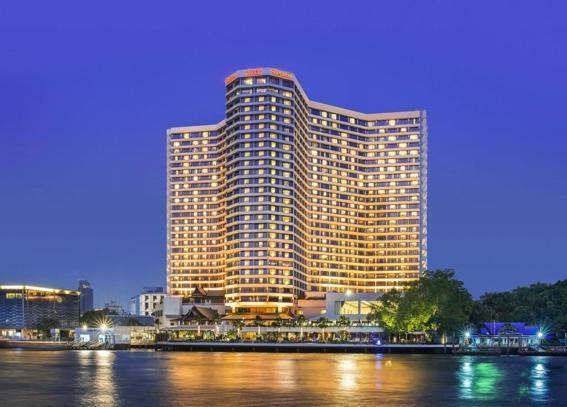 Siam @ Siam Design Hotel – 4 star
I loved this hotel. It was previously used as offices for a big car company and converted to a hotel. It kept its industrial style and focused on quirky art pieces. A lot of thought has been put into it to keep a boutique theme. There was a fabulous rooftop bar and restaurant area. The infinity rooftop swimming pool was very different with a small over-crowded sun-bathing area adjacent to the pool.
Because this hotel does not belong to a chain it works on its point of difference. It may not be to everyone's taste but it's great if you like eclectic and quirky things. The hotel has attentive staff who take pride in their hotel. This is a great choice for couples.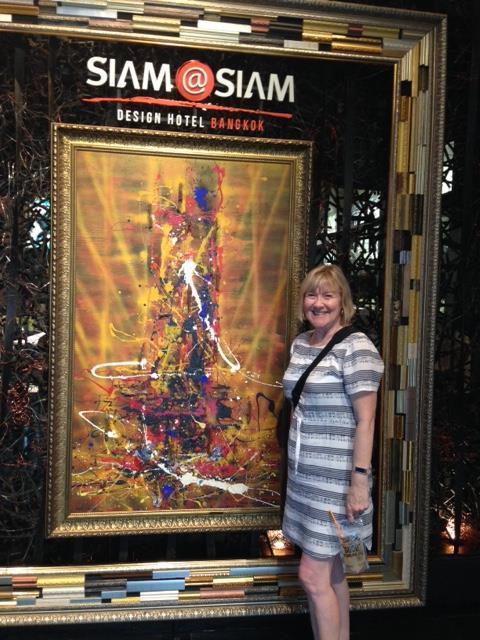 Pathumwan Princess – 4 star
We stayed here for two nights. It's a very popular hotel as it is well placed for shoppers. It is attached to the MBK shopping mall. From there you could walk through to another two malls which were all linked together by covered walkways – handy as it rained heavily when we had a wander around. The food hall in the MBK mall was a bit different. You prepaid for a ticket at the entrance to the food court where you received a voucher that was presented to a stall of your choosing. Any leftover money on your ticket was refunded as you exited. A two course meal will cost you around NZ$12.00.
This hotel would be suitable for families or couples.
Krabi Hotels
Krabi Thai Village – 4 star
Although this resort had some great family rooms with an upstairs mezzanine with a double bed for Mum and Dad and twin beds downstairs, they were all located on the third floor and there were no lifts. This would make it hard work going up and down the stairs with young children in tow. The pool area was nicely laid out for children. It's a good price and would be worth considering for families with a limited budget but do be careful to warn about carrying everything up and down stairs.
Centara Grand Beach Resort and Villas Krabi – 5 star
The only access is via boat and then onto a floating pontoon or via a steep and windy walk which is called the Monkey Trail. We were warned that due to the rough seas and bad weather we may have to walk in. I was glad we did as the floating pontoon looked terrifying. The hotel was lovely – set in the most beautiful spot. All rooms were well set out and beautifully furnished. Recommend to fit and mobile couples.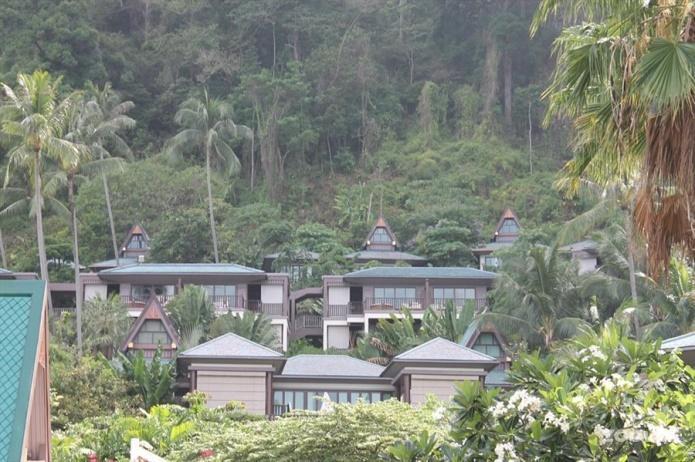 Centara Anda Dhevi Resort & Spa – 4 star (
where we stayed)
Located right in town and a five minute walk to the beach. There were families and young couples staying here. There is a good pool with a waterslide and also a kids' club good for families. The rooms can sleep two adults and two children. The rooms were a good size, although the decor in the rooms was tired. The bathrooms had a separate shower as well as good sized bath.
It took four hours to drive from Krabi to the Kata/Karon area of Phuket.
Phuket Hotels
Katathani Phuket Hotel, Kata Noi Beach – 4 star
I loved this hotel. It is a huge hotel with room to spread about. There are six swimming pools, four kiddy pools, three Jacuzzis, two bubbly water springs and a mini water slide. There was a great kids club which is free for over four years (under four require a baby sitter and a fee is charged for this service).
Despite its large size the hotel looked well cared for and the grounds are well manicured.
The position is in a quieter area in Kata Noi Beach (south of Kata Beach) and is a short distance to the shops and restaurants of Kata. Patong is 20 minutes away.
Kata Beach is the safest beach during monsoon season (mid May to mid October).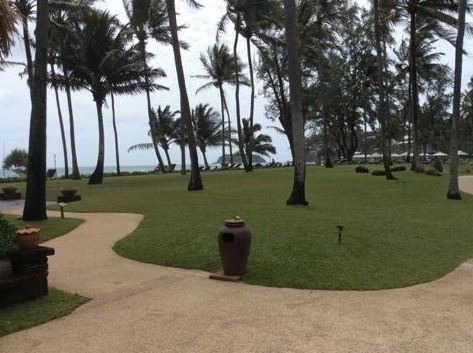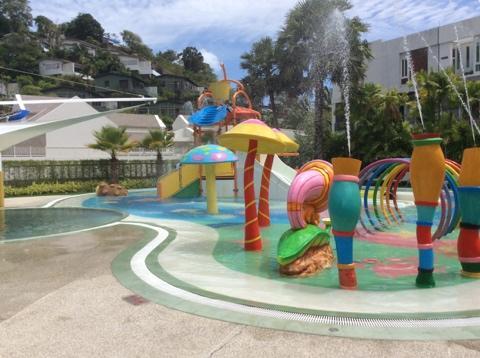 Movenpick Resort Spa and Villas Karon Beach Phuket – 5 star
This hotel has many facilities for families to enjoy.
All rooms have either a view of the mountains or the sea. The lead in rooms 'superior' and 'superior sea view' are a good size at 36 square meters and can sleep two adults and two children. A small child would sleep on the day bed and there is a rollaway for a second child. The garden villa and plunge pool villa rooms were especially nice.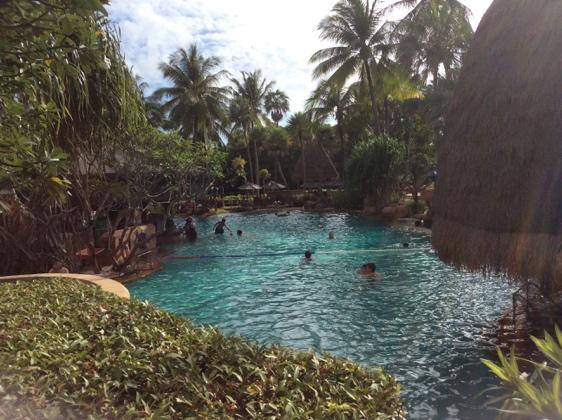 Best Western Phuket Ocean Resort, Karon Beach 3 star
This is a good hotel for the budget traveller. During our visit there was renovating work on the Family Block and the third swimming pool. A large pile of building rubble was dumped on the hillside beside the hotel which will hopefully be moved after the renovation has finished in September. There are lots of steps before you reach the lifts so not suitable for everyone. 
The Old Phuket, Karon Beach – 4 star
This property was a real surprise. It is 20 years young. There is an old part and a new part. The back of the property is located across the road from Karon Beach. The old part had character and the rooms looked fresh with recently renovated bathrooms. I loved the Private Jacuzzi Rooms and the De Luxe Terrace Rooms with four poster beds in the old block. The new block which is 10 years young had good De Luxe family rooms that can sleep five with a double, single and a set of bunk beds. There were also pool access rooms. Overall a really great property.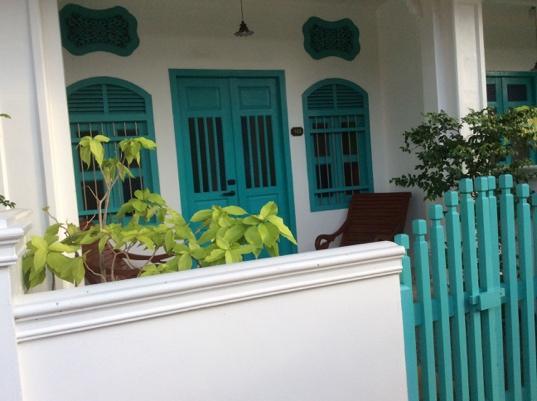 Patong Merlin Hotel, Patong Beach – 4 star
This hotel has four freeform pools and is close to shopping and nightlife of Patong. The superior pool view rooms were really nice (maximum three in a room). The deluxe pool access rooms have a maximum of two in a room with no children under 12 years. Overall I really liked this hotel.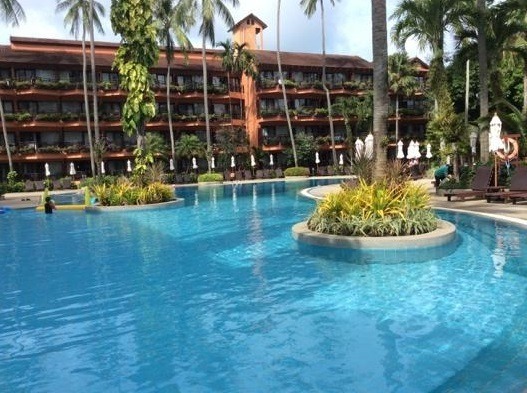 Phuket Marriott Resort & Spa, Merlin Beach – 5 star
Over a steep and bumpy road from Patong, this hotel is set on its own beach at Tri-Trang Merlin Beach. The small beach looked lovely but beware there are rocks under the water. It is more of a stay put resort due to its location. There is a scheduled complimentary bus to take you into Patong. It is a very popular hotel and had 95% capacity when we visited.
We saw the Superior rooms overlooking the pool that can sleep two adults and two children with one child in the big bed with mum and dad and another child on the day bed.
An unusual touch was the touchscreen tv to view the daily activities. There was also a desk in the lobby where guests could print out their boarding cards.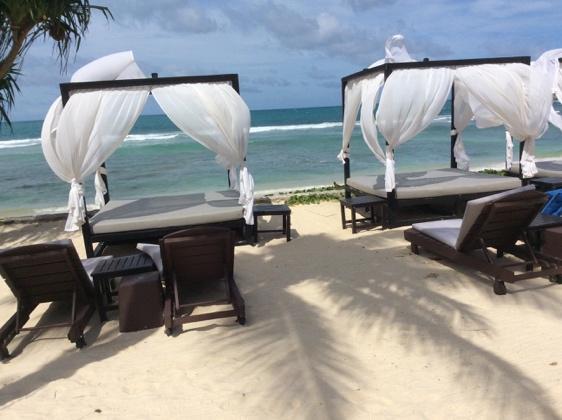 Phuket Graceland Resort and Spa, Patong – 4 star
This property is located in a quieter part of Patong and is divided into 2 wings, the older Graceland wing and the newer Sunset wing. They are currently renovating the deluxe rooms so always ask for a renovated room here. The renovation program is due to finish in May 2019. We saw the older rooms with very tired bathrooms and the newer renovated rooms which looked much fresher.
The deluxe rooms (42 square meters) can sleep 2 adults and 2 children with a rollaway.
The sunset pool view rooms start from 59 square meters) and can sleep 4 as the bedding configuration is 2 doubles. There were also king bedded rooms which sleep only 2 adults.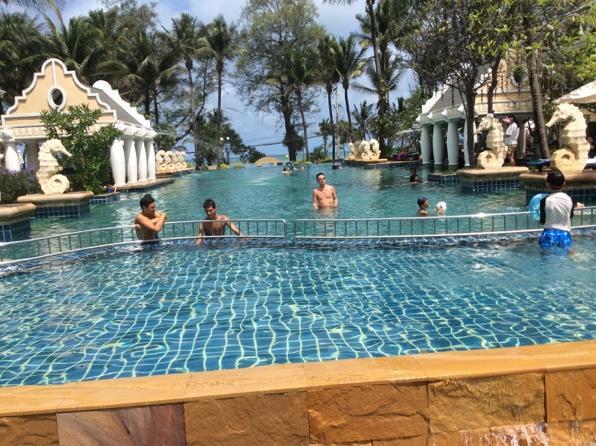 Horizon Karon Beach and Spa – 4 star
We stayed at this hotel. It is positioned up a steep lane from Karon Beach. There is a complimentary tuk tuk that goes up and down the hill on demand. There is also a complimentary Scheduled Shuttle which runs four times daily to/from the sister hotel The Horizon Patong Beach.
There are two wings. The main wing does not have any lifts. We were lucky to experience the Privilege Club Wing which had lifts on some floors plus an 'adults only' pool and a small restaurant.
Privilege Club Wing Rooms come with benefits such as a private pool and Jacuzzi for Club Wing guests, a private breakfast area, complimentary coffee and tea at the Privilege Lounge, two hours of complimentary snacks, soft drinks and alcoholic drinks at Privilege Lounge, shoe shining service, ironing service, daily complimentary newspaper, free Wi-Fi, and free DVDs.
The children's club in the main hotel is free for children aged 4-11 years. We noticed it was more geared to younger children as it stocked toys and equipment more suited to the under 4s. Younger children could attend along with mum or dad.
The hotel would be suited to families or couples.
Helpful hints for travel to Thailand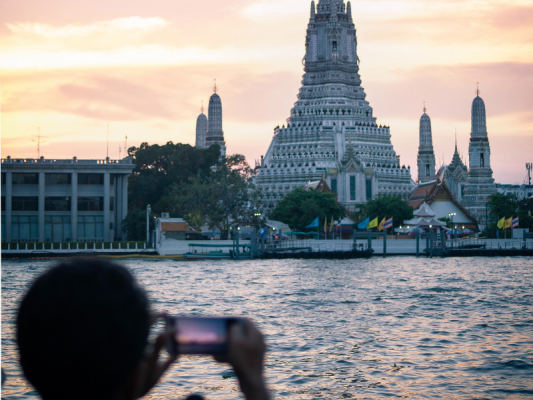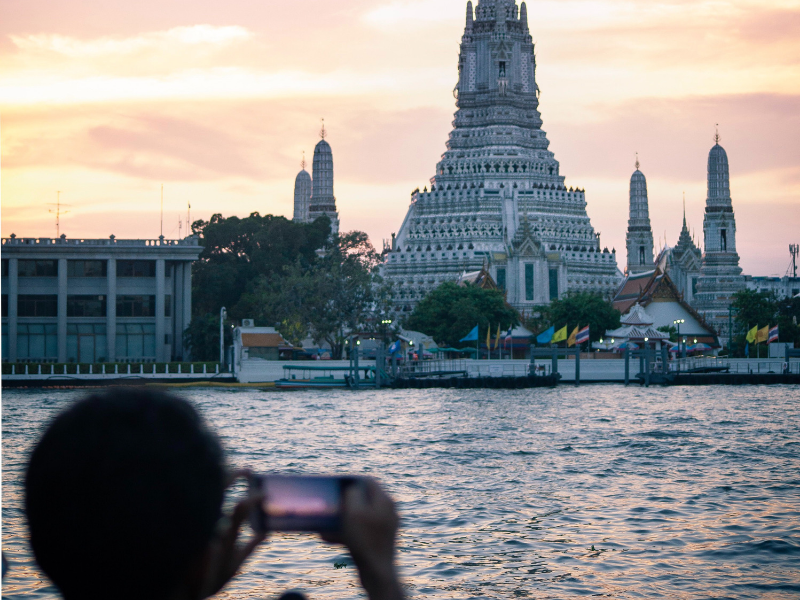 Only take small power packs with you which must be packed into your hand luggage. Do not pack any power pack in the hold luggage.

Only use taxis with meters.

Beware of pick pockets.

Take a face spray to cool down.

Wear insect repellant at all times – even upon arrival at the airport.

Do not take e-cigarettes or vape in Thailand – it is illegal and you could face 10 years in prison.

Smoking is now banned on 24 beaches in Thailand.

Do not litter on the beaches of Thailand – you can be heavily fined.

Driving is on the left in Thailand – easier crossing the road when you know which way to look.

The legal age for drinking alcohol is 20.

The Sky Bar on the 64

th

Floor, The Dome at lebua, Bangkok is worth a visit. The drinks are expensive but there is no charge to go up in the lift unlike most.

Be aware that any boat trips with access to the land via a floating pontoon jetty as they are really difficult to walk on and keep your balance.

During monsoon season mid-May to mid-October you can rarely swim in the sea at Karon or Patong.
Want to plan your own trip to Thailand? Reach out to the friendly team of travel consultants at World Travellers Riccarton who can help you plan the Thailand adventure of a lifetime.