Forty years ago, Jim and Karen did their first OE as a couple of 20 year olds. With their trusty Kombi van they spent close to three years on the other side of the world. For over 20 years they planned to head back for another OE, and following kids, mortgages and careers (and 40 years), they're back on the road. It's 40 years on … take two! In this instalment, they visit the Norfolk Broads.
Last weekend we finished on the canal boat and expected we would be heading off in our new mobile home by now. Unfortunately, aspects of British society have conspired against us. Our dealership has waited and waited for the combined UK tax and motor vehicle licensing systems to issue us with a tax exemption certificate and our new export registration plates number. Consequently our vehicle is not ready for pickup and we are advised it could take another week. What a bloody pain, but out of adversity they say comes something good.
The backup plan
Being ever resourceful and having allowed for the potential before we left home that we would need a few weeks of lodgings somewhere on our travels, we'd deposited our timeshare weeks in the system for 2019 and 2020. This then gave us credit points to timeshare resorts over here. Knowing we had options we checked the availability of resorts last Friday night and booked ourselves into an apartment on a golf resort in Norfolk. 
Why Norfolk I hear you ask? Mainly because we have never been to this part of the countryside before, but mostly because it looked the best of the few last minute available options.
For those that know me golf is not one of those sports that really interests me, however we are sitting overlooking a manicured and green landscape there is a bar and restaurant available in the club house and quite honestly needs must as they say. We have been using the resort/club as a base to roam the Norfolk area this week and it has been great. We picked up a rental car and luckily it's small, as if we were attempting to traverse these tiny little "b" & "a" roads that dominate the local area in our new motorhome, I suspect we would already have an insurance claim.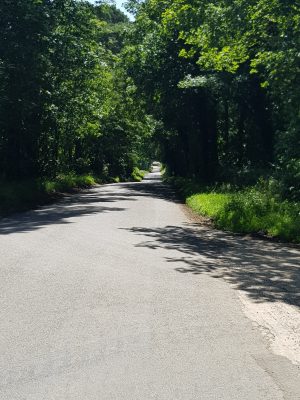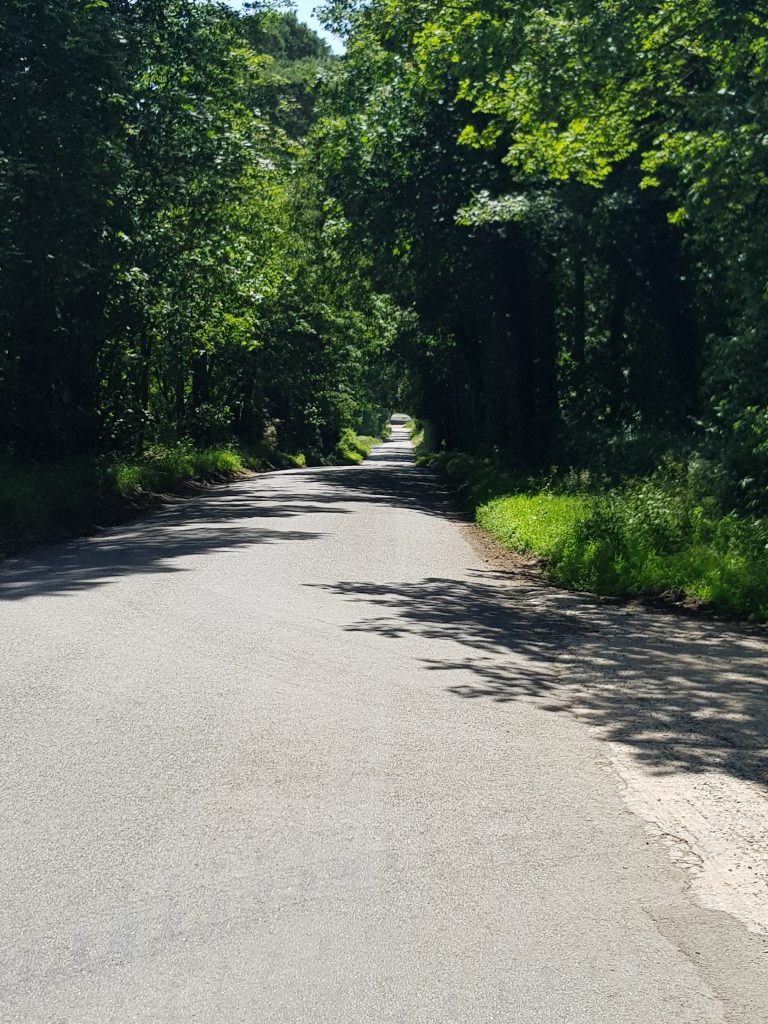 Some of these roads are bleeding narrow, they are literally one lane and the local yokels on their tractors don't seem to know that.
Aside from that however we have had a great few days so far in Norfolk. The area has a huge coastline around it and is well worth a visit. Now bear in mind this is the UK – beach life and the UK is not as we know it and they are not really synonymous. However, UK costal towns and villages have a charm of their own, and the Brits are masters at structures that hold the sea at bay on stormy days.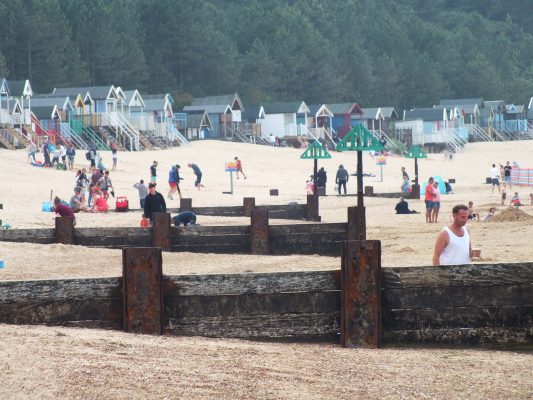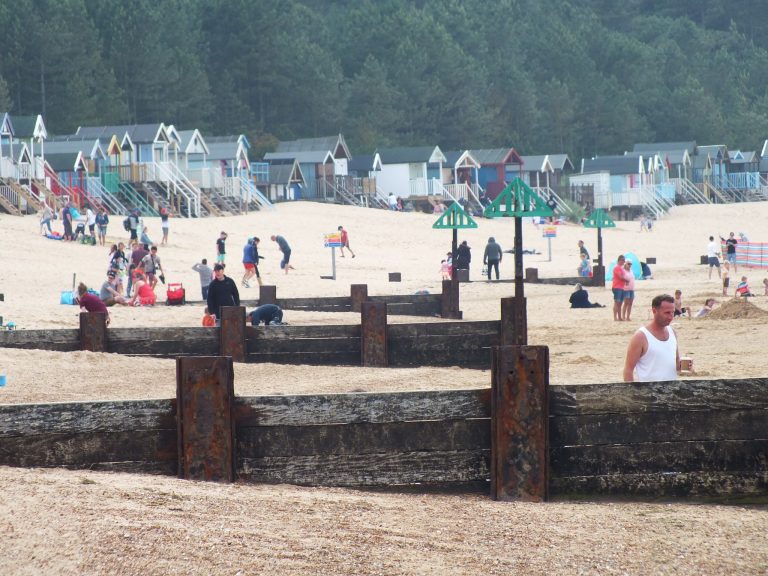 Exploring the Norfolk Broads
While here we decided we had to visit the "Broads". I am sure most of us have heard the term Norfolk Broads. Don't know about you but I had no real idea previously exactly what they were. I had thought they were perhaps a type of moor, or a vast expanse of wind swept treed countryside on the Norfolk coast.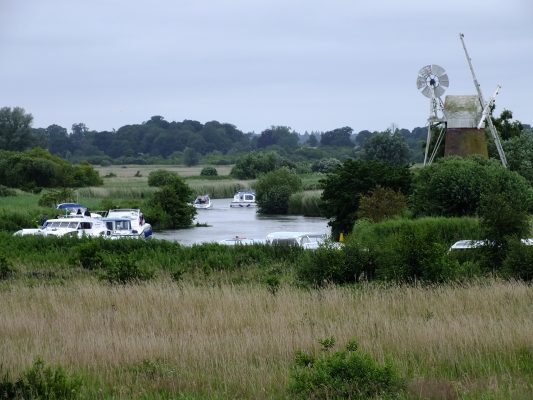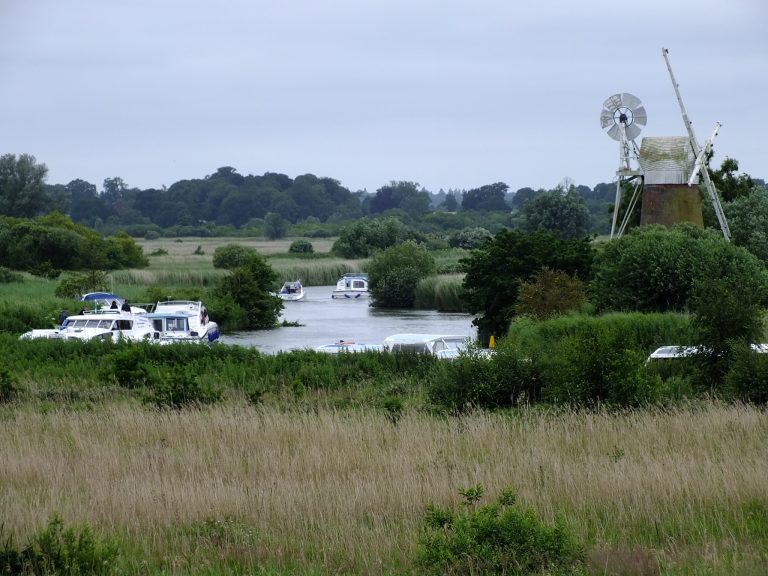 When you get here you discover it's something completely different. The Broads, as they are today are a waterways playground – a huge series of interlinked, tidal rivers, canals and lakes that are a boater's paradise. There are boat marinas and small settlements dotted everywhere and for decades the "Broads" have been a boating holiday hotspot, renowned for wildlife, fishing, walking and the boating of course.   Great, I hear you say – another waterways area that Jim has visited, but wait my friends it is the history of the place that makes it so interesting (well to me anyway).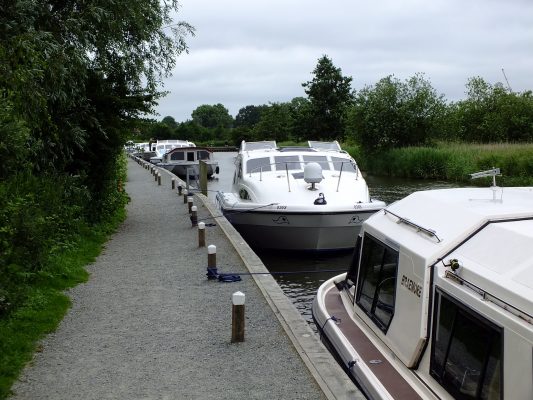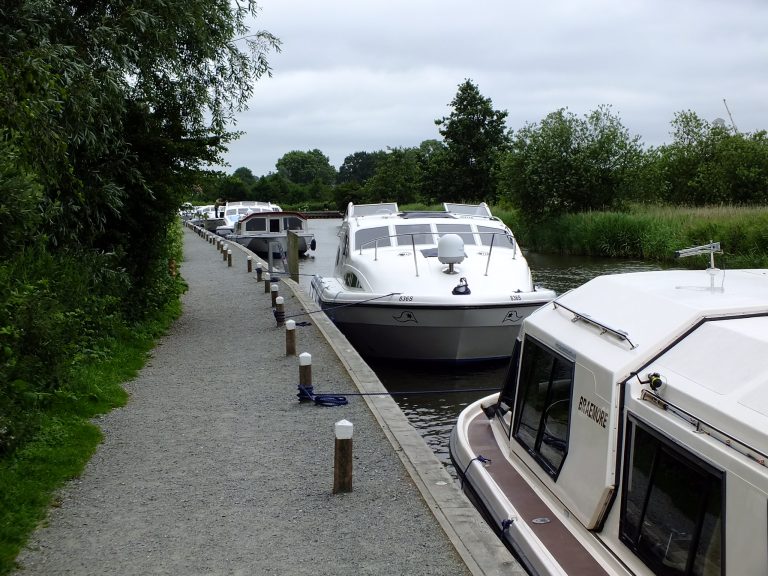 It was discovered in 1952 no less, that in fact the Broads were a man made structure. It seems that while doing some research a botanist discovered that the sides of what had previously thought to be natural lakes and waterways were in fact vertical, and the bottom of the lakes perfectly flat. Further investigations ultimately showed them to be diggings and excavations now filled with water. 
They then realised that in medieval times the area was the site of huge peat excavations, and an industry supplying peat fuel locally. The area was previously known as a major thatch reed industry area because the reeds grow in watery marsh areas along with some turf and peat cutting sites locally. But they now realised there had previously been a huge peat industry thriving here in the 9th and 10th centuries before rising water levels started flooding all the diggings and effectively created the current waterways. This watery world then grew reeds and the thatch industry developed here in the area from the 11th century onwards. Records from the 12th century referred more to reed harvesting than to peat harvesting as the main local industry.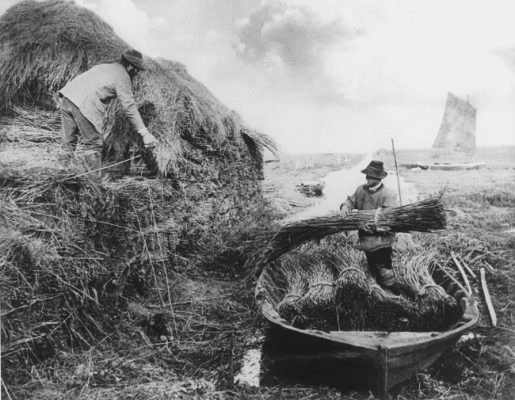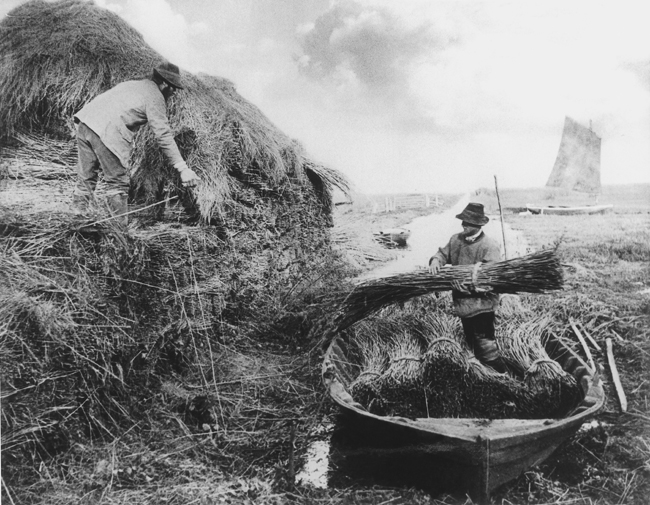 Imagine only discovering all this in just 1952. Fascinating.
The area known as the Broads is huge at over 300 sq kms, and the estimate is that medieval diggers cut out some 900 million cubic feet of peat. Norwich castle alone used to use 320,000 tons annually to light and heat it. The volumes are staggering.
End result is that touring this area is hugely fascinating and offers some really different insights into English history and heritage along with the usual castles, churches and stately homes.
Having a car has enabled us to really get out and about in the area over the week so far and we have poked our nose into some beautiful wee spots and seen some stunning historic homes and villages including Sandringham.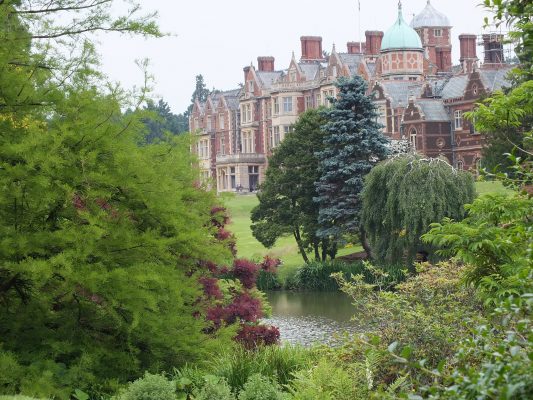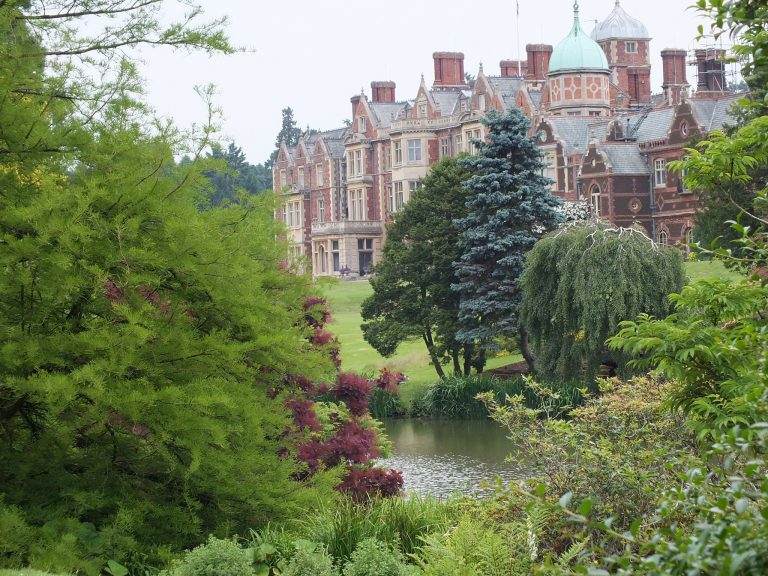 Uncovering Neolithic history at Grimes Graves
During the course of that poking around we stumbled across another interesting place called Grimes Graves. Turns out it is one of half a dozen sites round the globe that date back to Neolithic man some 4,000 years BC. It is a flint mining site. The area in question used to be under a tropical ocean millions of eons ago and it laid down chalk and flint layers from the decomposing marine animals. Then Neolithic man discovered it and needed the flint for tools and axes and so on, so the area is the site of 400 odd flint mines dug at various stages through the ages. It is literally a mine field of ancient artefacts and relics.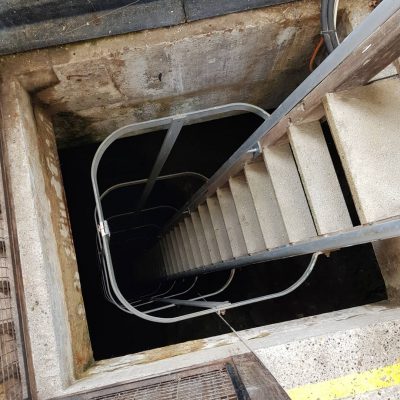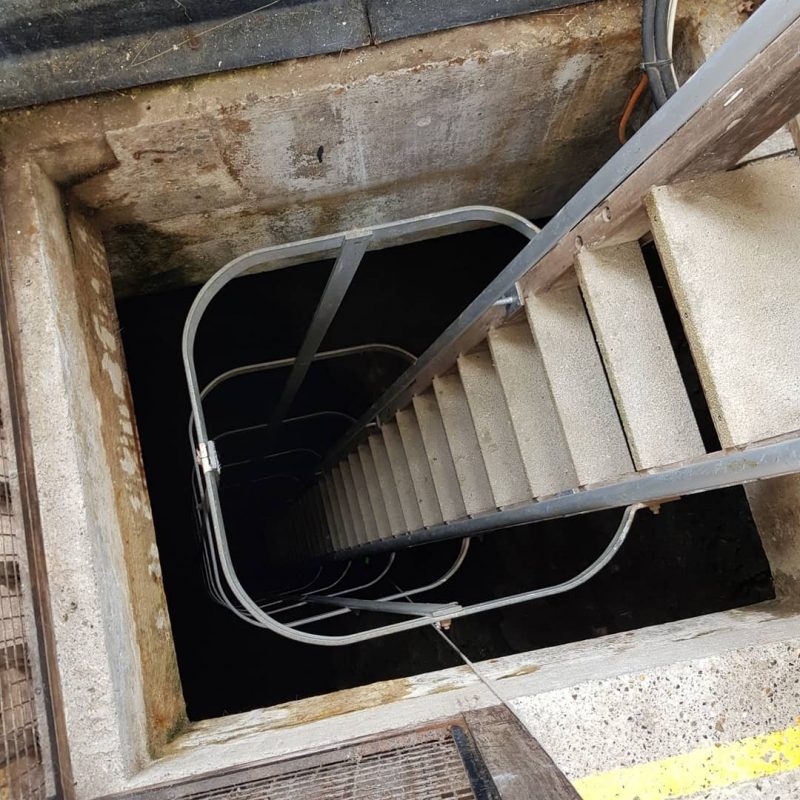 We got to climb down one mine some 7-8 m below ground level and see where they dug the shafts with deer antlers and cow scapular bones as they followed the layers of flint. Once again it's this sort of thing that really spins my wheels.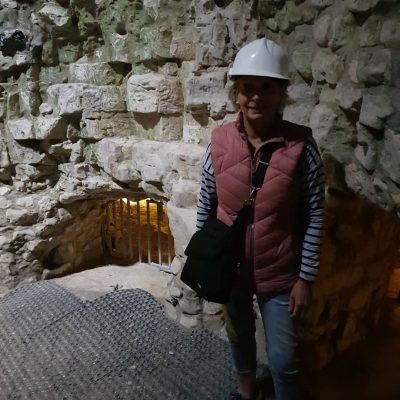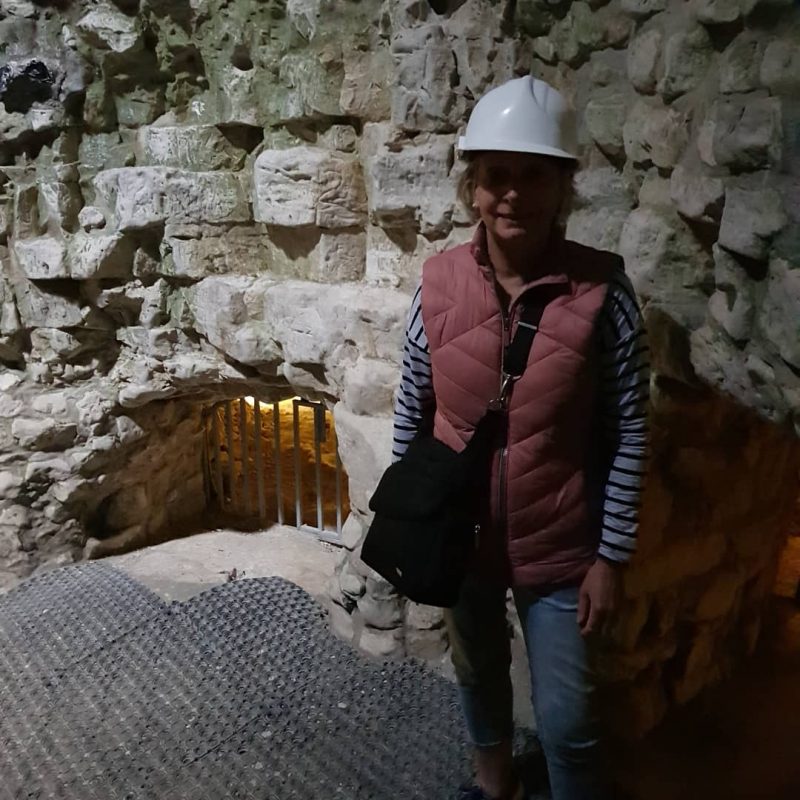 All in all it has been a great and interesting area to visit and one well worth spending time visiting. If you do come here make sure you have a small car because you will end up on the local rural roads at some stage and it's where most of the really interesting stuff is hidden.
Good news to finish up! Tomorrow we get to pick up our new mobile home so the real fun starts. Stay tuned.