The bucket list destination of Egypt was the next pit stop on Jim and Karen's adventure. Still trying to escape the European winter, they soak up the warm weather in the low season and avoid the worst of the crowds. Here Jim shares some travel tips and handy hints on how to make the most out of a trip to Egypt.
I don't think you fully appreciate what man was able to accomplish thousands of years ago until you visit somewhere like Egypt. New Zealand has history with building structures that date back around 180 years. In the UK you see cathedrals that have some part of them dating back 1,000 or so years. But in Egypt you are visiting temples and structures that date back literally thousands of years BC. It truly is mind-boggling to comprehend when you see what they built and try to fathom out how they would have built them, let alone build them to survive 4,000 odd years.
So finally we get to see Egypt and what a country it is. 30 or 40 years ago we could probably have travelled around this country ourselves, but nowadays my advice is to take a tour organised by a travel agent/travel company. It would be too confusing and time consuming trying to organise yourself.
We had our travel company organise our full week in Egypt this time to maximise our time and it paid off. We have been treated like royalty all week with what realistically ended up being a private guided tour everywhere. That certainly wasn't what we were expecting but I guess because it is low season currently we weren't just one of the herd for the week.
Eight days is really the bare minimum you need to see Egypt. Knowing what I know now if we were doing it again, I would definitely book longer. In our case our trip summary was as follows.
If we were doing it again, I would definitely book longer. 
We flew into Cairo late afternoon last Friday, spent one night in our hotel and then took an early morning flight the next morning to Luxor. All transfers were organised so no problems there. There is something nice about seeing your name on a clipboard when you clear customs and walk out into a city of 11 million.
We'd booked four days on our Nile river boat travelling up stream from Luxor to Aswan and then a flight back to Cairo with two more very full days in Cairo.
The four days on the boat was more than enough time to see the section from Luxor to Aswan, however if I was doing it again I would want a bit more time in Cairo, a trip to Abu Simbel temple, and perhaps a look at what was happening further upstream on the Nile or even Alexandria.
Egypt literally is all desert, and I mean literally. Everywhere we flew over on our internal flights showed that everything that is anything is located either somewhere along the length of the Nile or against either the Mediterranean or the Red Seas. The rest was all sand from what we could see. Hence visits to Egypt are largely focused on the Nile and Cairo.
The Nile has dominated Egyptian life forever. It originates in the Central African Continent as separate rivers  the Blue Nile and the White Nile that come together in Sudan and flow on through to the Mediterranean Sea. In times gone by it seems that the annual Nile floods were responsible for depositing new levels of silt and mud along its tracks so life in general and the agricultural wealth of Egypt farmed accordingly to take into account this rise and fall.
In the early 1900s while under British rule the first (low) dam across the Nile was built to try and control these waters and provide storage capacity in dry weather. In the 60s the Egyptians built what is now called the Aswan high dam approximately 7km upstream to provide even greater control and storage capacity.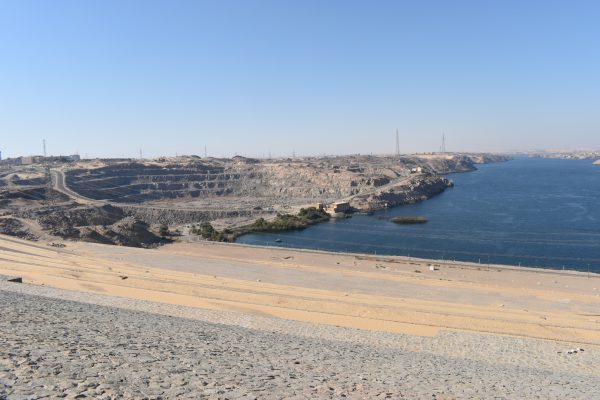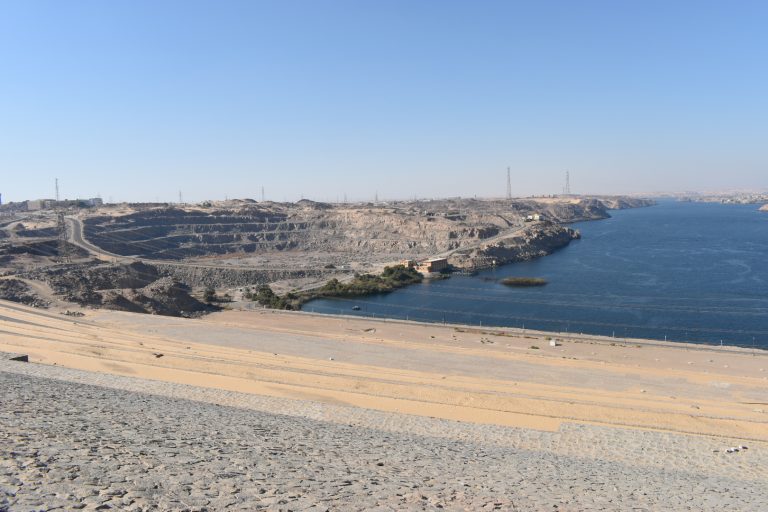 The consequences of this were also that they created a vast lake – the biggest man-made lake in the world.  The creation of the lake required some 23 Egyptian temples upstream of this dam to be deconstructed and rebuilt on higher ground to avoid being lost.
The best known of these is Abu Simbel. Getting to Abu Simbel from Aswan can be done by either a flight or a 3.5 hour drive each way, so you will need to factor that in on your trip. Unfortunately we didn't get to visit this site, but by all accounts it is one of the best sites to visit, and rates as good as Petra, so take note and ensure it is on your wish list.
With two dams blocking the Nile, boat trips are now split into sections. The vast majority operate between Luxor and Aswan, and we had estimates of between 300 and 500 boats offering cruises over this section alone. When you see them all you realise the higher number could well be right.
There are supposedly also cruises from Cairo via Luxor to Aswan available, but once again it was hard to get absolute certainty. One guide told us the cruise section between Cairo and Luxor isn't currently operating because of security problems along this stretch. Another told us it is simply low season so boats don't sail then. I think it could be a case of both being right, and I would suggest checking if you are interested in this section of the Nile as well. Above the dams other cruises are offered around the vast lake.
What does a Nile Cruise entail?
In our case we ended up as we said with essentially a private tour. This was purely luck simply because being low season there were no other guests travelling on the same itinerary/timing as us. The boat itself had a number of tours booked on it ranging from groups of twenty or so people, down to other couples like us.  It's an interesting system as your tour guide travels on the boat with you. So in our case there were some dozen or so guides on the boat individually organising the requirements for their clients. 
We were not the only couple on board with their own private guide. Mahmoud was our guide's name and he was brilliant. He seemed to enjoy the ability to work in more detail with a couple, as he said larger groups from a guide's perspective can be a pain. Think "herding cats" (if you have never seen the video clip google it). From our perspective it was great as well. Not only did we gain a greater depth of knowledge about ancient Egypt, I think we made a friend.
Luxor
We had essentially two full days in Luxor visiting both the Luxor and Karnak Temples. It is amazing to think these Temples date back some 1500 years BC.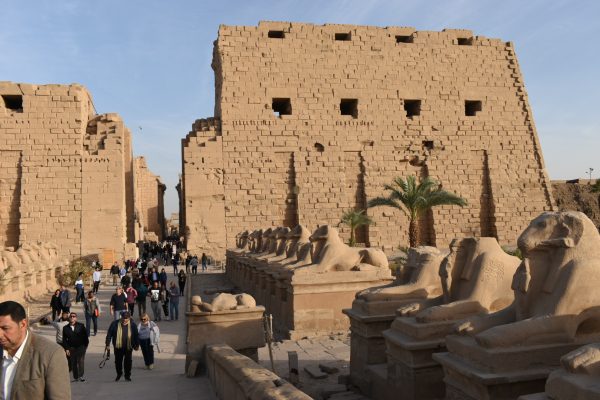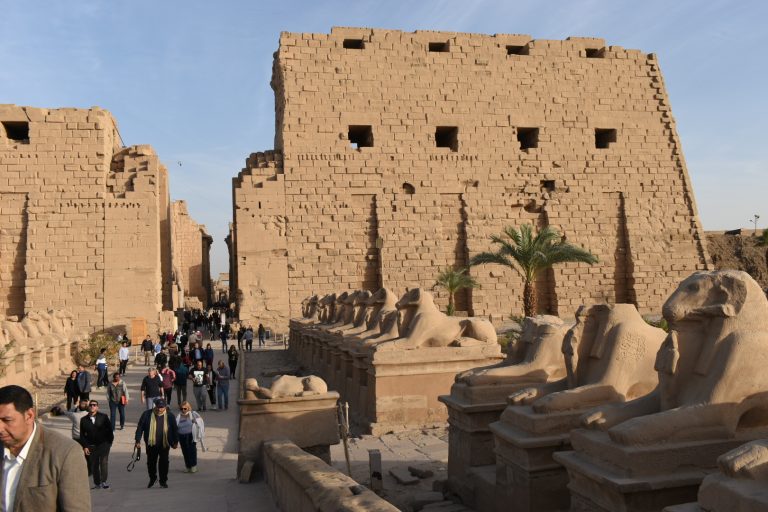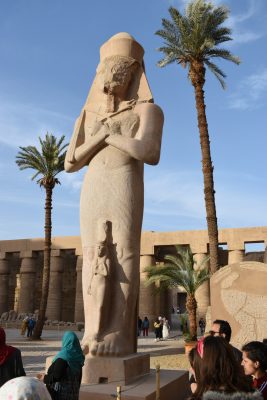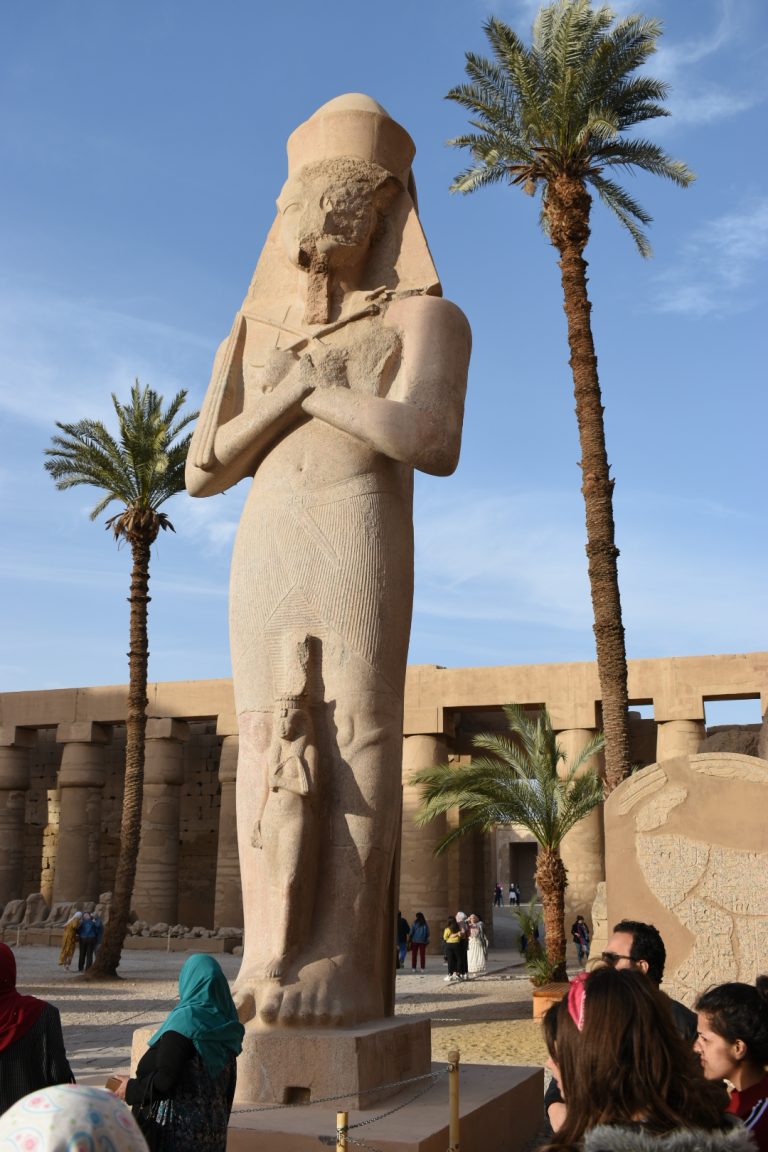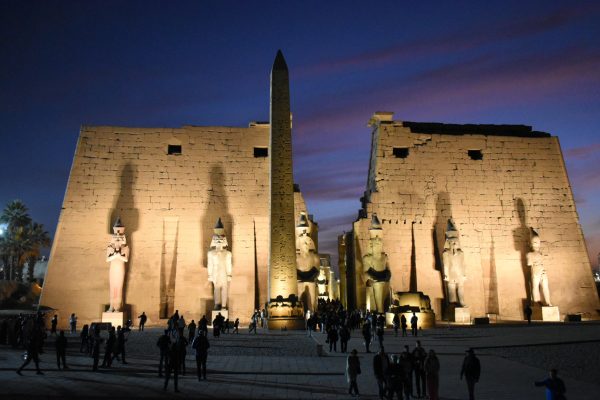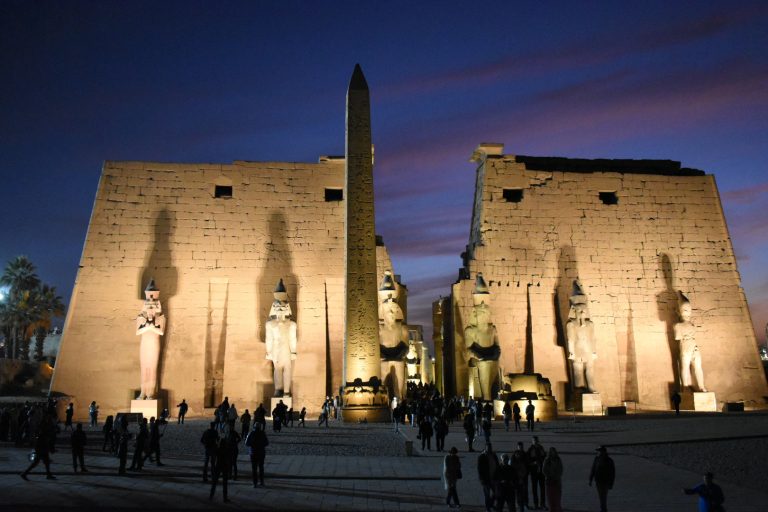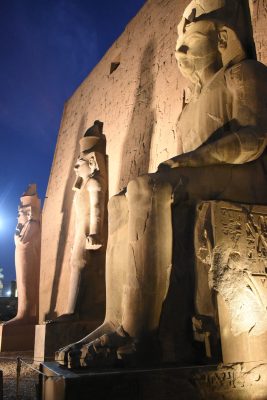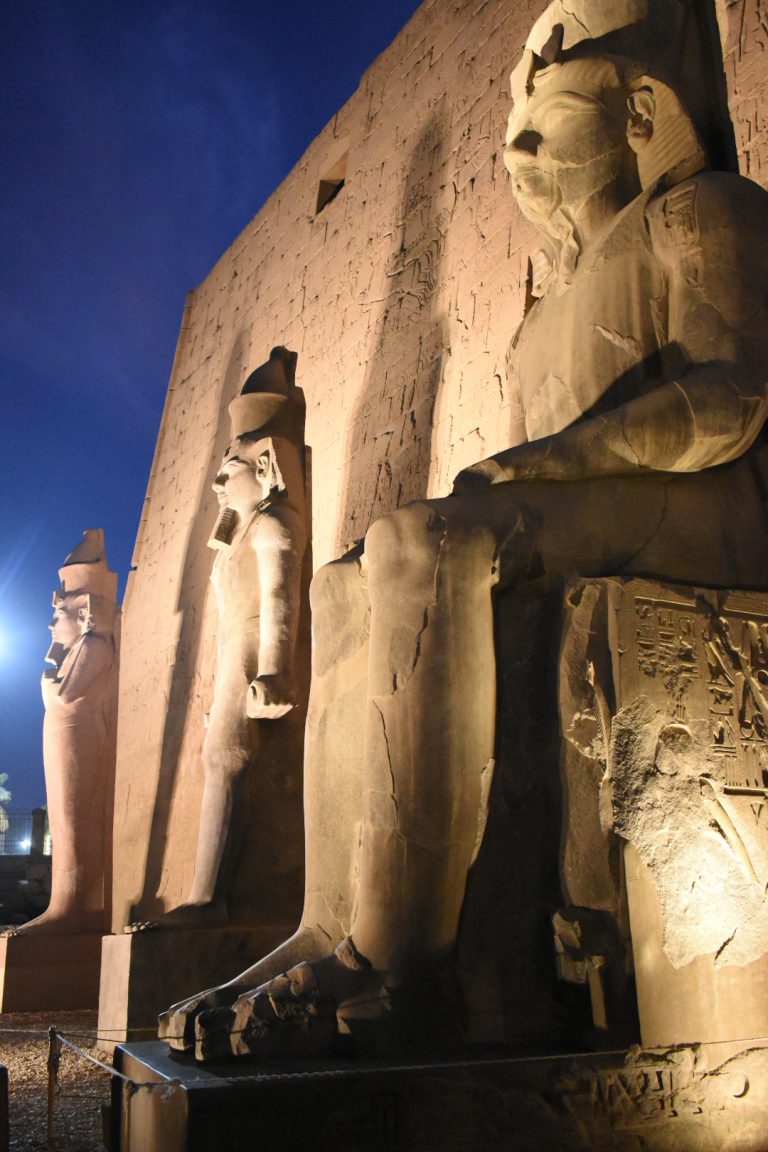 I can tell you the photos don't do the magnificence justice, and the whole thing is further enhanced when you get a good guide giving you the history and explanations.
When you look to book a trip like this there will no doubt be a bit of down time built into the itinerary. This then allows your sneaky guide to indulge in a bit of "up selling", so you can get some "fries" with your trip so to speak. The dreaded side trips.
With these side trips you are told they are always better than what's on the itinerary that you have already paid for. Beware they ain't cheap. In our case Mahmoud hit us with the first side trip on the morning of the second day in Luxor: Hot air ballooning over Luxor at dawn. In this case he was spot on. You just have to do this.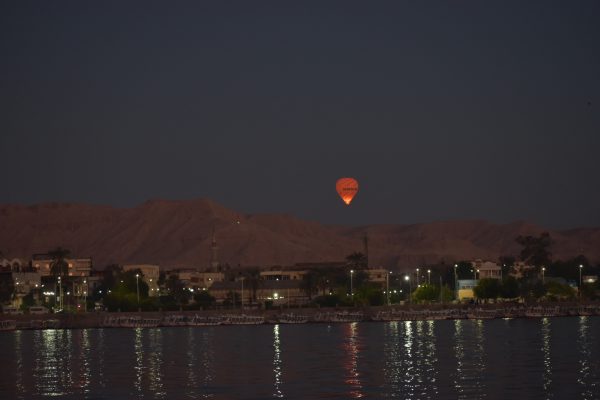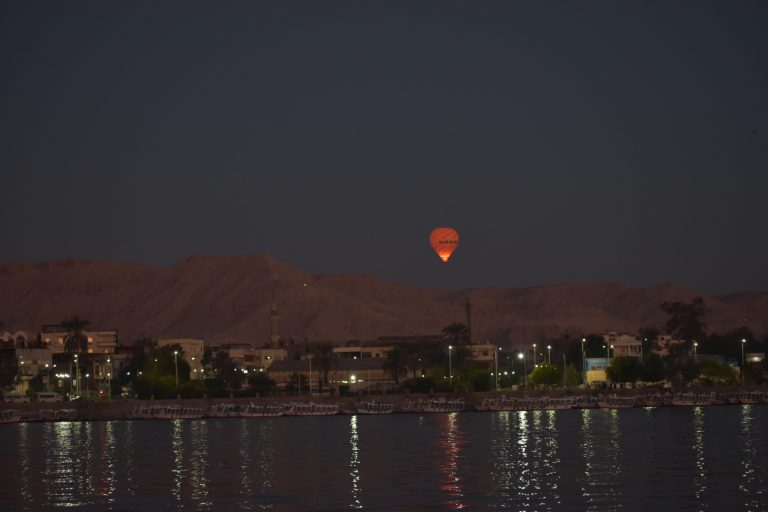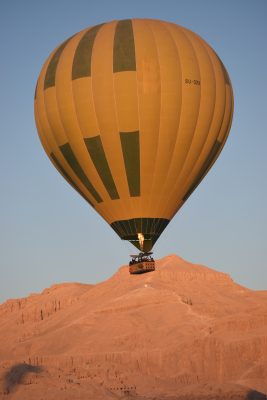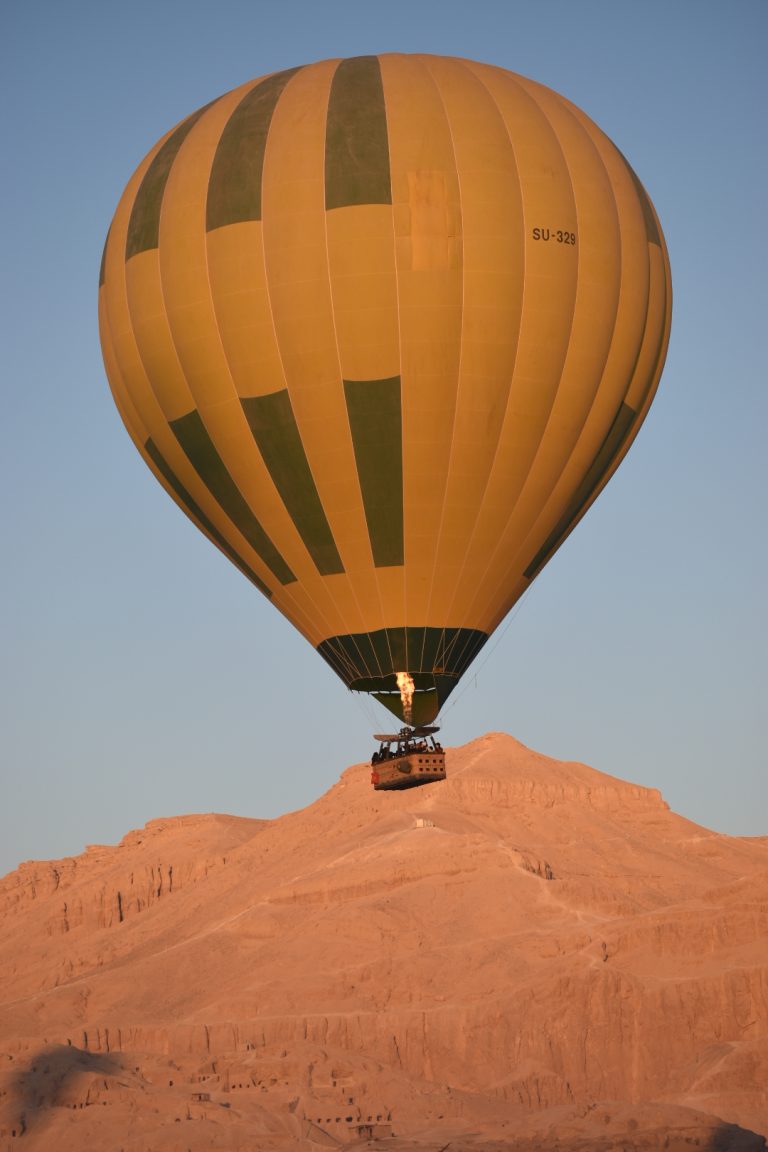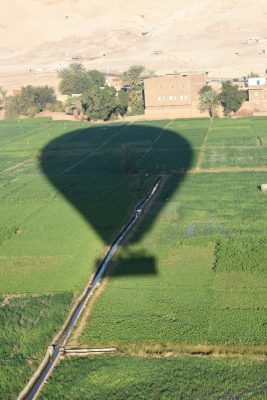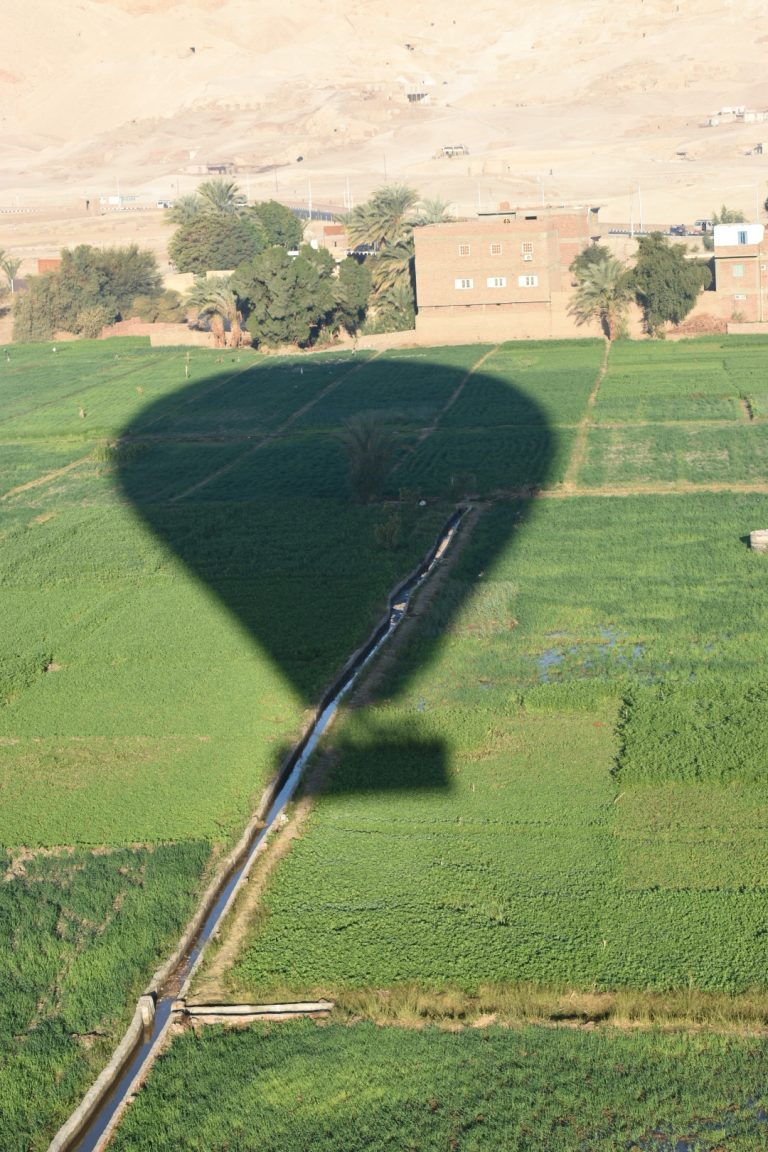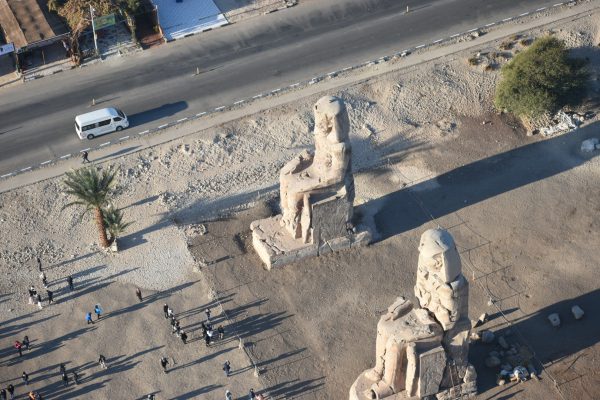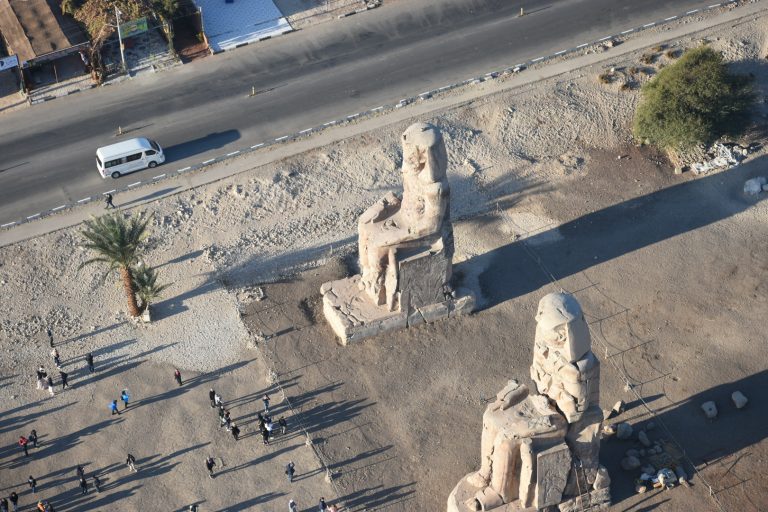 Usually Karen is terrified of heights, so when we go up high buildings for a view or climb a bell tower this is not her thing. She has been up the Burj Khalifa in Dubai and other similar places. But it's usually a very quick up and down for her while staying well back from the glass. So a side trip to do hot air ballooning was not high on her list … until now. Bravely she chose to go on the ride, and after fretting all night stepped into the basket. Having never been in a balloon before we were not sure what to expect but there is literally no sensation of movement. Everything is so slow calm and motionless that in no time at all Karen was hogging the basket edge so she could get her pictures. This side trip is a definite must, so thanks again to our crafty guide Mahmoud.
The Valley of the Kings
During a stay in Luxor you can also cross to the West Bank to visit The Valley of the Kings and the Temple of Hatshepsut (Hatshepsut was one of the best known Queens of Egypt – I think there were only four ruling Queens).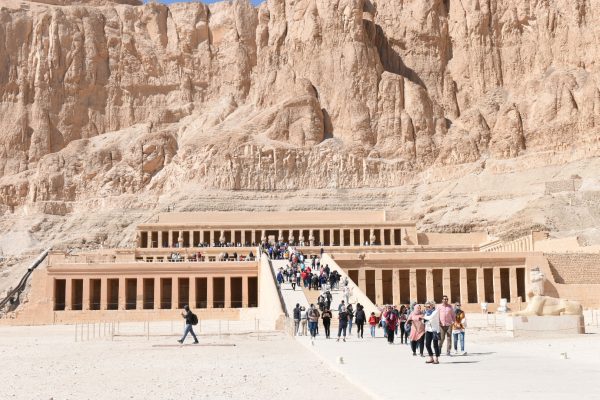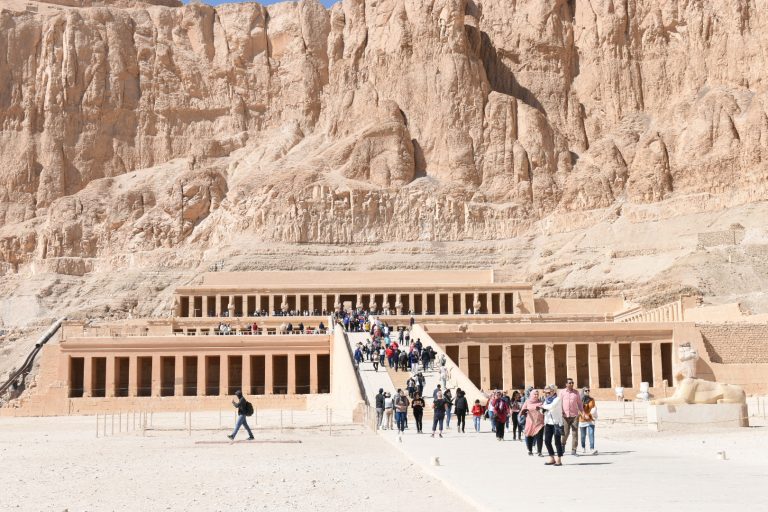 The Valley of the Kings is well known following the discovery by Howard Carter of Tutankhamen's tomb in 1922. The valley is an ongoing archaeological dig and so far there have been 62 kings' tombs (including Queen Hatshepsut's tomb) uncovered and more finds are being dug up each month.
Pyramids have always been revered by ancient Egyptians as a way to get them closer to the Sun God Ra. Overlooking the valley of the Kings is a pyramid-shaped mountain, so the site on the West Bank of the Nile became the valley where all the Kings were buried. Also the sun sets in the west so it was believed that at death your life was set as well.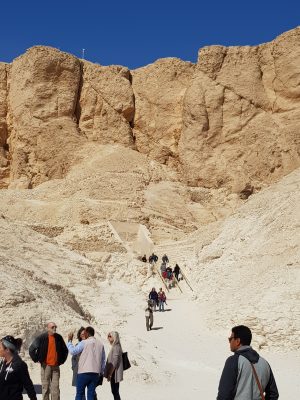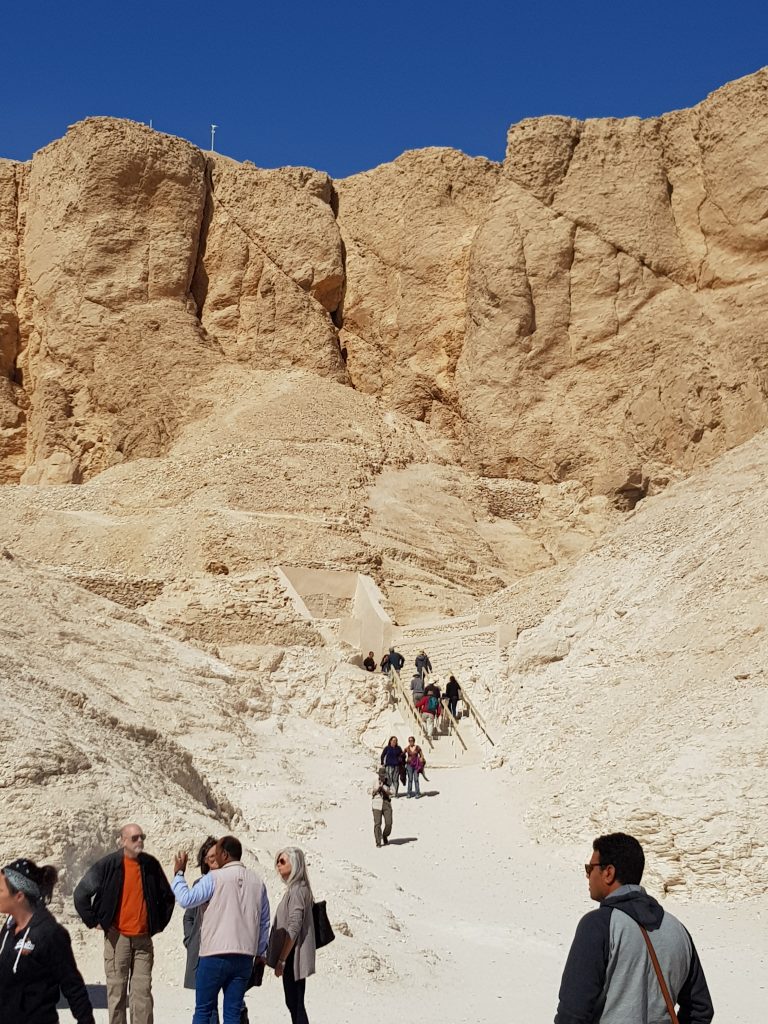 It turns out that succeeding kings while still alive got their architects and builders to construct their tomb so it was ready for them on death. The longer they lived the bigger and more elaborate it became.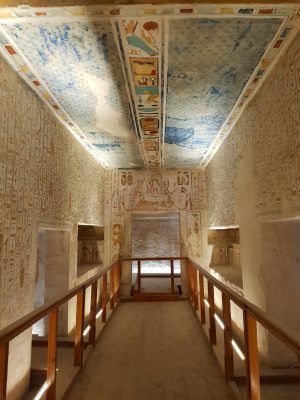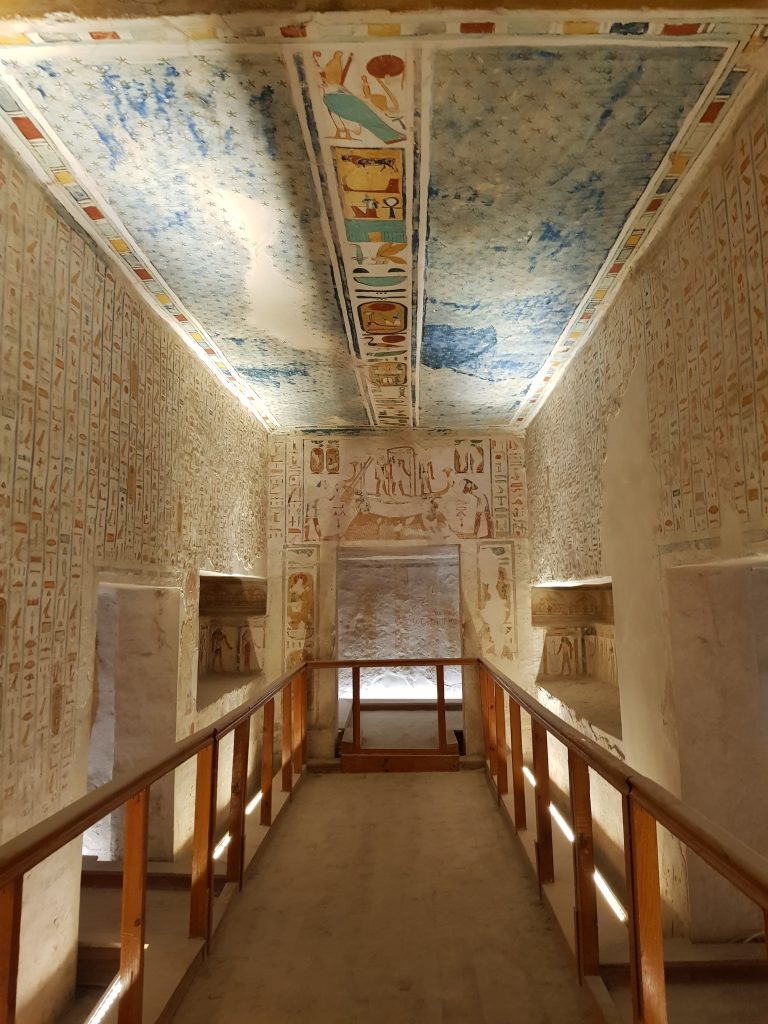 They literally just picked a site in the valley and dug away. If they struck another King's tomb they just changed direction. Over the years wind blew dust and dirt over their entrance point. So in the case of Tutankhamen, two other kings had been excavated from tombs above his without people even knowing his was there. With their tombs discovered no one thought there would be a third on the same spot until Howard Carter stumbled upon it by accident.
There are reported cases where diggers have been looking in one spot and a donkey fell into a crater after the sand gave way, opening up another previously unknown tomb. They literally have no idea how many tombs may still be in the region undiscovered, but best estimates are that over two thirds are still waiting to be found. Countries are queuing up for permits to dig in sites like this and help Egypt uncover her mysteries.
When the boats eventually leave Luxor that is also a sight to behold, because there are so many and with all schedules being similar, they almost leave en masse. If the driving on the roads is like watching a fast dance, the boats on the water are the equivalent of a waltz.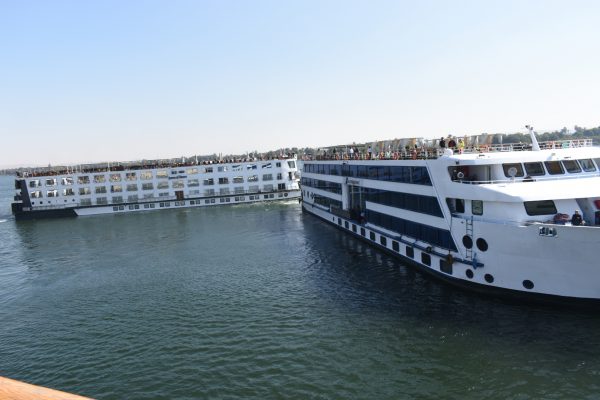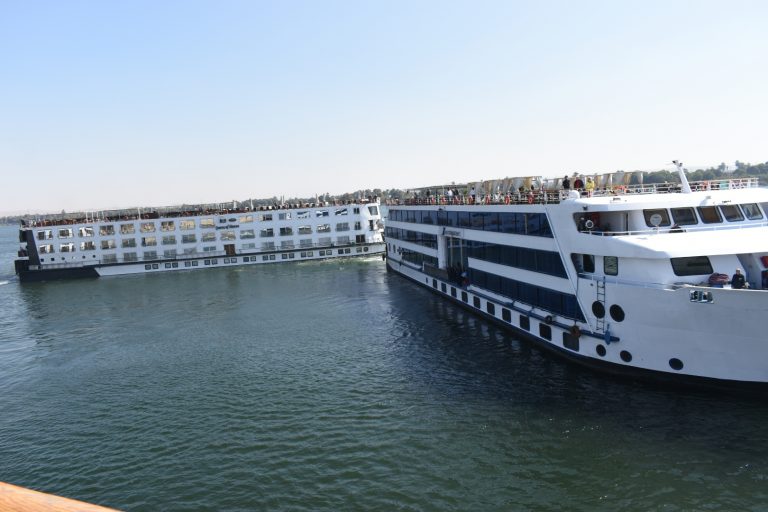 If your boat has the power it just has to pass, and he with the bigger boat wins. Three abreast up the Nile is not an uncommon site, as long as there are not three abreast coming down.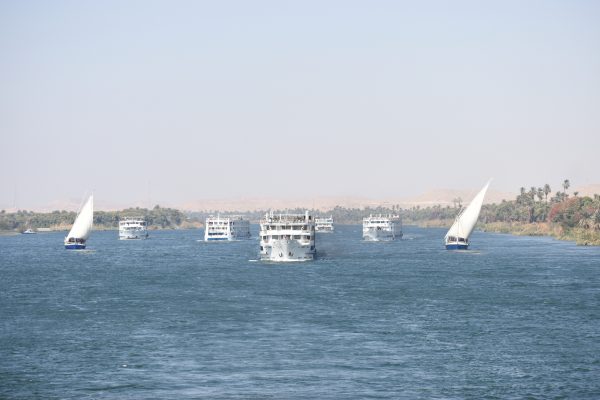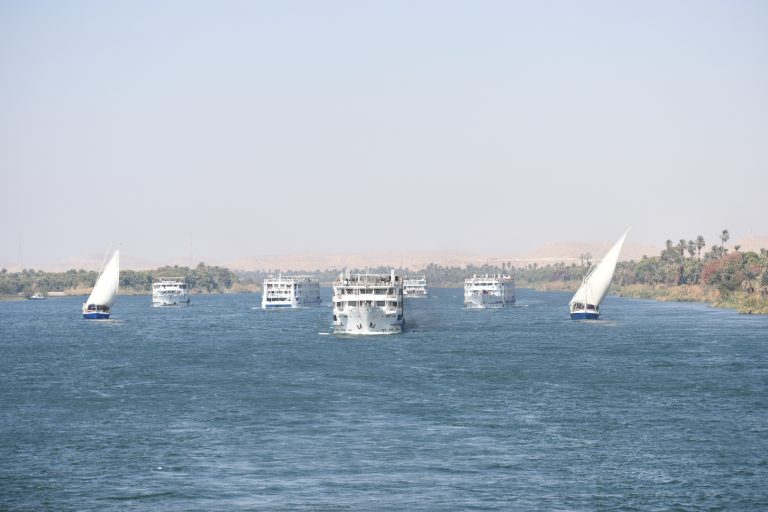 The boats themselves are good, service is OTT, the food is good and you can buy a beer. Our guide Mahmoud being a good Muslim would not have a beer with us but he did have a vice of his own – shisha. The old hubbly bubbly pipe.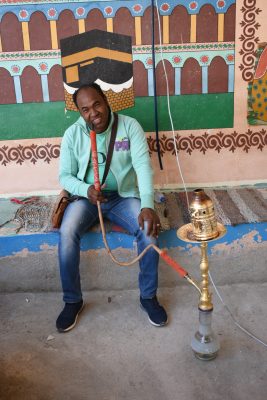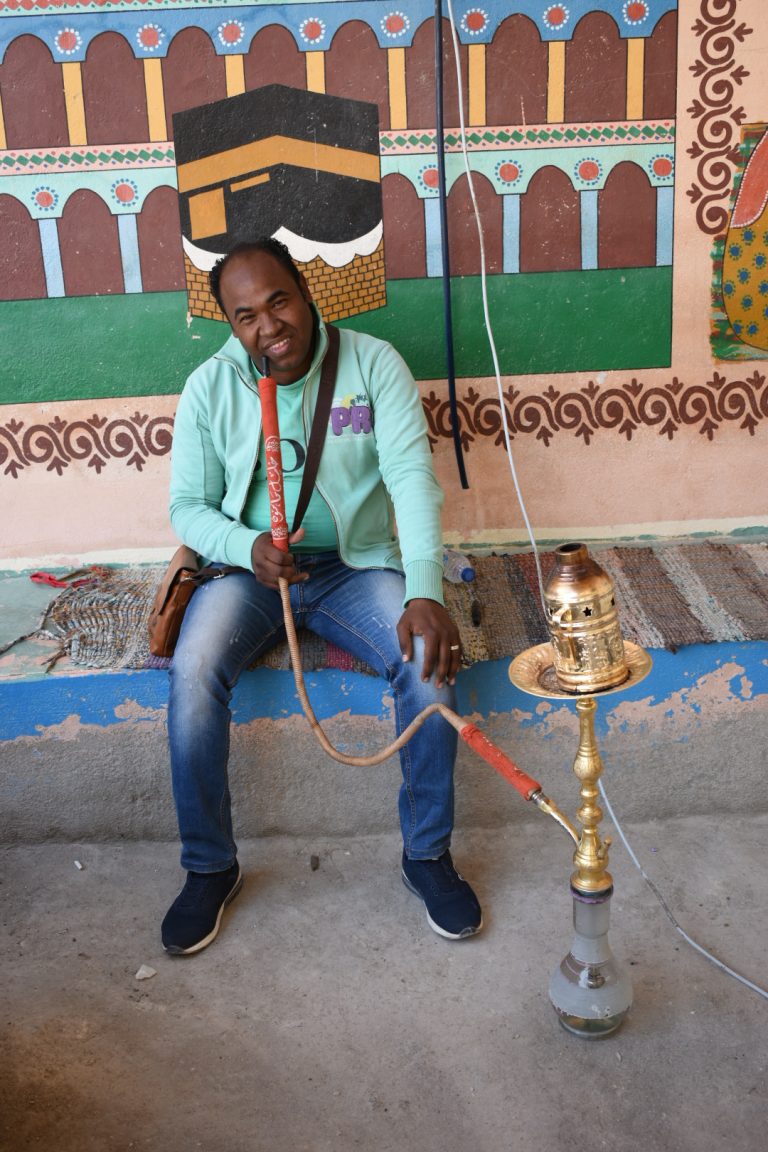 Our boat had a max capacity of about 150 guests, plus crew and guides. Boats come in all quality ranges by the look of them, so don't skimp on this part.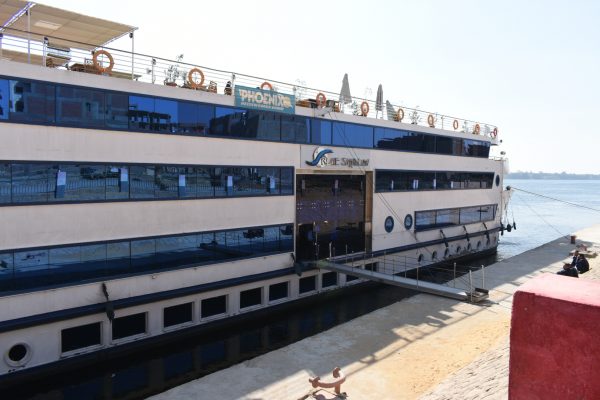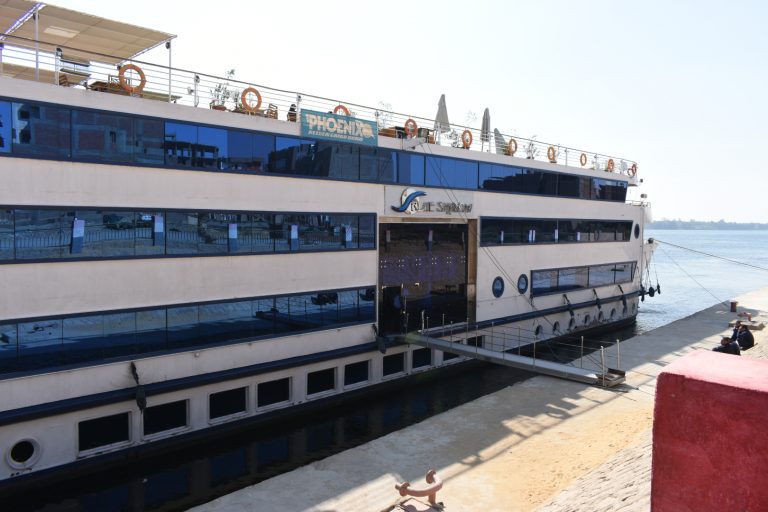 Aswan
On the way to Aswan we passed through the locks at Edfu, stopping to visit other sites like the temple dedicated to Horus, God of the sky and protector of Pharaohs.
Aswan is as far up the Nile these boats can travel, but from here we got to visit the Philae Temple, among other sites. Philae temple was one of the temples drowned when the first dam was built in the early 1900s.  With the work undertaken to deconstruct and rebuild other temples further up the Nile when the second dam was being built in the 60s, the government decided they might as well save this one as well. The difference was that this one was already underwater so presented even more issues. But they did a great job saving the site for posterity.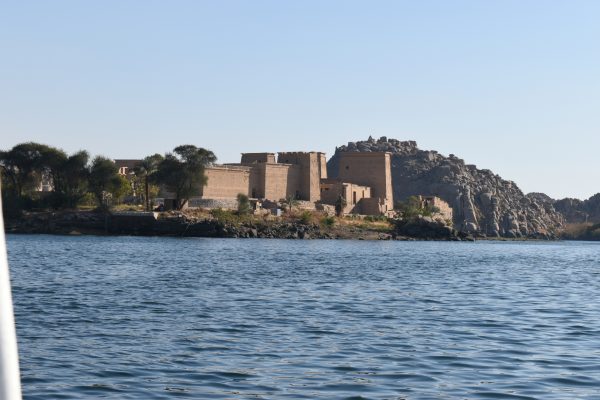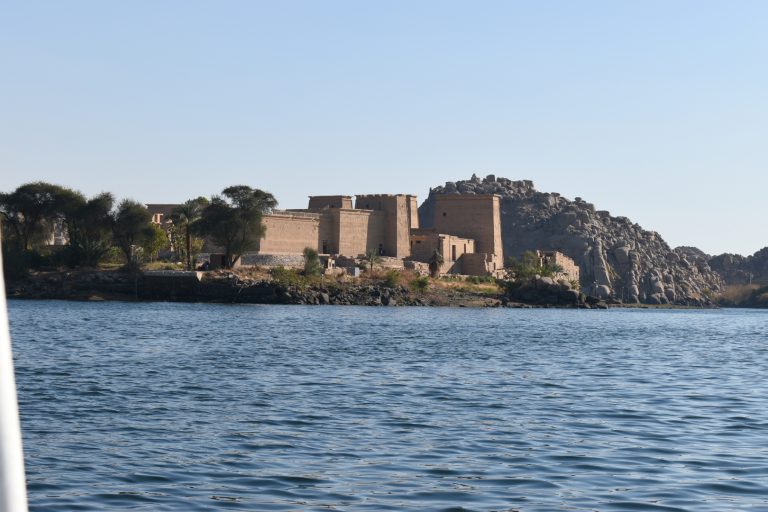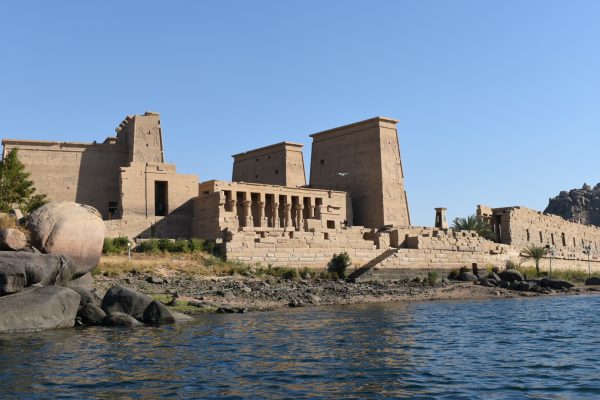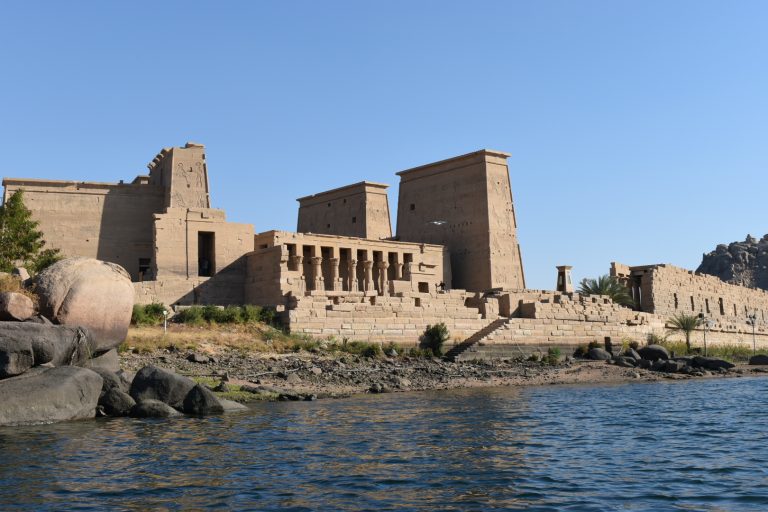 The Nile below the dams is beautiful to look out on. You literally see the world go by on the felucca or on the horse and carriage and the houses along her banks are picture postcard perfect … sometimes.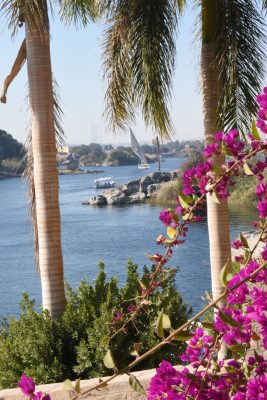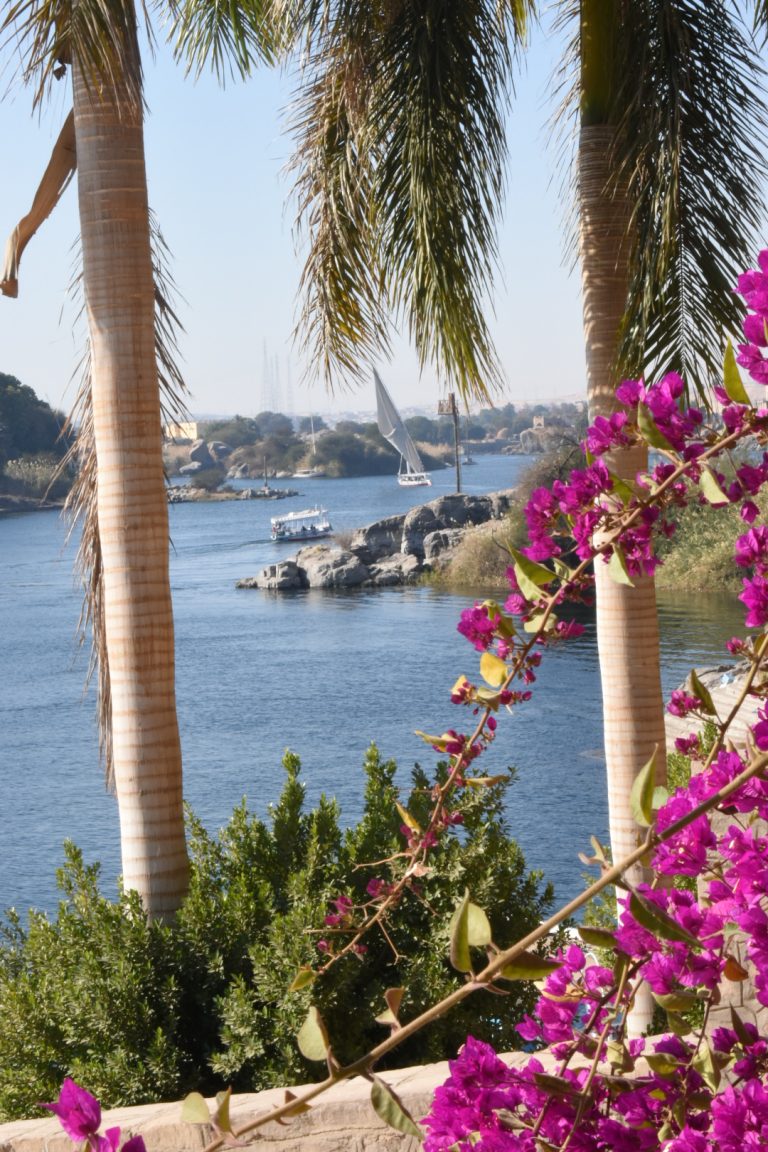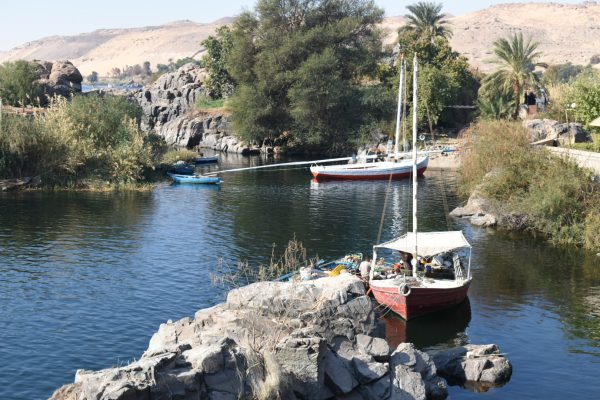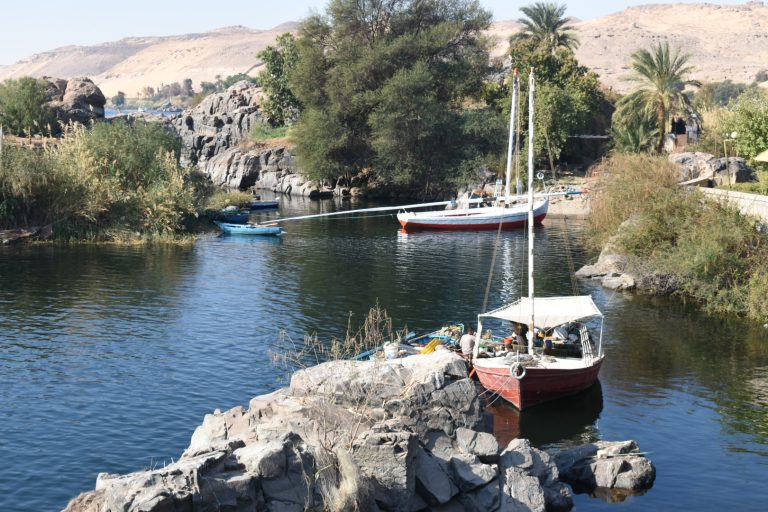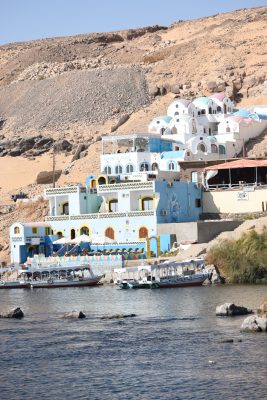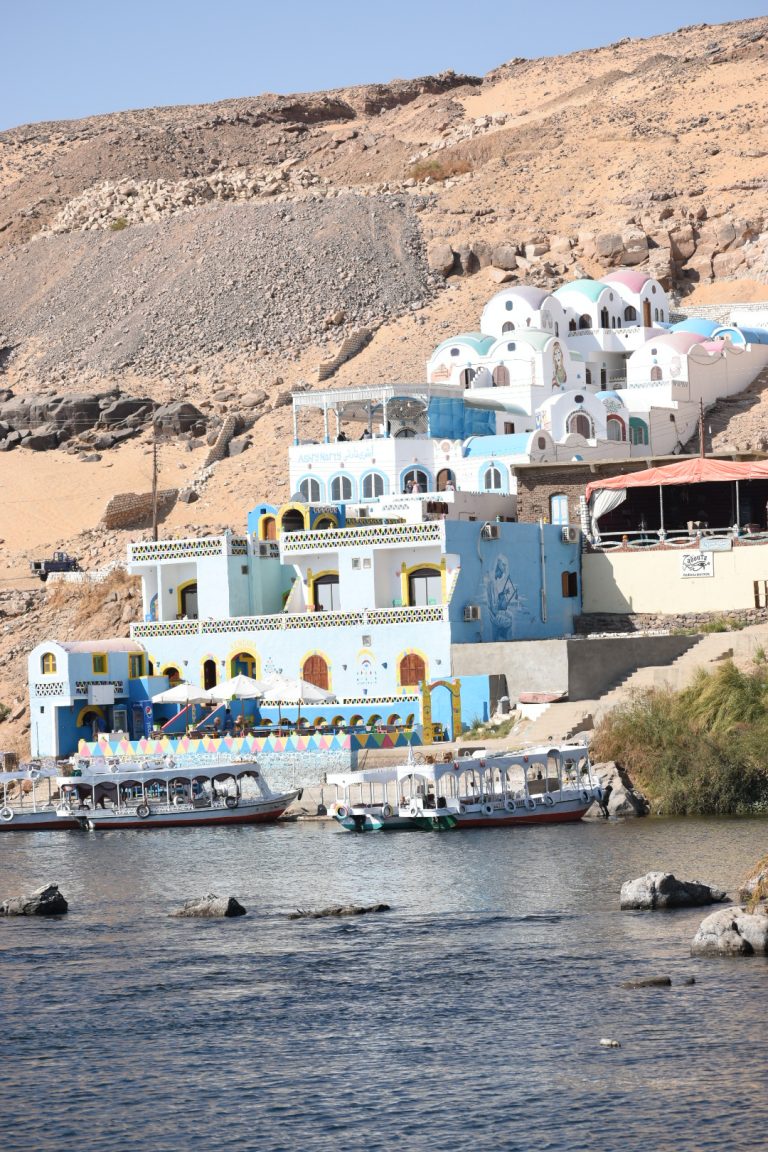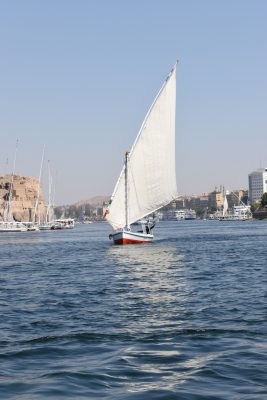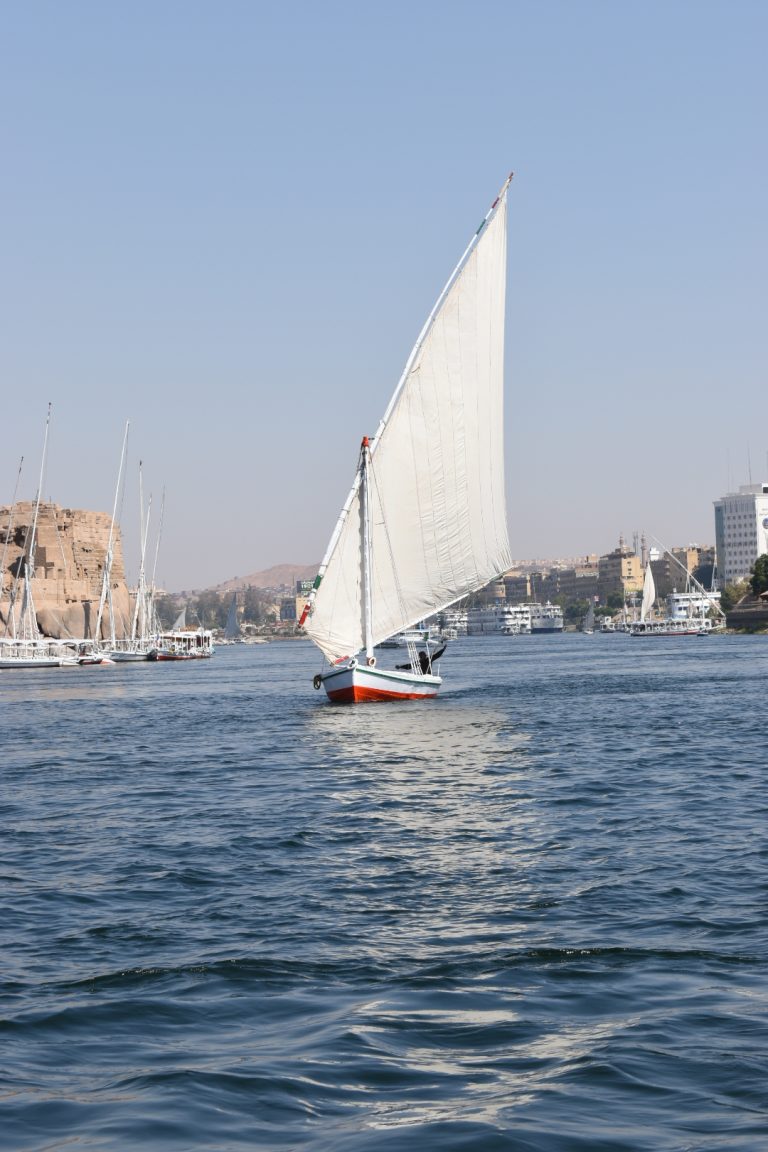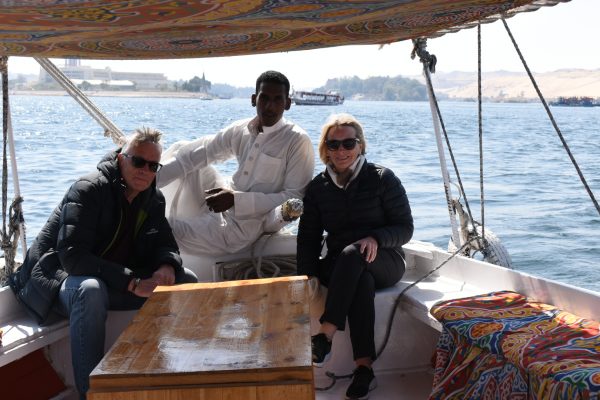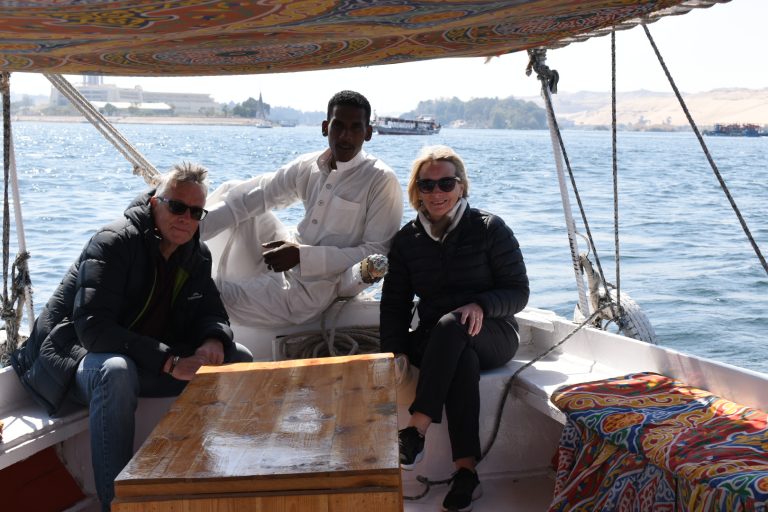 The boats now turn round and sail back down the Nile to Luxor completing a seven day sail for some passengers. They usually also take on some new passengers to replace the ones like us who disembarked at Aswan. That way some four day passengers start at Aswan and do our trip in reverse. But we flew back from Aswan to Cairo. As mentioned if I was re-planning this trip, I would have booked us from Aswan to go see Abu Simbel before heading to Cairo.
Cairo
Cairo, what a place. You have to go here just so you can say you have seen the Pyramids and the Sphinx.  They are breathtaking.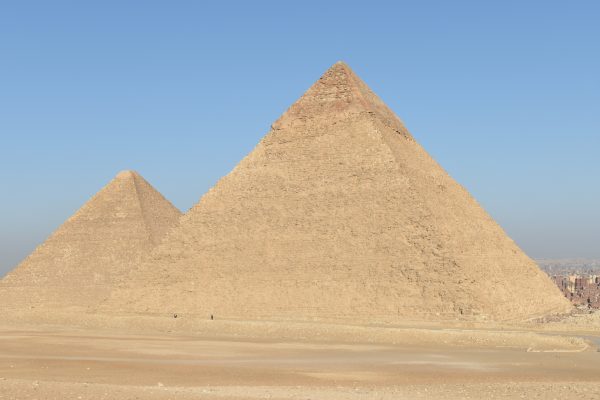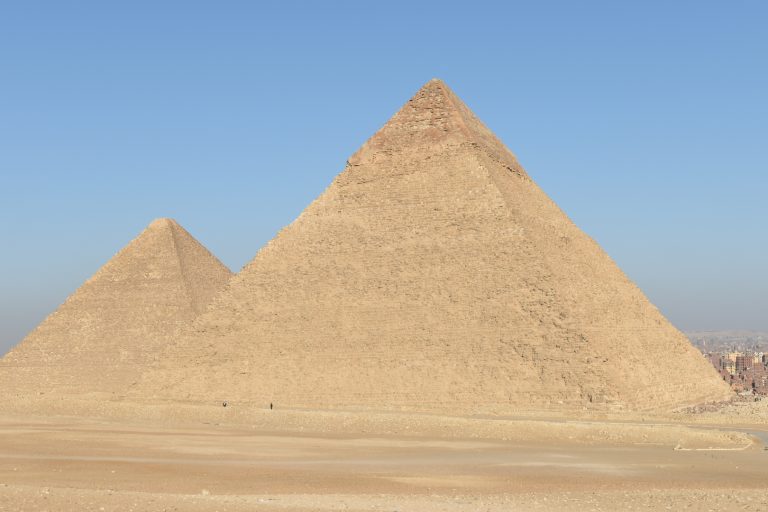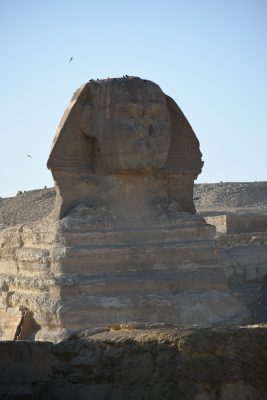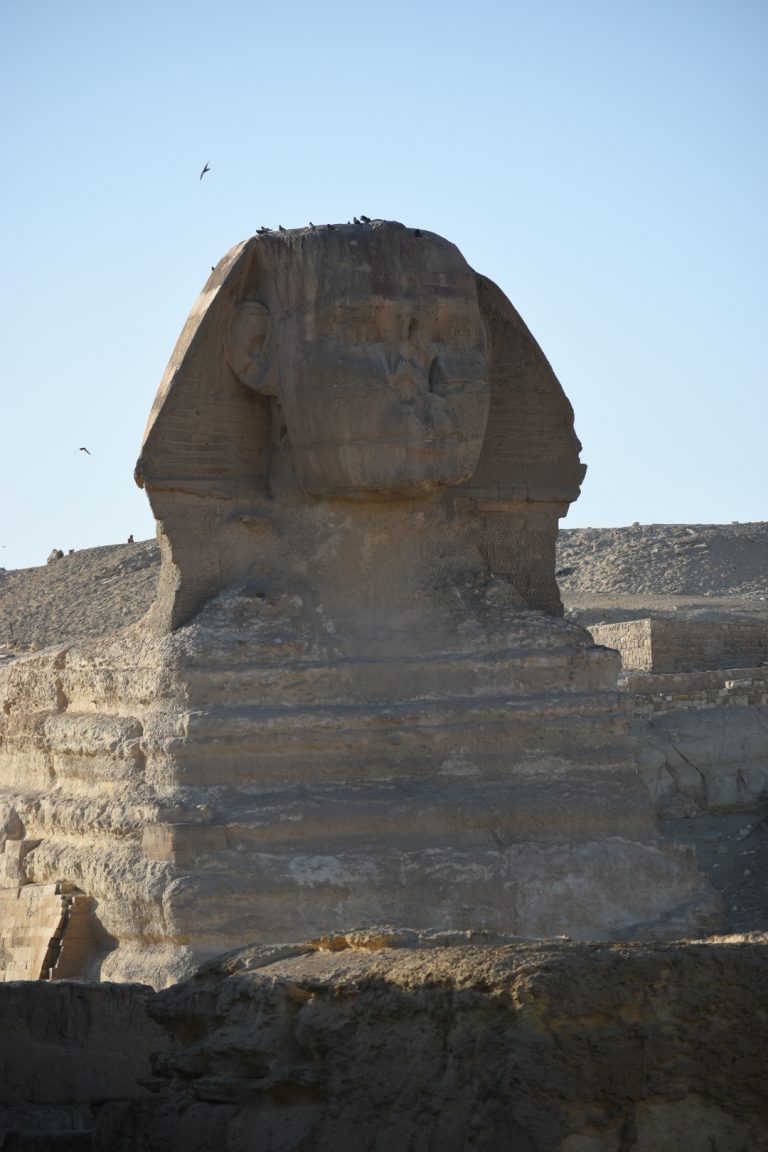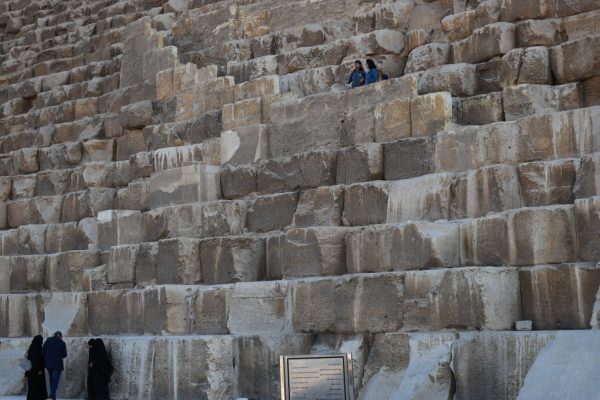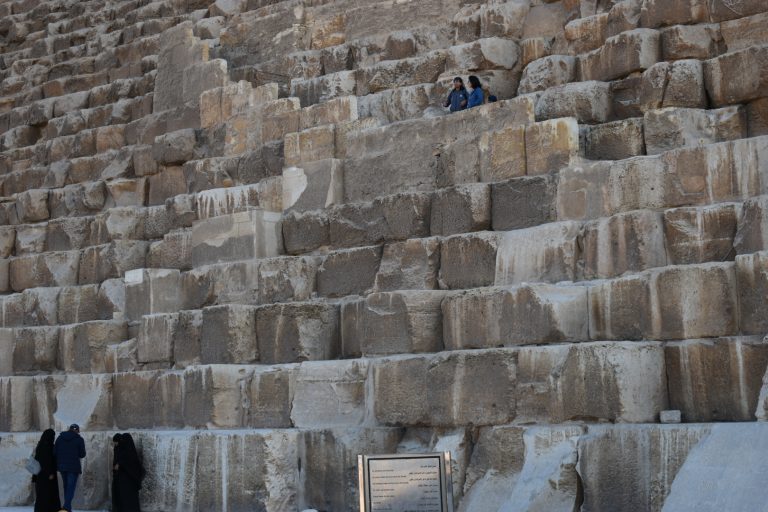 But in fact Cairo has a lot more to offer. It is a teeming mass of humanity, it is dusty and dirty, but it's still quite cool. Another name for Cairo is the city of 1,000 minarets. When you get a bit of elevation they are everywhere. The Cairo Citadel and the Muhammad Ali Mosque are must-see attractions.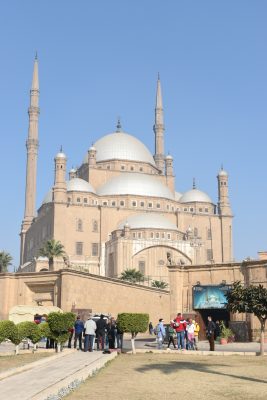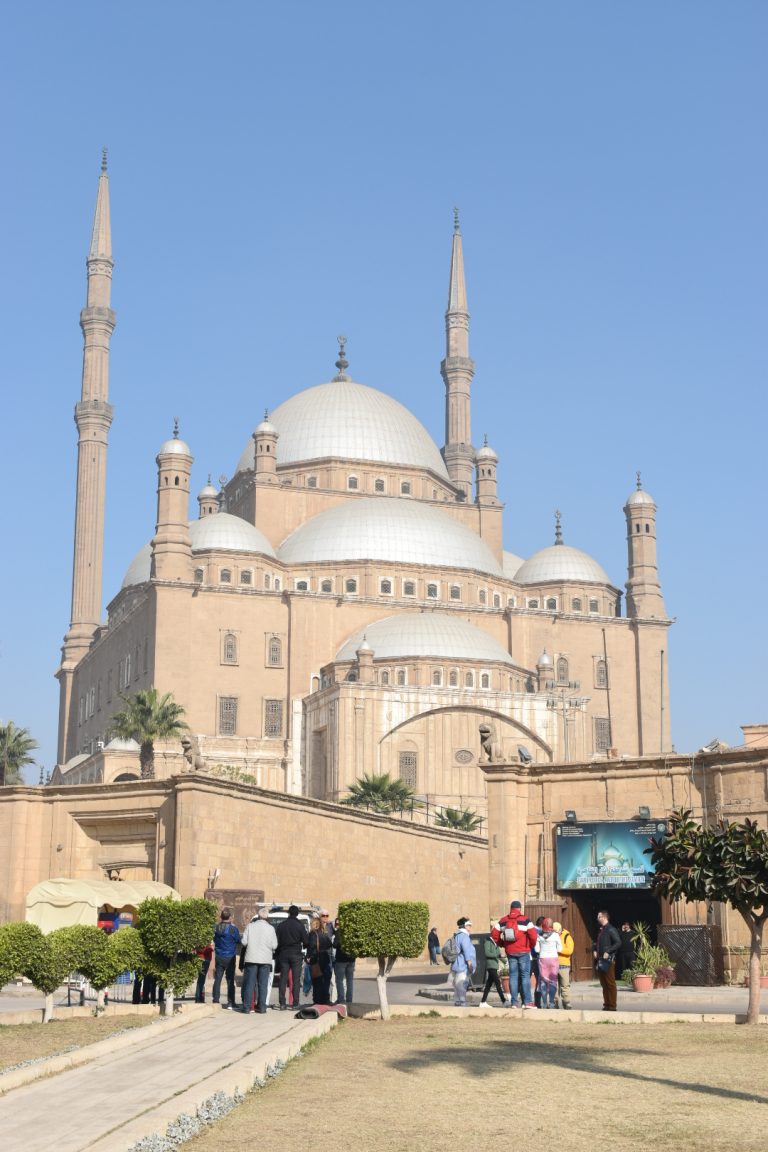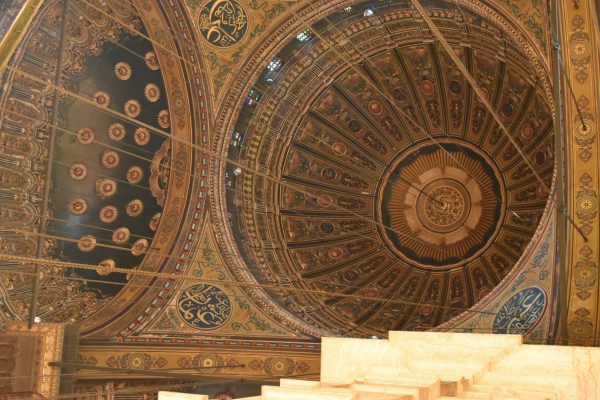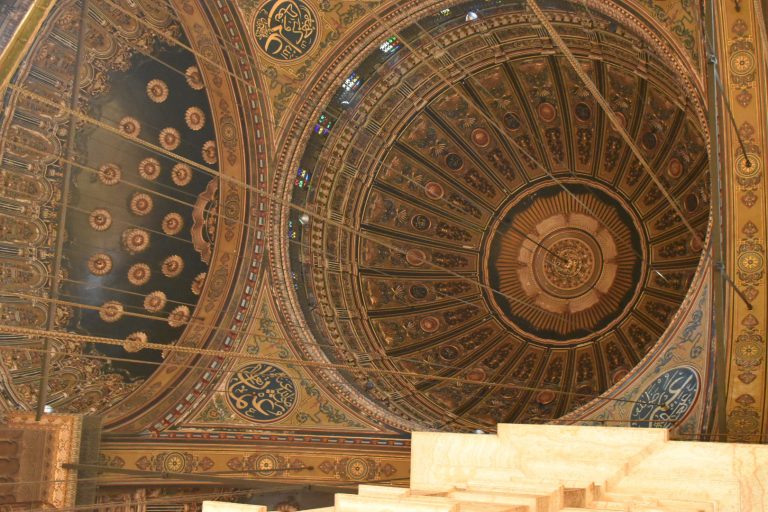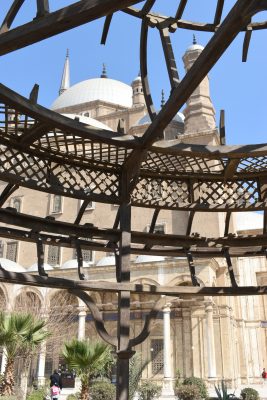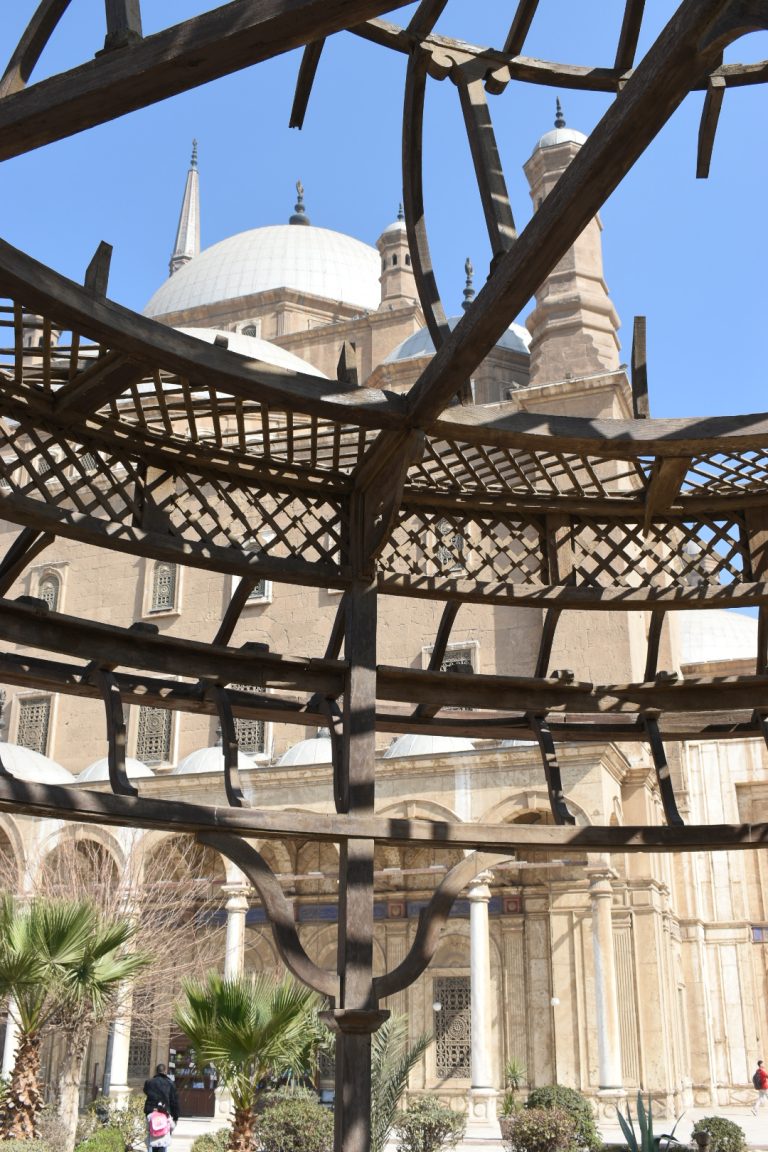 Here we were lucky to have the services of another specialist Cairo guide "Ahmed " to take us around. We also visited the site where Mary, Joseph and baby Jesus stayed in Cairo after fleeing Palestine and Herod's orders to kill all newborn baby boys.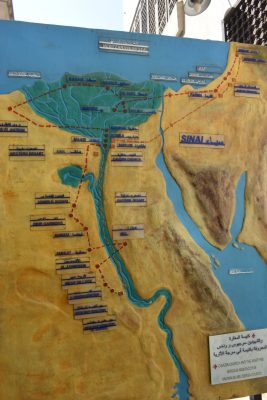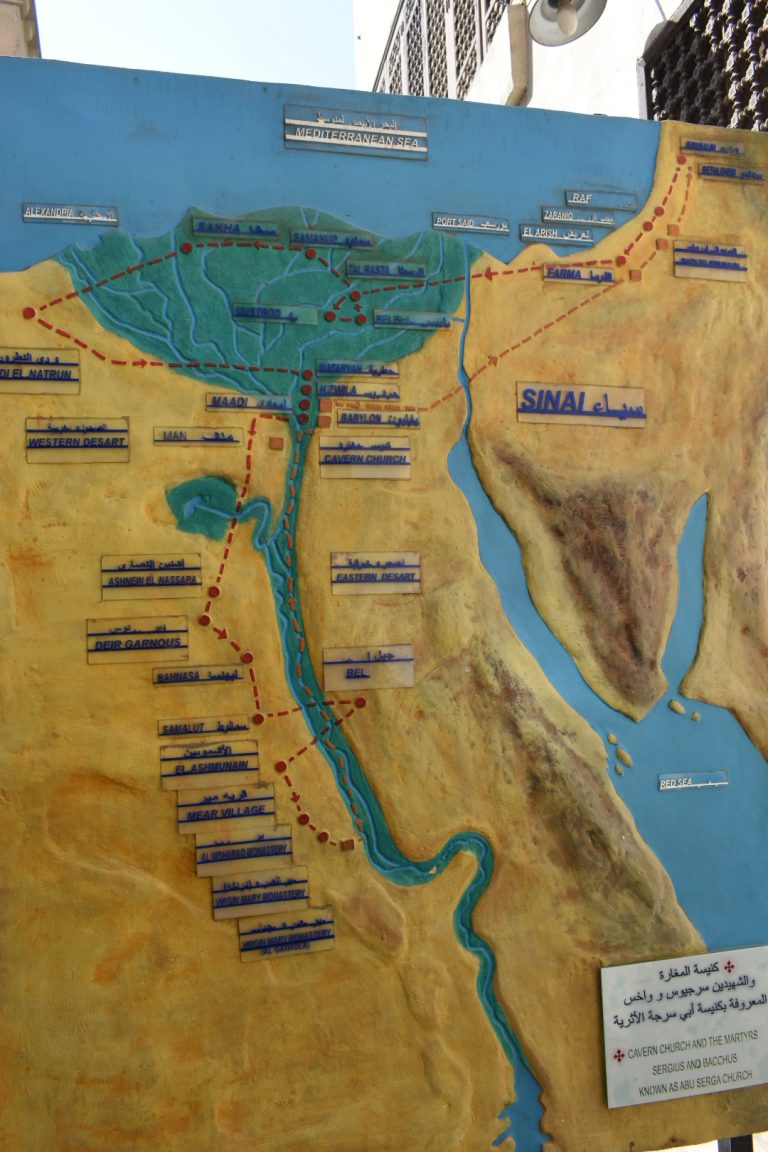 The other must-see in Cairo is the Cairo Museum, and having a knowledgeable guide in here is a must. The "piece de resistance" is obviously all the relics from Tutankhamen' tomb.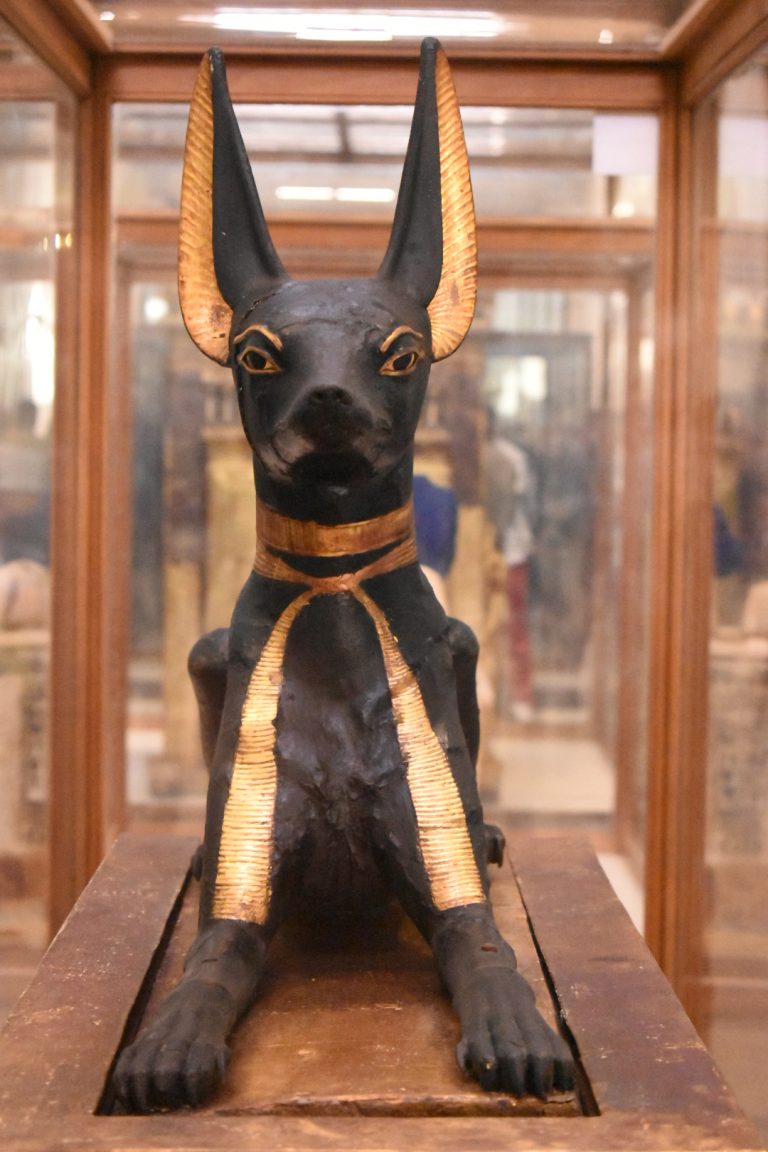 There are hundreds of them and there are believed to be over 160,000 items on display in this museum in total, so you get to see plenty of Mummies and coffins.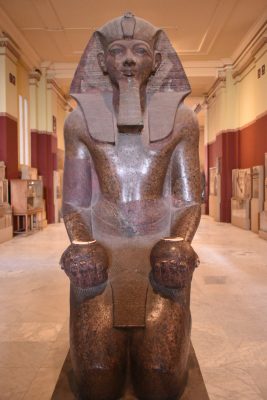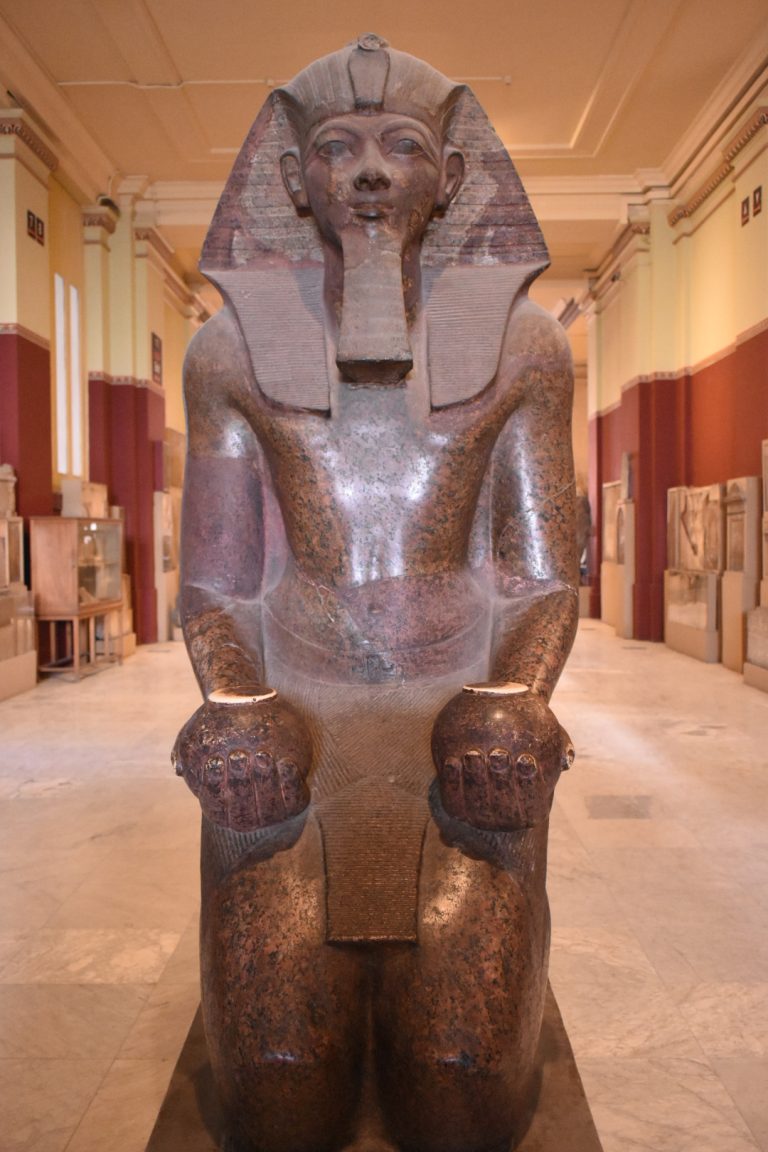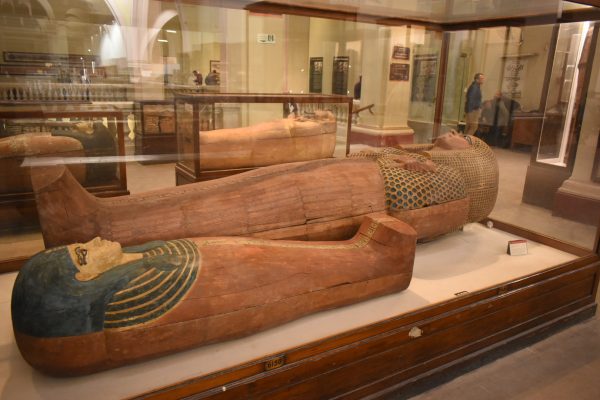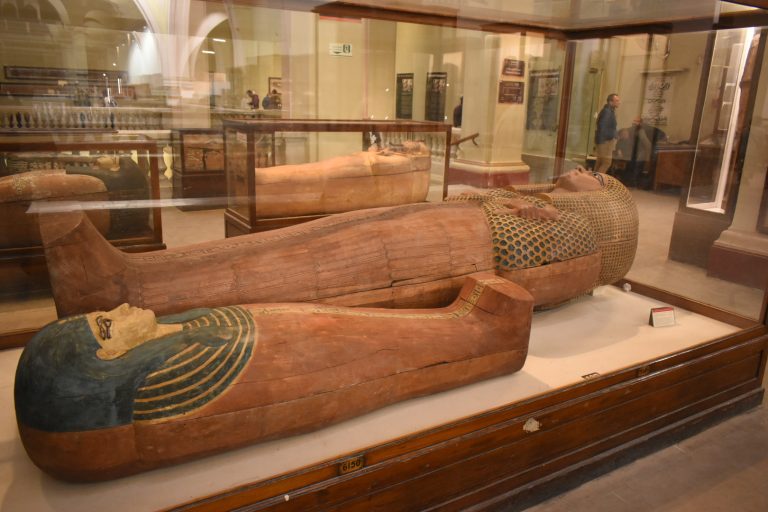 Visiting Cairo in the next year or so will become even more interesting as they are currently building two huge new museums. The new Great Egyptian Museum is being built adjacent to the pyramids and will have a connecting tunnel. This will eventually display a whole raft of mummies and artefacts that have never been displayed to the public (remember they are still digging and discovering stuff). The other museum will be called The Museum of Civilization. Both these will be huge attractions in Cairo, and I expect will greatly boost tourist interest. Being new and modern I suspect the existing Cairo Museum will be left in the dust a bit (no pun intended for those who have been to Egypt), because its exhibits could do with a bit of an overhaul in terms of better and more modern display techniques.
I have to say there are one or two things that grate in Egypt when you travel here. The first are the touts – people trying to sell you stuff or get you in their shop. Outside of Cairo a simple 'no' seems to suffice, but in Cairo it's harder. They ask you so pleasantly where are you from and question you so nicely about yourself and in a lot of cases just outright lie in an attempt to get you to their shop. Now you know instinctively that there is a sales pitch coming at the end of the pleasant chit chat, so you have a choice, be rude immediately and ignore everyone by not saying a word to someone who is talking pleasantly to you. Alternatively you can answer their questions and then still have to say no later. The issue is that you waste so much time trying not to be rude and offensive to them that it genuinely starts to piss you off. Being Kiwis we are not typically rude people, so this type of sales pitch really gets you down. Because you either become rude to everyone or waste heaps of time talking.
It was further compounded when walking down the street and I took the rude approach this time, to a young guy who just genuinely (it seems) wanted to talk and practise his English. He was a student at the college studying and it made for an interesting conversation once we did get talking, but he was initially taken aback and eventually understood why initially we responded the way we did. I was then cheesed off at myself for initially being that way.
The second biggie to be aware of is the tipping culture in Egypt. Tipping is customary in Egypt, and Egyptians also tip other Egyptians for service. But in Egypt it is now in my opinion a bit OTT especially with us foreigners – we are seen as fair game.
The companies that look after you on the trips provide a great service but with it come heaps of bodies attached. The vehicles all have a driver and another person with the driver to help assist you, and then you will have your guide. Depending on how many cities and or sites you are visiting these people can change on a regular basis. It almost feels like you are tipping someone every time they speak to you. Make no mistake it is expected and be prepared to take plenty of smaller denomination currency along on your trip. The guides and drivers definitely deserve a tip when you see what they actually do for you.
But be aware some of the bodies actually came looking for the tip. On the cruise boat we had three room cleaners turn up on the last night, doing the rounds looking for their tips. They literally knocked on the door asking.
At the Valley of the Kings you are required to hand over your cameras so there is no photography inside the tombs (they allow cell phone photos, go figure). When I went to retrieve it the attendant wanted a tip for me to get it back. Similarly at the airport the guy overseeing bag loading into the security scanners wanted tipping and was angry when I said no. Everywhere you go from toilets to your bed the question is ever present. Tipping isn't a big part of our culture but it is in Egypt, so be prepared. Factor it into your trip as there will be people who genuinely deserve a tip and those that are trying it on. Even booking a "full tips paid tour" won't help, you will still feel mean at the end if you don't recognise some of the most deserving.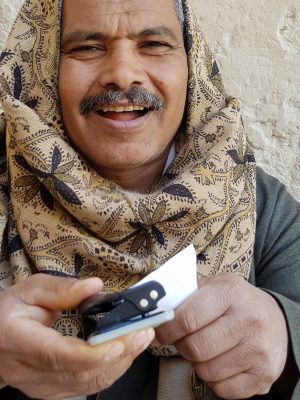 Overall we loved Egypt, and I really hope we can get back some day, Mike and Sandy at World Travellers have the contact details for our two outstanding guides so you can also get the most from visiting this hugely interesting country.
For us now it is back to Israel for a week or two before we head back to the UK. We don't want to rush leaving these warmer climes for the miserable European winter, but when we eventually pick up the motorhome again it will at least be Spring … in theory.
Now you're all set for your own trip to Egypt! Armed with all of Jim's top tips and words of advice, you'll be sure to have a great time in this fascinating country. Get in touch with us to start planning your adventure.