Jim and Karen's UK canal boating adventures continue. This time they explore Warwickshire and Stratford-upon-Avon, the birthplace of William Shakespeare. 
Since the last post on our travels a couple of weeks back, we have sure covered a bit of territory and seen a lot more. We have travelled down rivers, along more canals, travelled over aqueducts and gone through even more tunnels, one of which was over 2km long. It is really interesting when suddenly you realise there is another boat coming towards you in the tunnel. They are designed so two boats can pass – just. However, doing all this inside a pitch black dark tunnel is interesting to say the least …
We have navigated up a few more lock flights now, including the longer Hatton lock flight, but I have to say the Foxton flight still seemed the most impressive.
Our travels have taken us through some stunning rural countryside, some picturesque wee towns as well as some ordinary areas – just all part of the mix of travelling.
Warwickshire
Part of our original planning was for the trip to take us through the Warwickshire area so we could specifically visit Warwick itself and Stratford-upon-Avon. Close to 40 odd years ago in the month of May, we had a week on a canal boat in this same area, so a real attraction for us was coming back to see if anything was familiar.  The short answer was that nothing looked even vaguely familiar, except perhaps the walls of Warwick castle. Some of the pubs look as though they have never had a make over in 40 years either.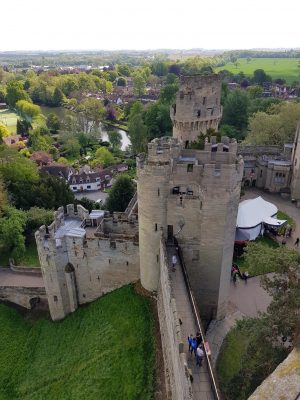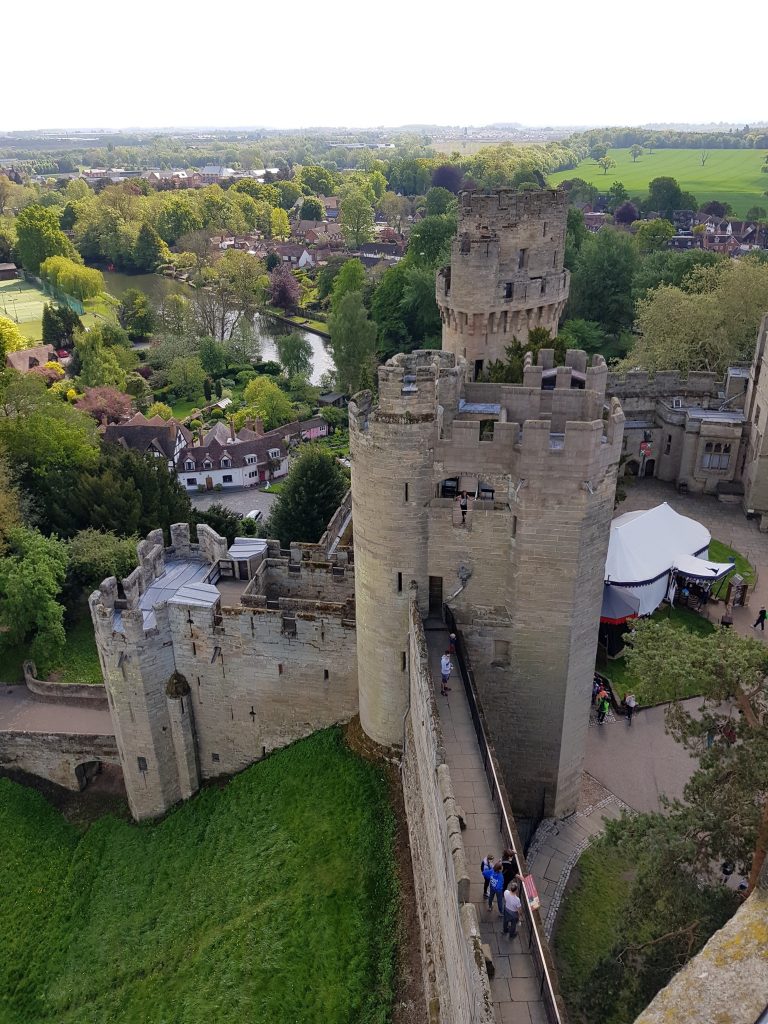 Warwick and particularly the castle were a big must-do on our list and they did not disappoint. The walking tour offered at the info centre takes you round all the must-see points in the town, and I for one can't help but feel awed by the history and the way it is presented and so accessible. Warwick is a must-see on a tour of the UK in my opinion.
Warwick is a must-see on a tour of the UK in my opinion.
Warwick Castle
The castle – and what a castle – was still in private hands up to 1978. Now it's a national treasure and open for full inspection. Your entry fee gets you full unencumbered access with all the castle opened up and available. Now in all fairness it had a slight amusement park atmosphere to the visit with the plentiful availability of food outlets and souvenir shops, but every visiting kid needs a sword and shield or a princesses hat don't they?  
The castle also puts on some some fabulous shows as part of the billing, from hunting birds of prey, archery, right through to a trebuchet (think catapult) in action. Later this summer they are starting a jousting show as well, along with free history and more serious tours about the castle's inner workings. You can literally spend all day wandering through this place so if you visit allocate five hours as a minimum.
Navigating the locks
The next major stop for us was Stratford-upon-Avon, best-known for its most prominent local, William Shakespeare. Before that we had a couple of busy days on the canals between these two historical highlights.
There are some 55 locks on the journey when you travel from Warwick to Stratford, including the famous Hatton flight which has 22 locks just in this section. So if you ever do this trip be prepared (but don't be put off). Luckily there are a lot of volunteers now assisting on the larger lock flights. They have to just because of the idiots who sometime hire these boats. Certainly their presence make the travel a lot easier – they don't do everything but they usually do assist.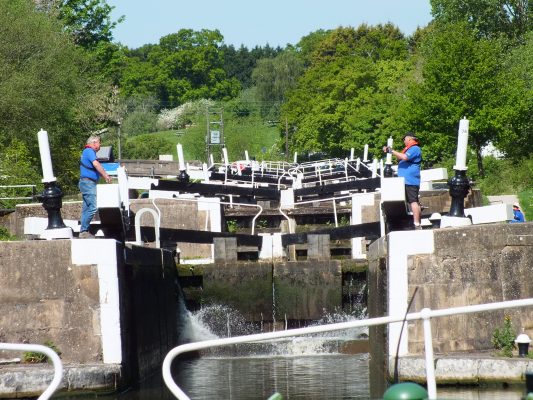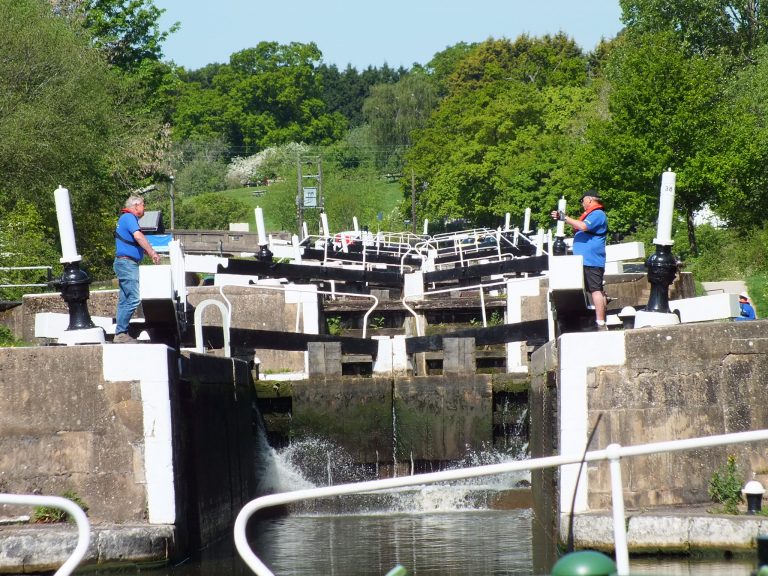 Crossing the aqueducts
However the aspect I will remember most is crossing a couple of aqueducts on the journey, with one in particular setting the heart racing. These aqueducts are one-way and essentially they are a heavy steel trough set atop the arches, so the canal can cross a major impediment like a main road, a railway line, a river, or a valley. The troughs have approximately six to eight inches of free board above the water line in terms of their sides to keep the boats in. There is no other form of side/safety rails – health & safety just don't seem to exist here. Sometimes one side can have a tow path so the queasy can walk across.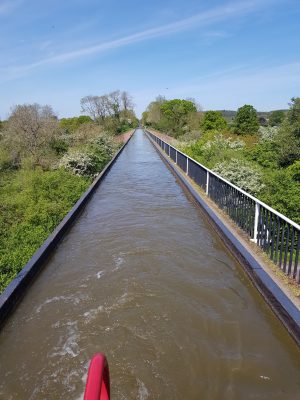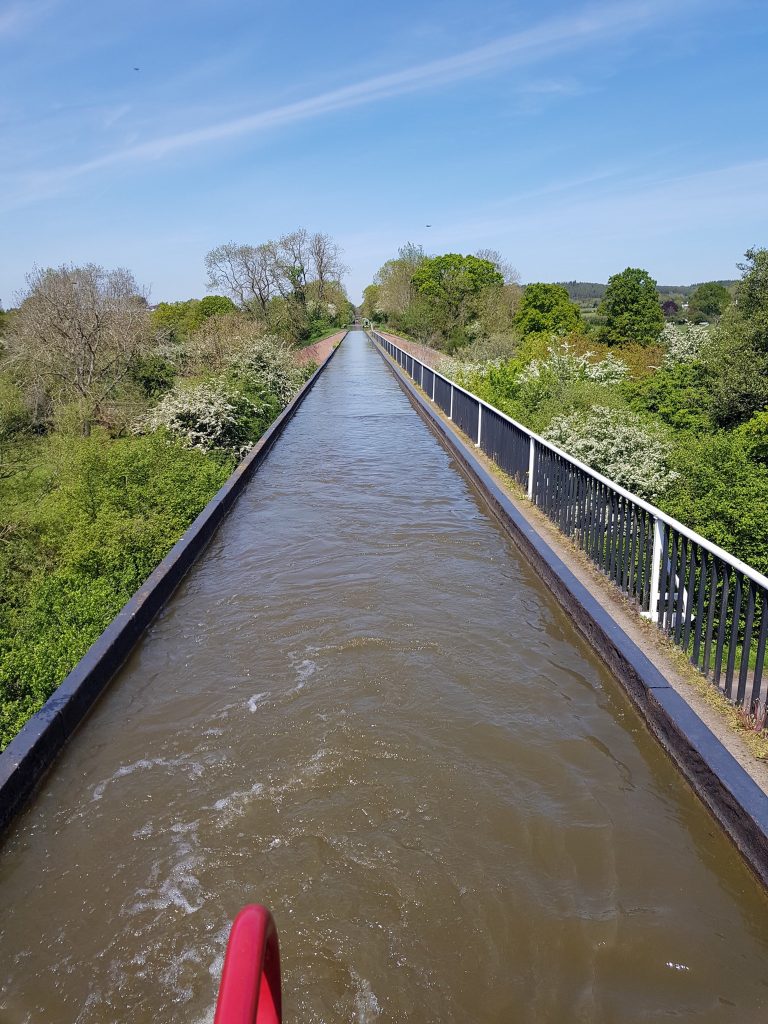 Now in all fairness they have been standing for decades and plenty of boats have crossed and no boat has ever dropped over the side (so they say). However, when the wind is up and your boat spends the whole trip jammed hard against the drop off side of the aqueduct with you looking out at a 20m+ drop, and there's not a single thing you can do about it while you scrape your way along the couple hundred meters of its length, it's fair to say the adrenaline sure kicks in. Especially when all you can think of is "metal rusts when in water". To think we are still keen to go over the much taller welsh aqueduct at 127 ft tall … we must be bleeding mad.
Stratford-upon-Avon
Eventually we did get to Stratford and once again a walk round the centre of town following the tour trail takes you to all the prominent sites that were part of Shakespeare's life. 
As with all historical towns the centre was very compact way back when, so getting around is not a big issue. The much newer Shakespeare theatre company is another very prominent presence in the town and is a another must-visit – in our case this must-do included tickets to a show. I think they have at least one playing every night of the year.
Now I have to confess Shakespeare's works were never a major focus for me previously, and after a while listening to a lot of Poms on stage talking as though they lived in the 17th century got a bit hard to follow at times. But you can't but help admire the whole presentation and professionalism of the theatre company and after a while me thinks I doth protest to much about the old language.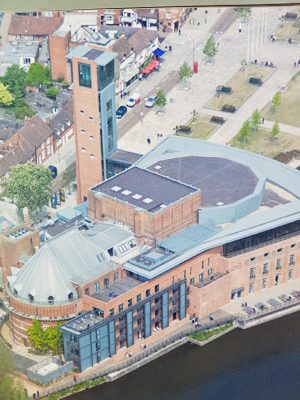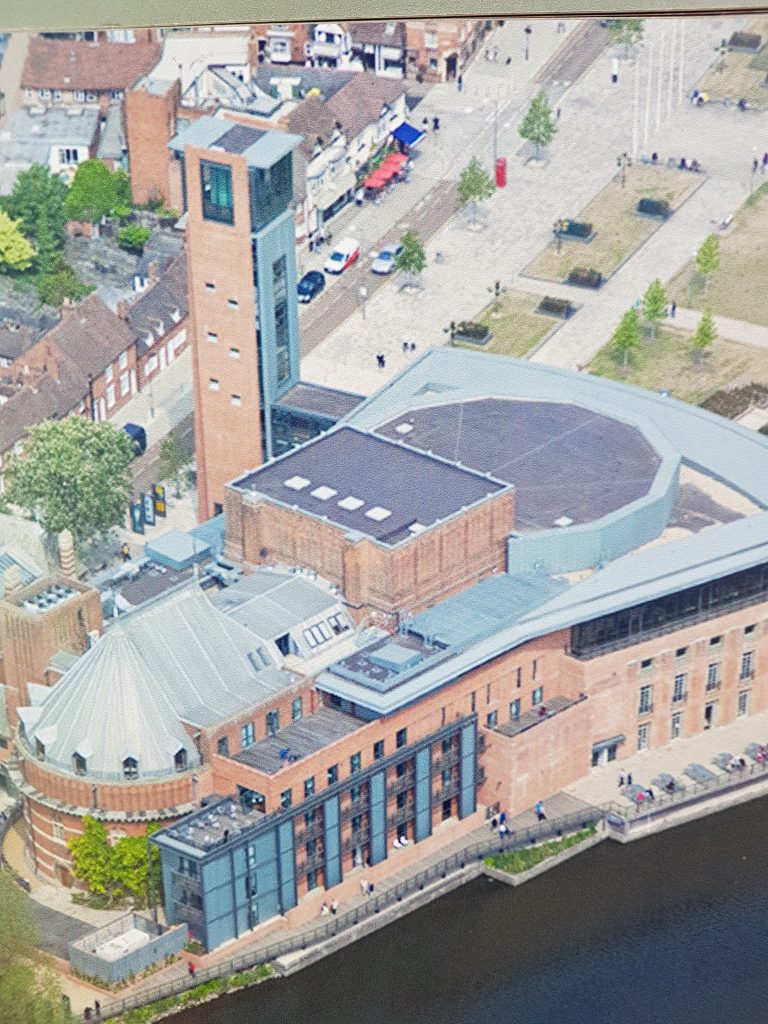 The Avon River
After a couple of nights in Stratford we left the canal and headed out onto the actual Avon river. We are travelling on this for a couple of days now heading towards Tewkesbury.
River boating is a bit different to the canals, and in our case we are travelling downstream so the current is always travelling with us. As with everything it's the wind that causes the biggest issues and we have had a few more situations where a breeze is definitely our enemy, so much so that I literally had to jam the front of the boat into a lock gate with a bit of opposite steering lock to stop the wind blowing us onto a weir. I've got to say we are certainly getting the full experience on this trip.
We are now well down the Avon river and tomorrow we will be turning onto the River Severn while we head towards Worcester. Once we get there we will look to park up for a few days while we head to London for the Chelsea Flower Show.
Next post will likely be from London and Chelsea, where I will regale you with stories of flowering fuschias  and blooming begonias – bet you can't wait!
Cheers.