After avoiding the European winter for as long as possible, it's finally time for Jim and Karen to head back to the UK to pick up their campervan. However, not before they have a few more exciting adventures … 
The last three weeks or so seem to have flown by since leaving Egypt.
From Cairo we flew back to Amman Jordan for 24 hours before crossing the Allenby bridge to take us back into Israel. This crossing point seems to have plenty of comments about it online, telling you the crossing can literally take 5-6 hours to get across. In our case, the reality turned out to be a lot less. Whether it's good luck or good management we have found all our border crossings recently to be simple straightforward events.
We took a taxi from our hotel to the Jordanian side of the border crossing, some 30 odd kms out of Amman.  Once there we quite literally just strolled through the Jordan border services. Initially it seemed a bit chaotic and confusing, mainly because there is not much in the way of signage in English to assist you. Which is surprising really being that it's such a major crossing point and adjacent to Jerusalem. But as usual there is always someone else in the queue who knows what is happening, and able to point us in the right direction.  Once you complete the Jordanian process you have to hop on a bus for the 5km drive through no man's land and across the Jordan River to the Israeli side of the crossing and here again you go through their immigration process. Overall the whole process took about 2 hours so it was no where near as bad as some of the online comments would have us believe.
On landing back in Israel we then caught a shuttle from the border to Jerusalem and finally an intercity bus from Jerusalem to Haifa in Israel's north.
Haifa
We were keen to come up to the north of Israel so we could experience as much of this amazing country as possibly. We spent four days based in Haifa and used the time to visit not only this old historic city and port but also the amazing Baha'i gardens.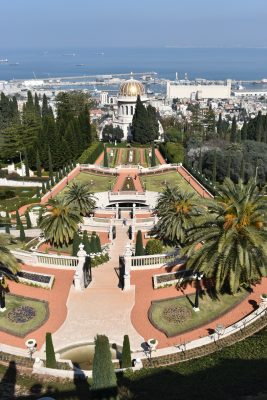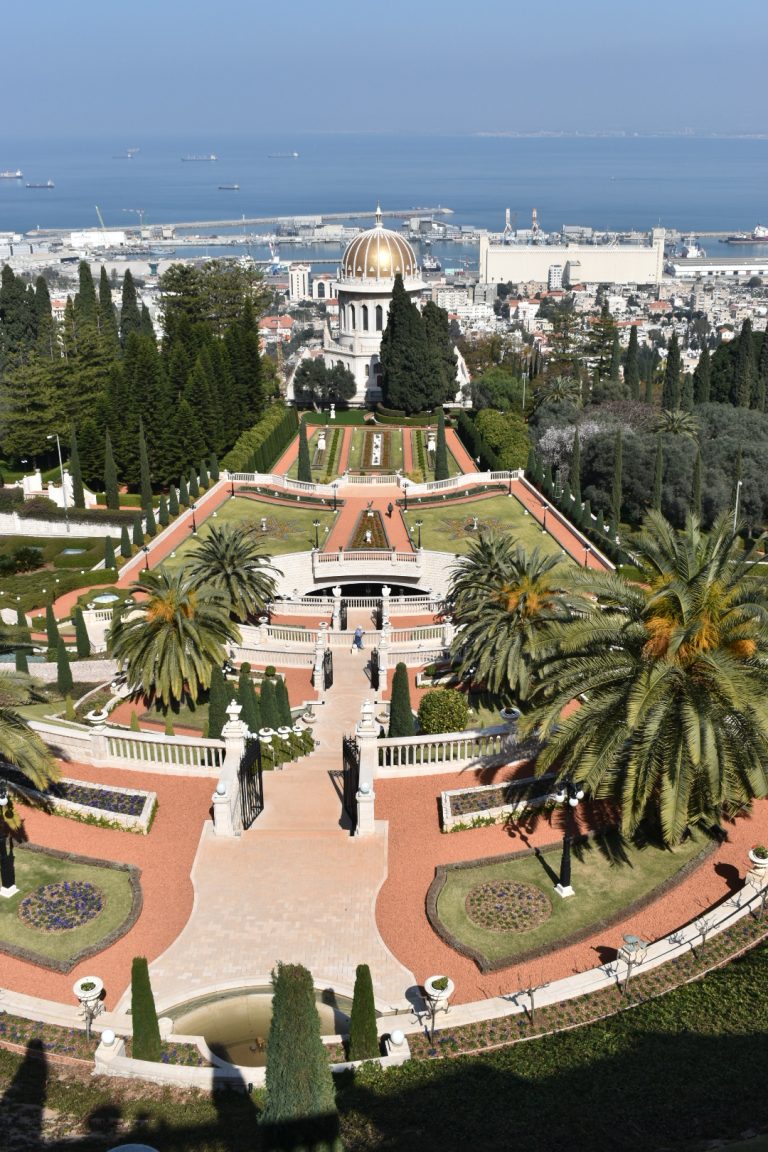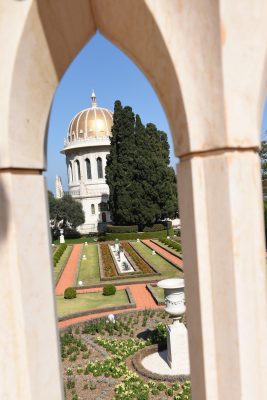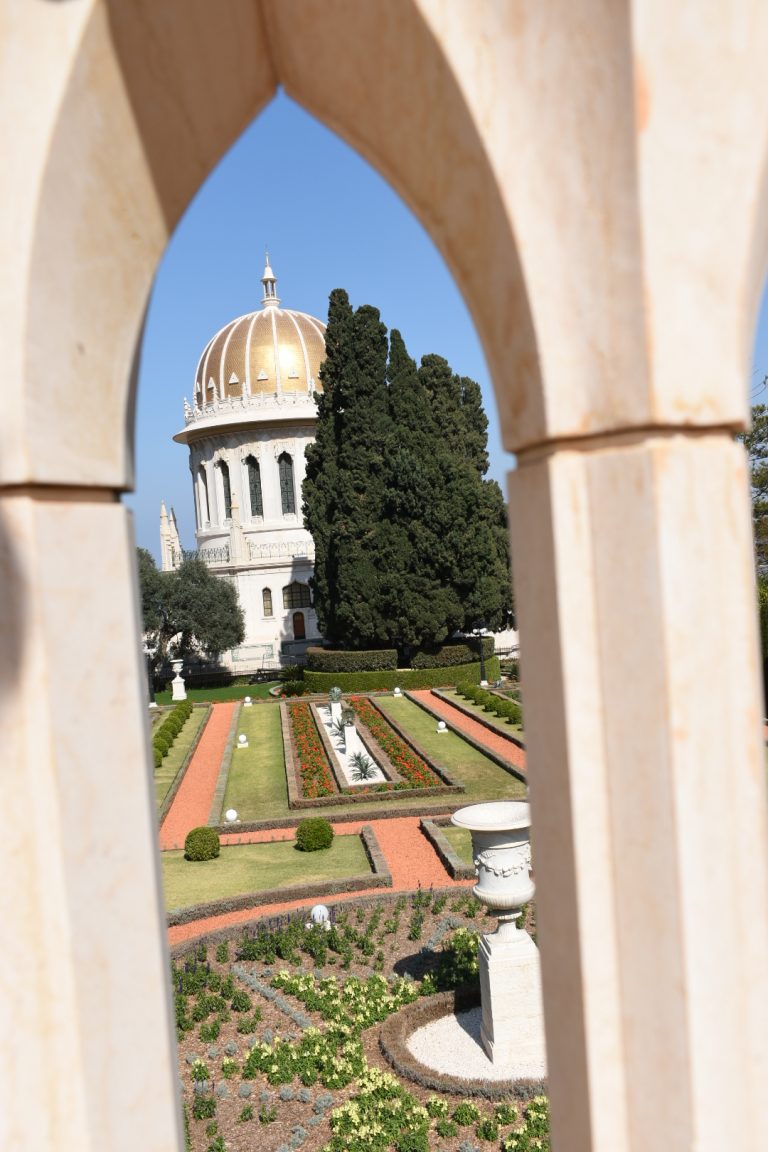 Haifa as it turns out is one of the two main centres for this interesting religion. Previously I had no real knowledge about the Baha'i faith, but found it interesting to realise that it is a faith based on the fact that there is only one God, and regardless of whether you recognise or pray to Buddha, Allah, Jesus Christ, or any other deity, they are all just a word for the same one God. The religion teaches unity and the equality of everyone regardless of who they pray to as they believe we are all praying to the same one God, just with a different name. Imagine if the world all agreed with this religious philosophy – there would be a lot less issues to contend with I suspect.
While here we hired a car for a couple of the days to visit Akko.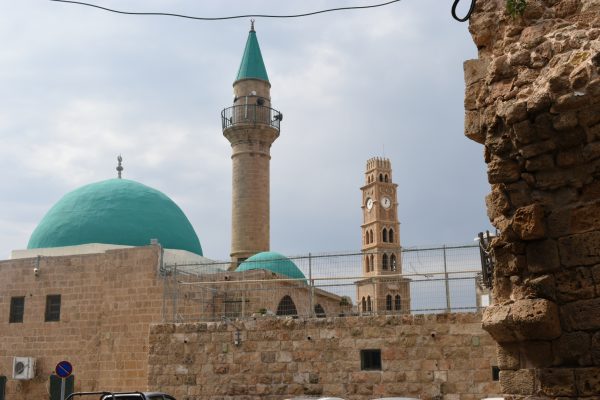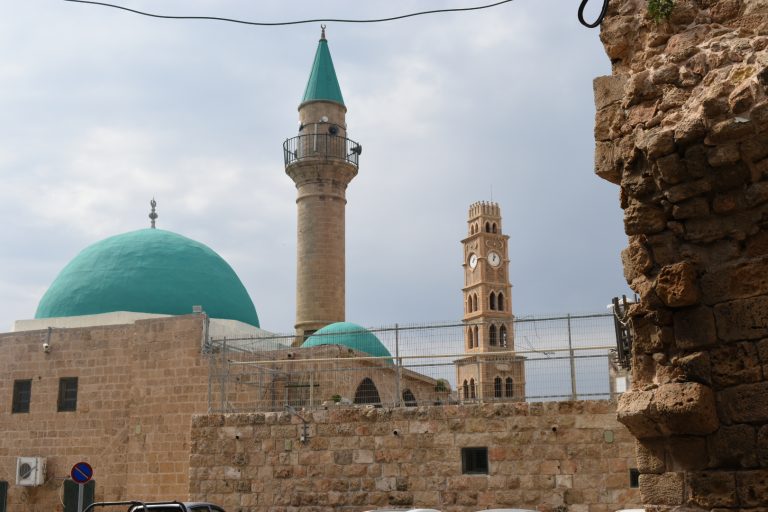 Akko
Akko is recognised as one of the oldest port cities in the world but we also wanted to visit so we could venture up into the Golan Heights. This is an area that has been fought and scrapped over in recent years following the establishment of the modern Israel. The Golan Heights as the name suggests are a hilly area in the North east of Israel. Now officially an occupied territory of Israel, it has been changed it into Israel's bread basket. This area consists of acres and acres of orchards, vineyards, olive groves and hot houses. While here we drove as close to the border with Syria as is possible. The hill tops in this area have been Israeli military strongholds ever since they were captured in the Seven Day War of 1967. While there is still a military presence up here the fortifications are now more historic relics than a current front line.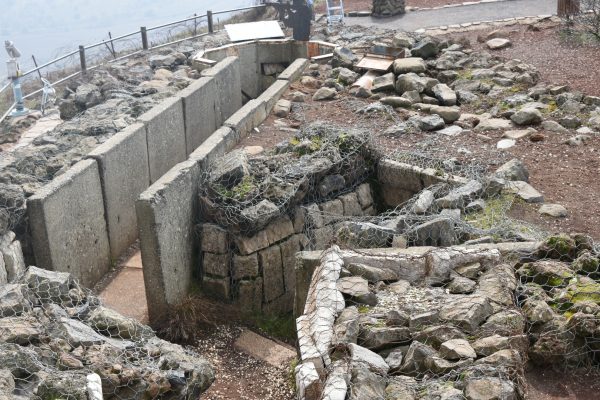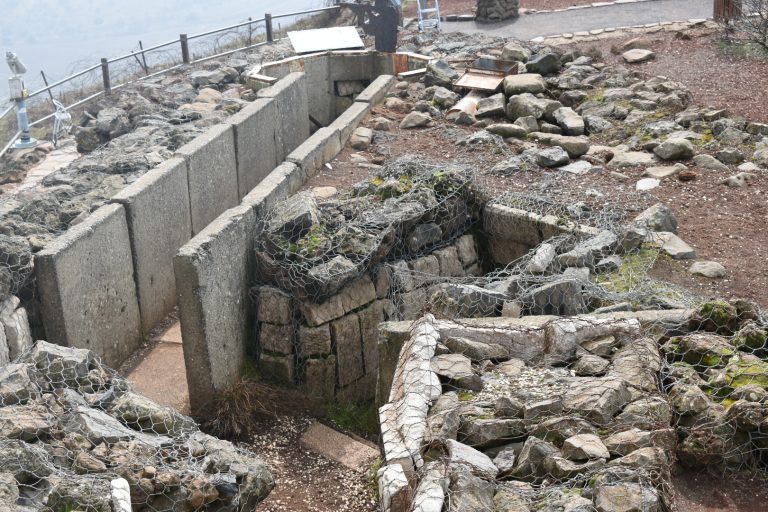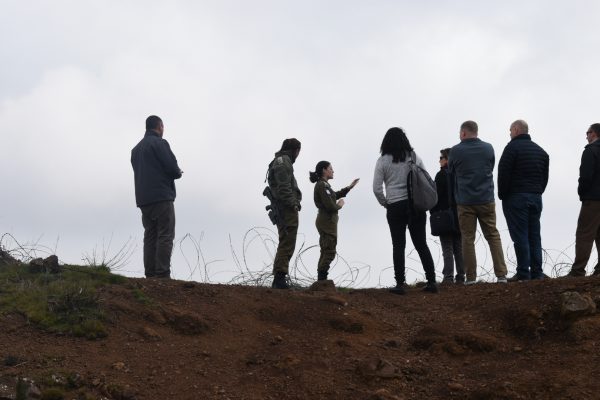 The relationship with Syria is now at least less acrimonious than it used to be, especially as Syria has had other more pressing internal issues to deal with in recent times.
It was however a little unnerving to have guides telling you that as recently as a year ago, you could stand on the hill we were atop looking down on the Syrian army shelling an Isis stronghold in the valley below us. That stronghold is now occupied by the United Nations peacekeeping force that is working with the population still living in this part of Syria.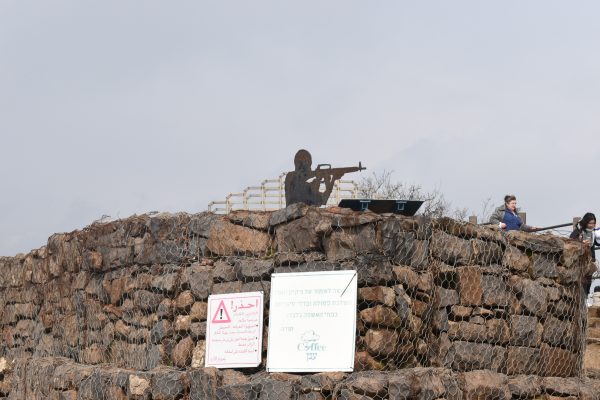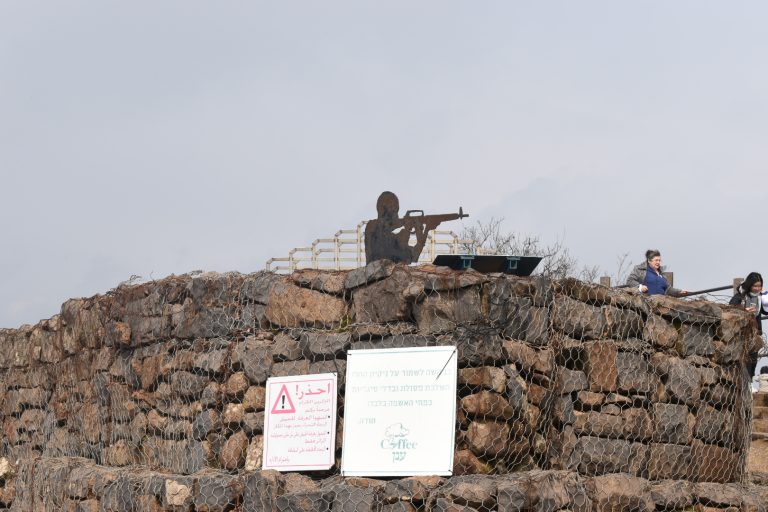 Living as we do in New Zealand it is spots like this that make you appreciate exactly how lucky we are.
Tel Aviv
From Haifa we than moved on to Tel Aviv for our final few days in Israel. Tel Aviv is an interesting modern city. Planned over 100 years ago it was built on one of the plains outside one of Israel's oldest towns, Jaffa.  Approximately 50 years ago Tel Aviv had grown so much the two became one large city, so to speak. So when visiting you can go into the old part of Jaffa which dates back in excess of 3,500 years and a few blocks later you can be in a modern high rise city.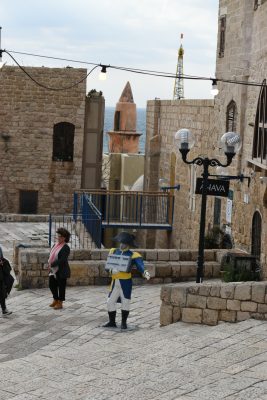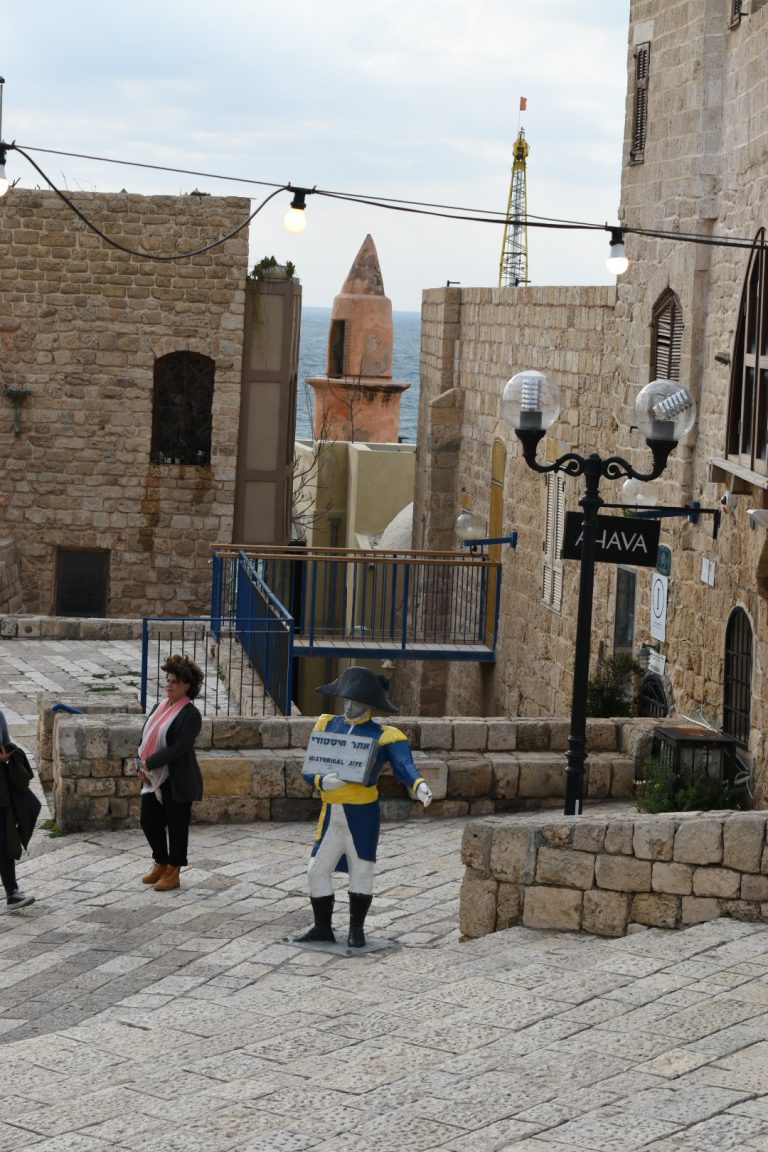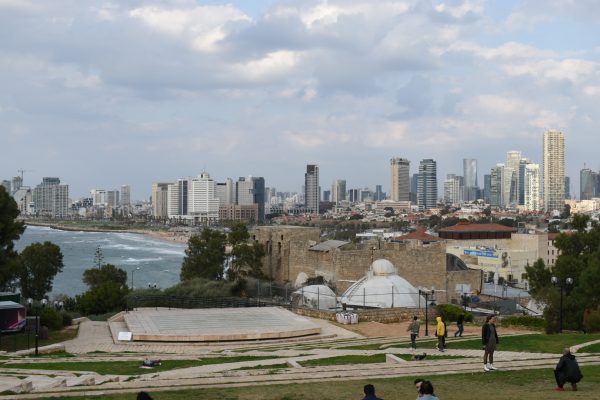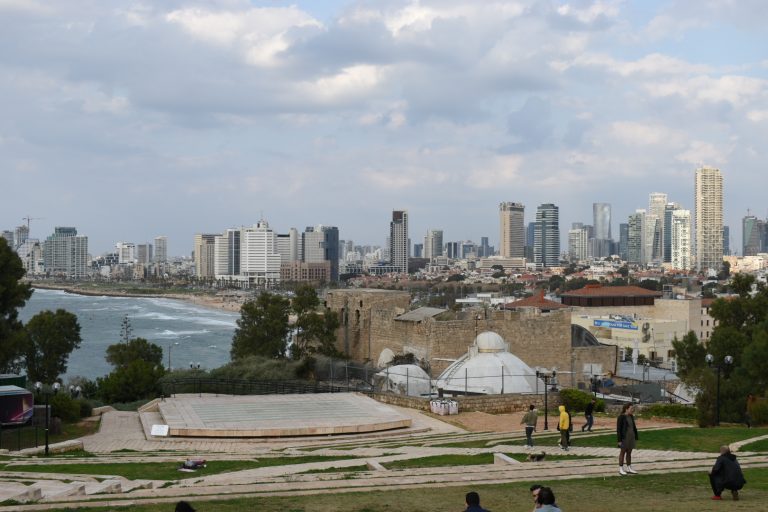 Along Israel's coast line area the beaches are simply stunning. Israel's whole west coast lies along the Mediterranean Sea, and it's quite literally magical and stunningly beautiful. It's very reminiscent in some ways of the Gold Coast or Los Angeles beaches along with a great climate.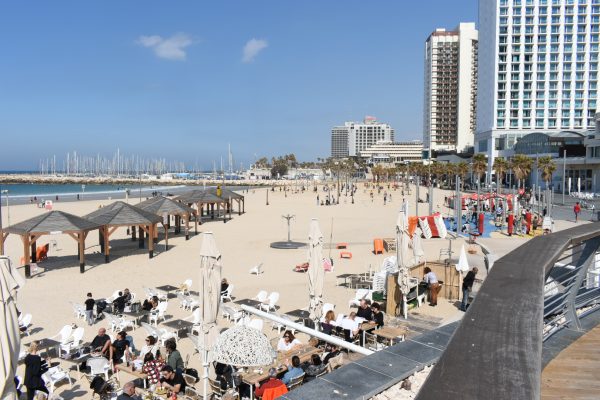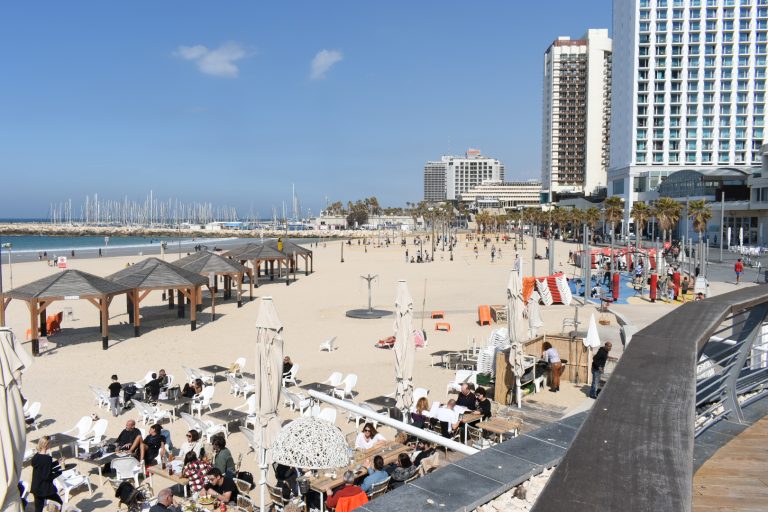 When you travel it's always interesting to find by accident something totally unexpected that tickles your fancy, and while out walking through one of Tel Aviv's major parks, we stumbled upon a game of rugby. It turns out it was the final of the local competition. Now it's fair to say this was not a game being played in a fine sports ground as we might expect at home. In fact, the ground was probably one of the worst I have seen for a " final". It was undulating, as well as markedly sloping so the bounce of the ball took on a whole new meaning in this game. However there was no lack of passion among either the players or the supporters, and interestingly even though the words were yelled in Hebrew there was no doubt the ref was still being told and advised "that player was offside ref" along with "open your eyes ref" as much as he would be at any game at home. It was a great game to watch and as I said totally unexpected, but you could see a smattering of Australian and other national rugby paraphernalia on the coaching staff of both sides, showing real international influences.
When the time finally came to leave Israel and the Middle East it was with some sadness. Our five weeks plus in this region have been all that we expected and more. As a destination to travel to I can't recommend it highly enough – you will love it.
From Israel we have headed to Spain for a week or two. While officially we are still avoiding the British winter, in reality we are using this next period of time to think and plan where to from here. Our travel plans have been thrown into a bit of an uproar as a result of both the coronavirus and the current refugee issues along the Greek/Turkey border. So we thought we would take another week or so to go and visit two parts of Spain that we hadn't previously been to, while at the same time getting our head around where to next.
Originally our plan was to come straight back from the Middle East, pick up the motorhome and head to Italy, before eventually ferrying to Greece and then driving back up the Adriatic coast. However as mentioned things are currently a bit in turmoil over here as you can imagine. We decided a visit to Barcelona, the south of Spain and Gibraltar for a week or two might be in order while we take stock. Thank goodness we have a timeshare at home to enable us to arrange swaps.
Who knows how things will all end up with regards to coronavirus – as I write this it looks to be really taking hold globally. In reality I am not unduly worried about it from a personal health basis, and in fact once we get back into our camper next week we are probably in the best safest place, as just the two of us travelling around in a campervan keeps us away from crowds most of any given day. It will almost be our form of isolation. I think the potential to catch the virus is hugely decreased by our mode of travel. Having said all that the larger issue we might face, depending on how this all develops, is the reaction or action required by authorities when we eventually cross back into the UK or look to head home, especially if we do venture into Italy.
Another reason for spending a bit of time in Spain is quite simply because the UK is having what is one of its wettest winters in recent years. Literally this last week another flood event has just hit the UK so we are doubly glad we are here.
Barcelona
Barcelona was our first stop in Spain, and our main reason to visit was to see the Sagrada Familia.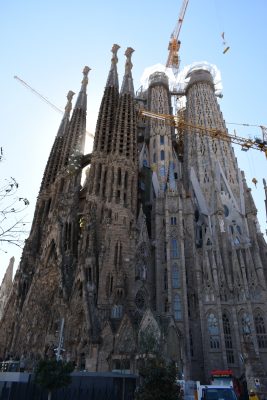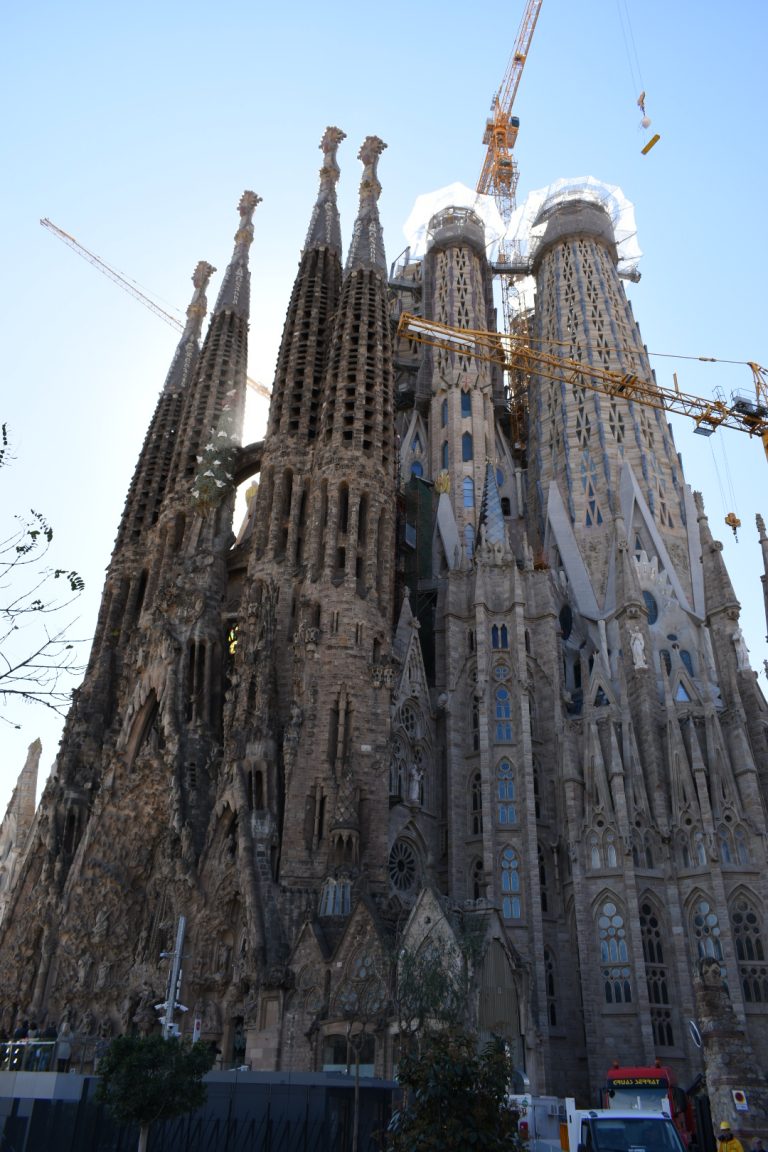 However after four days in Barcelona I can definitely see why it is such a major city of attraction to tourists. What a stunner: slick, modern, great food, great sights and sounds – it's just a gem.
We did our usual city tour first off but this time as a bike tour with the Fat Tire bike company. We have been with them before in other cities. I like their bikes and their tours, but whichever company you use for a bike tour it's a great way to get to grips with this city.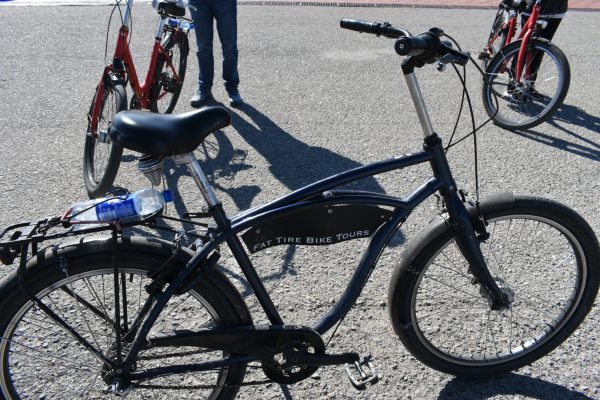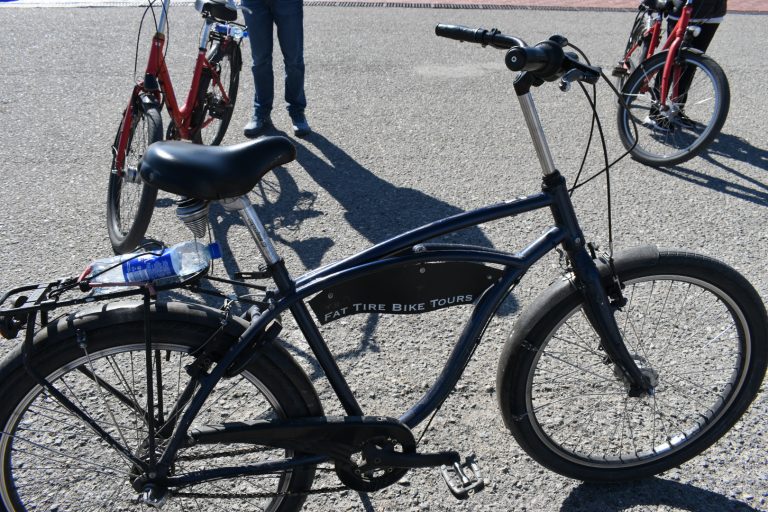 Barcelona is also well serviced by their subway system, which is easy, safe, modern and gets you everywhere you will need to go. It's not particularly expensive and they offer easily purchased tickets for two, three, or four day public transport passes.
Among the must-see attractions over and above the amazing Sagrada Familia is Guell Park. This was originally a failed property development from the 1920s that ultimately became a full blown city park attraction due to features designed by Barcelona's own Antoni Gaudí.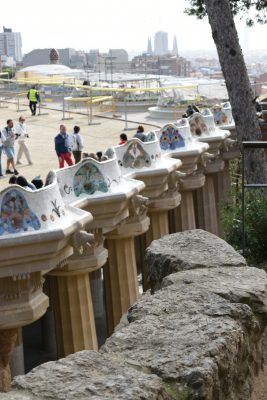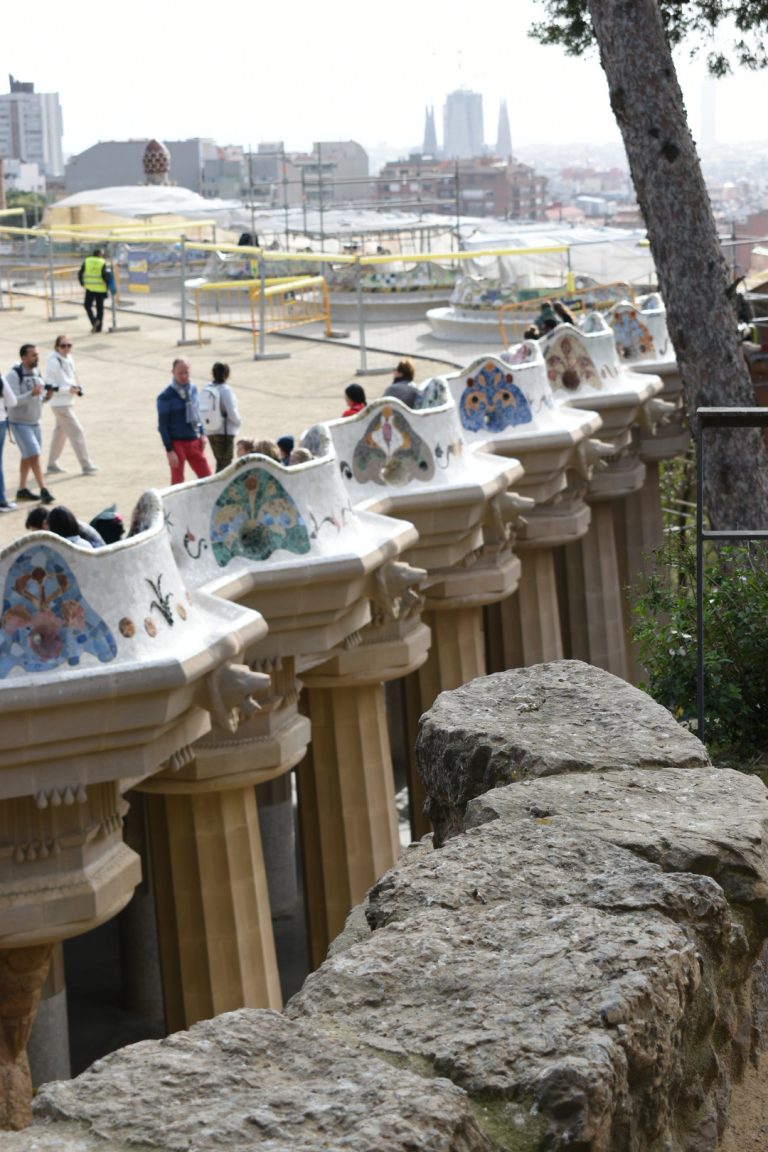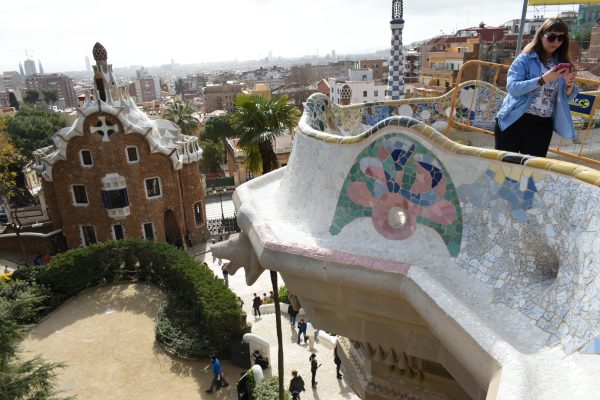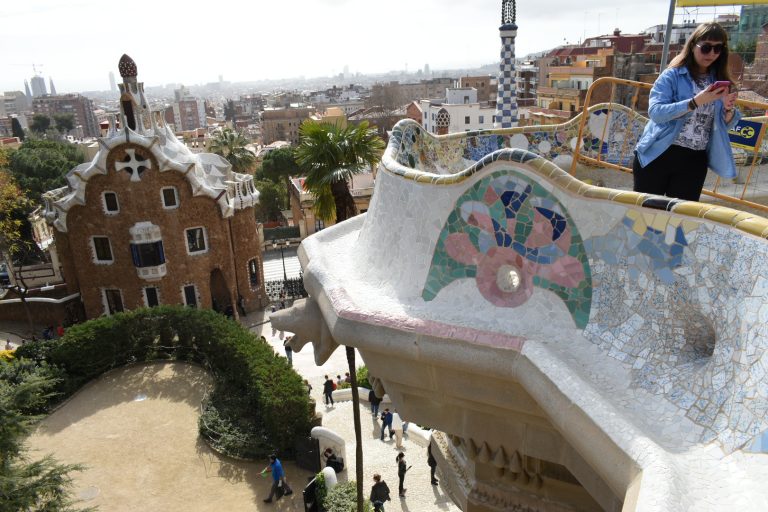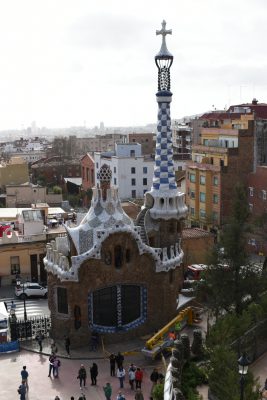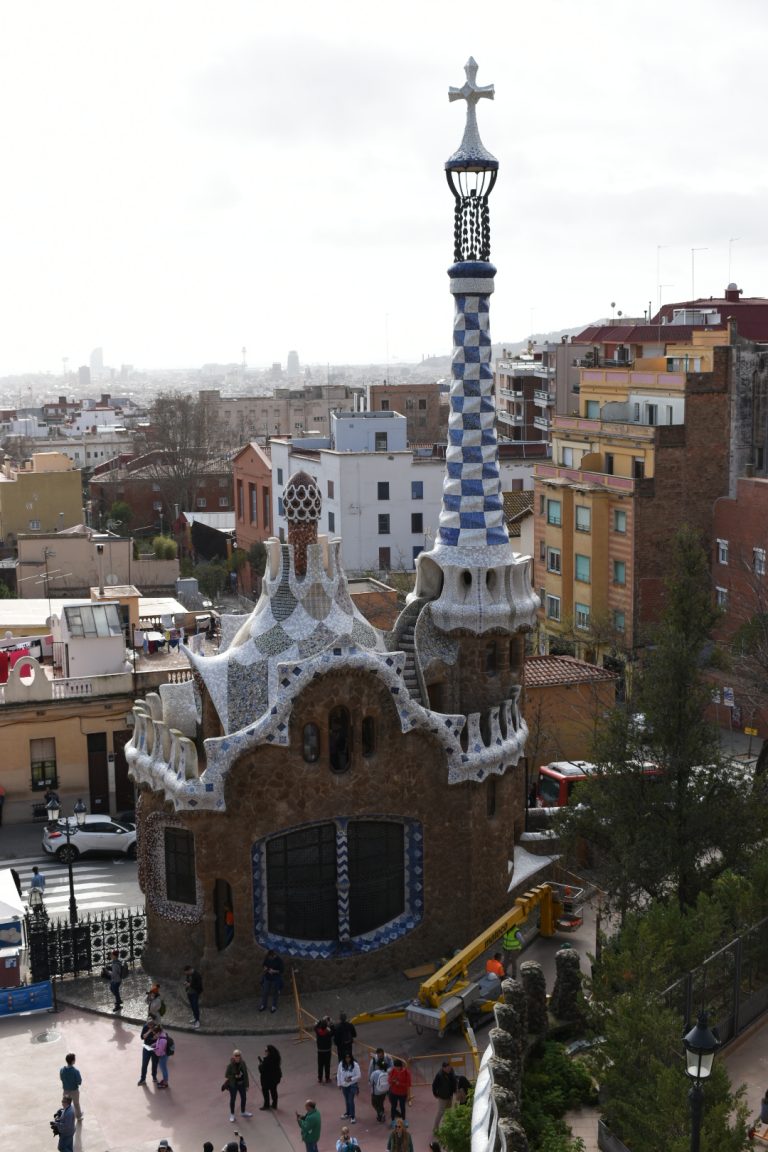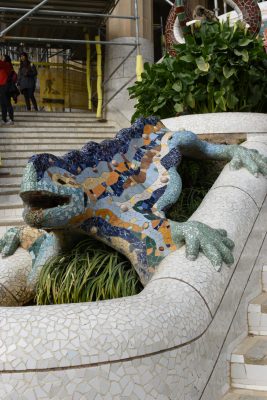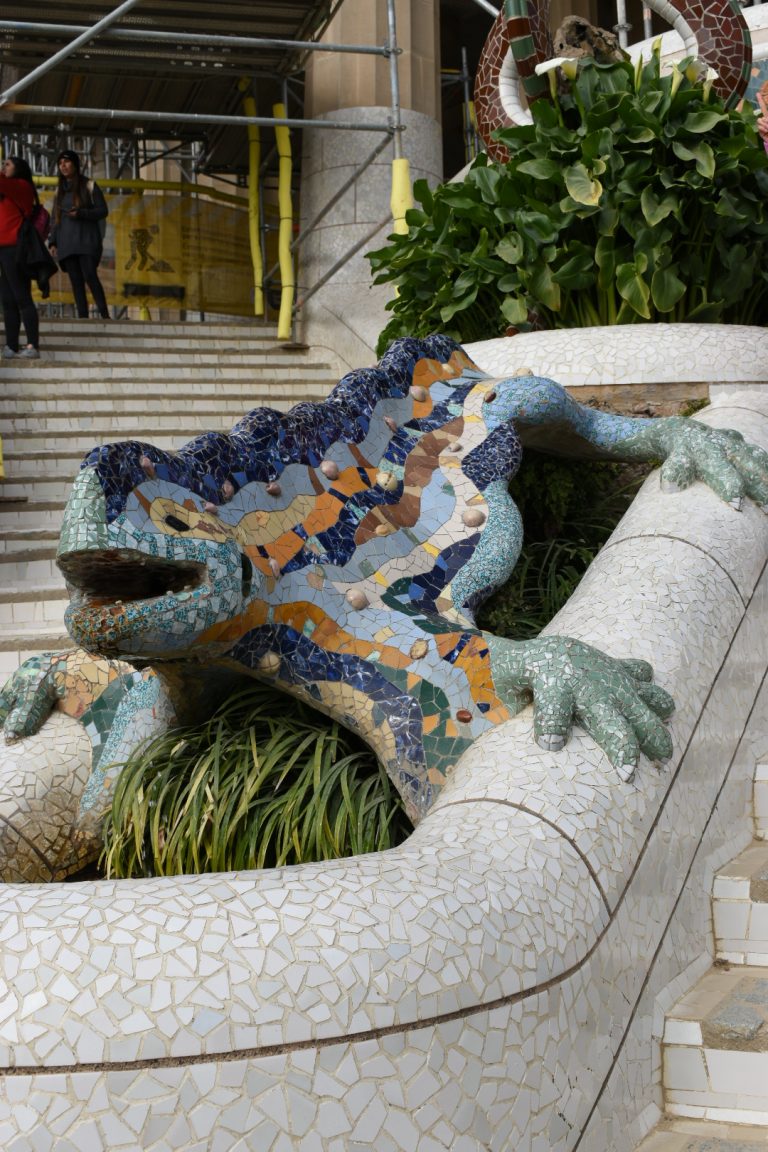 Gaudí is of course the architect responsible for Barcelona's star attraction the Sagrada Familia. It's only taken about 150 years or so to get to where it is now, and supposedly construction is due to be completed in 2026 in time to celebrate the centenary of Gaudí's death.
I have to say, looking at what still has to be achieved it will be really amazing if they can meet this deadline.
Having said that a tour of the Sagrada is an absolute must for any visitor, and is a reason in itself to go to Barcelona. It is a difficult building to get your head around. Typically any other Cathedral, major church or basilica you visit anywhere in the world has a design and symmetry that you can identify with immediately. The Sagrada is a mixture of styles, designs and themes with each of its sides being completely different. As amazing as it is, in some ways it is almost too much – it's almost too OTT.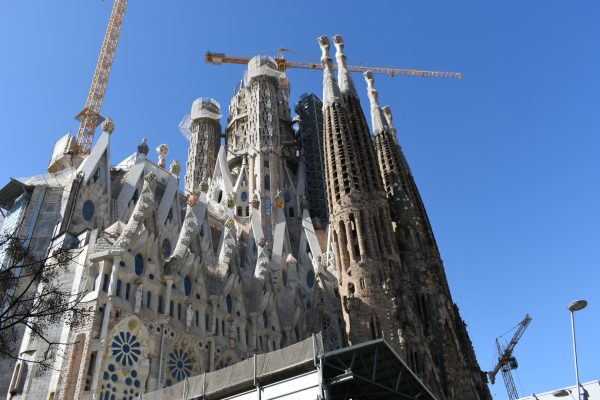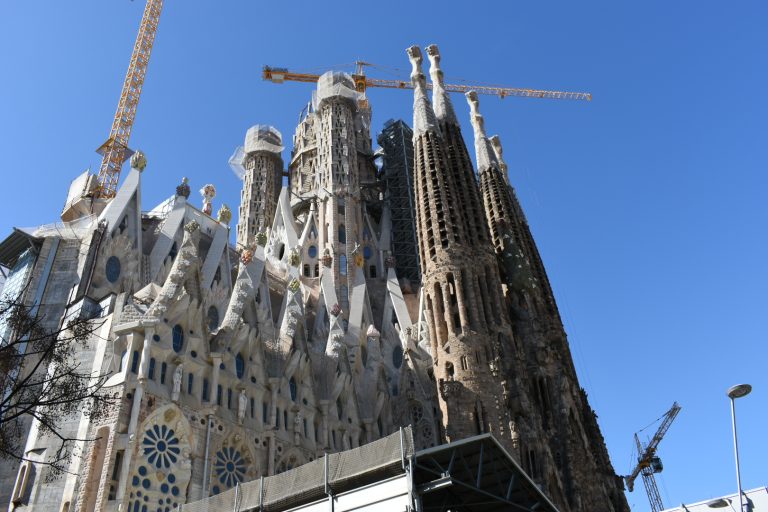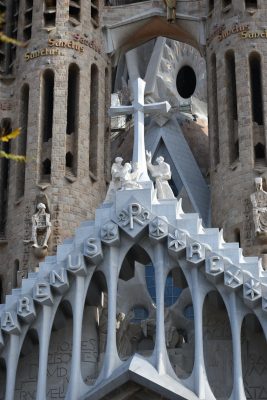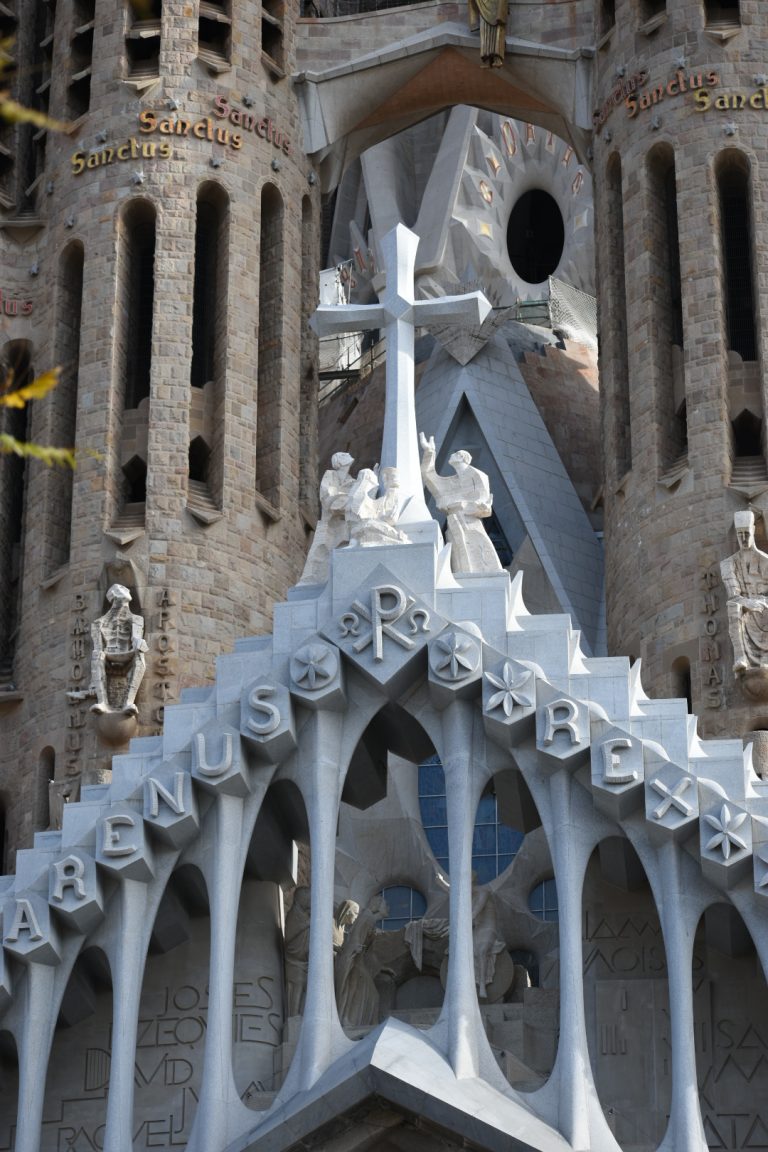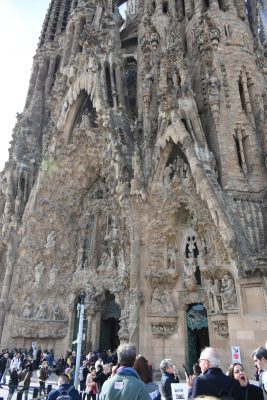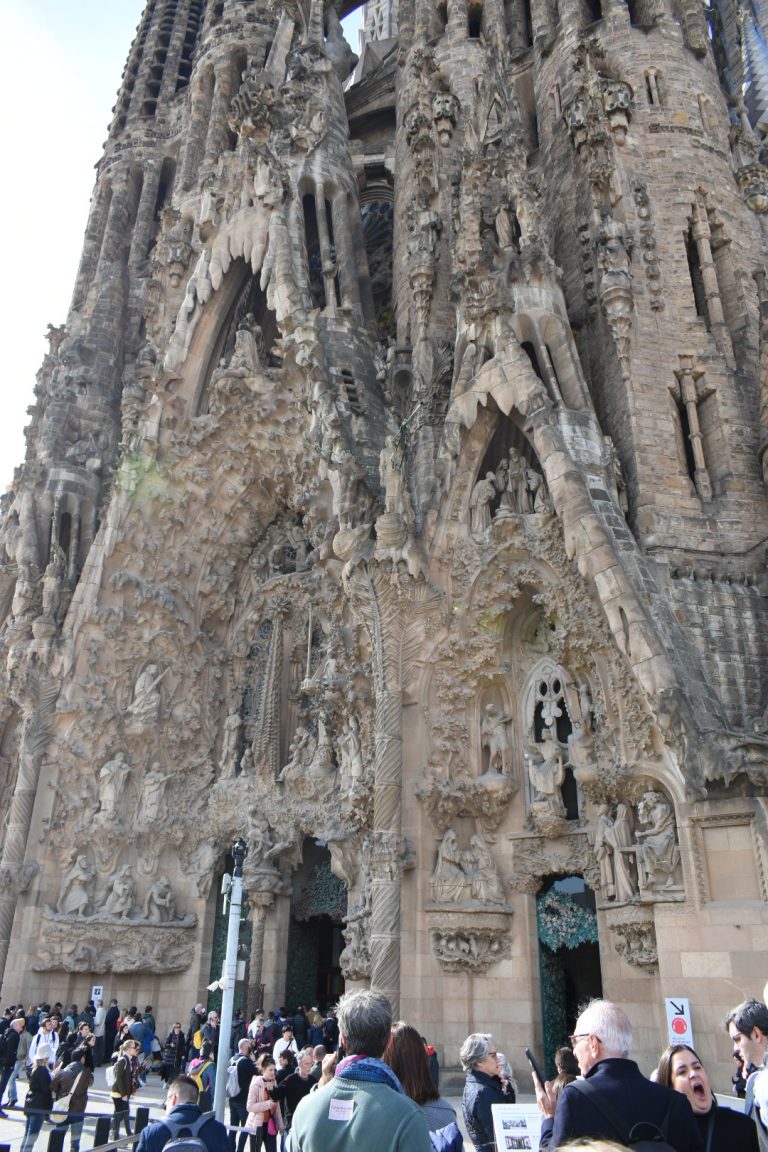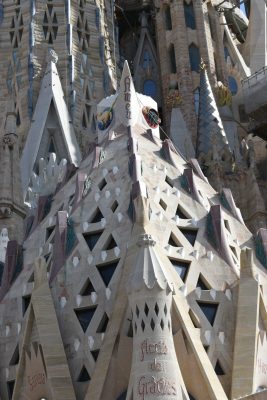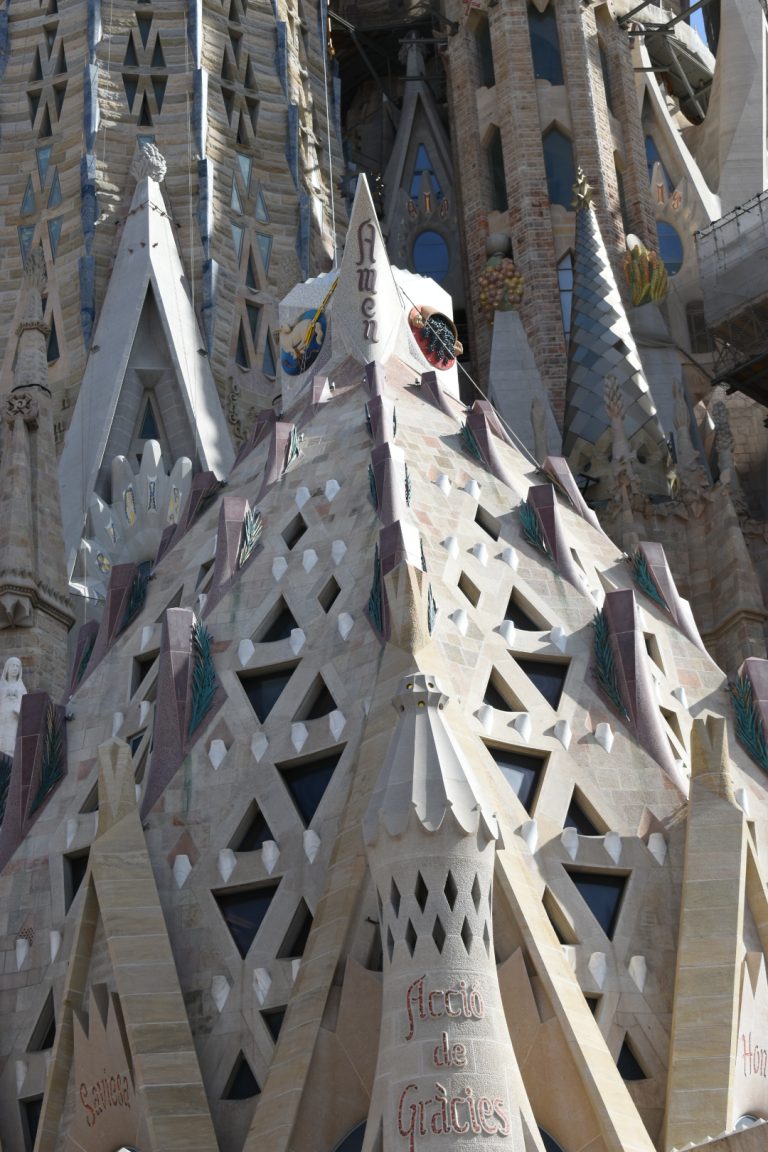 It is the interior, however, that is the most breathtaking. It is nothing like anything else we have seen around the world. On top of the exterior, Gaudí's design allows the maximum amount of light and and colour to enter into the Basilica. It really needs to be seen to appreciated.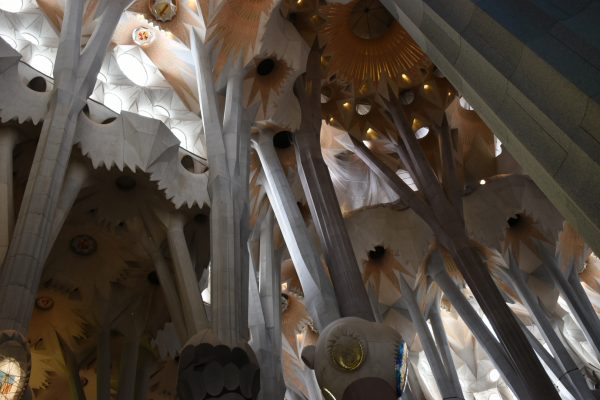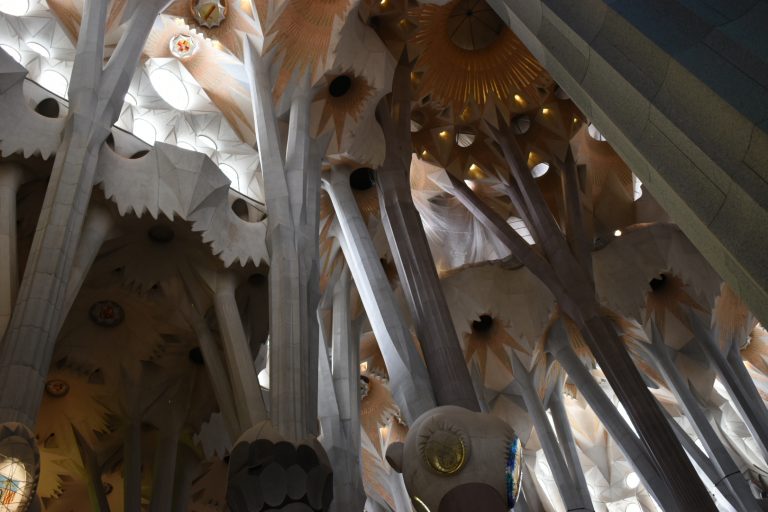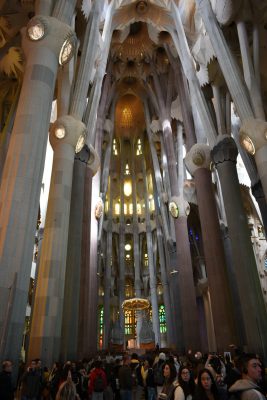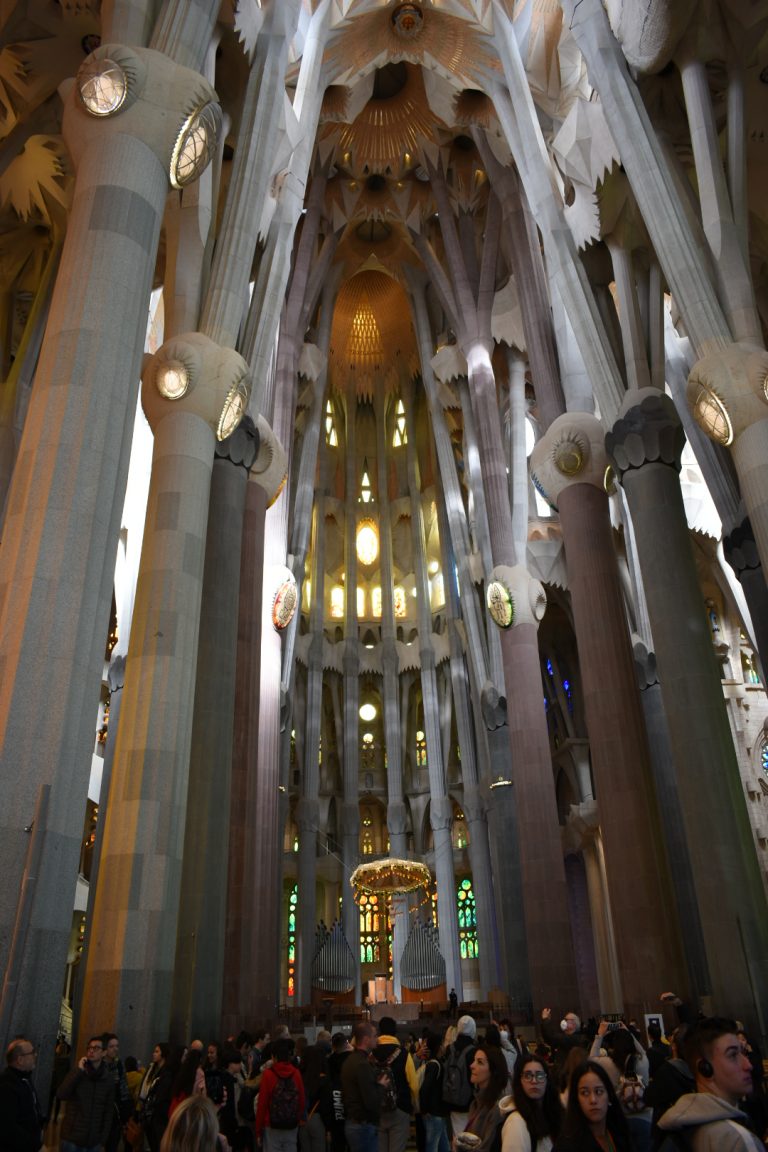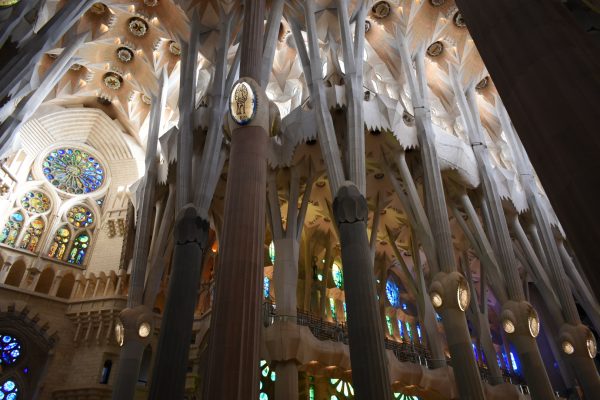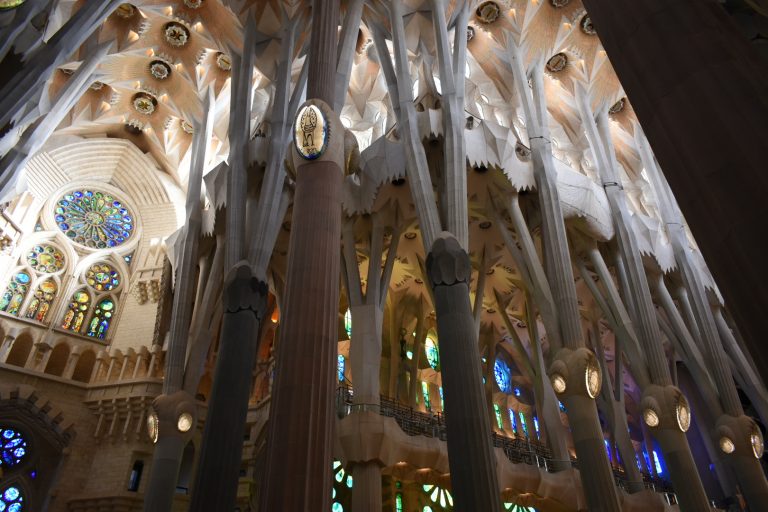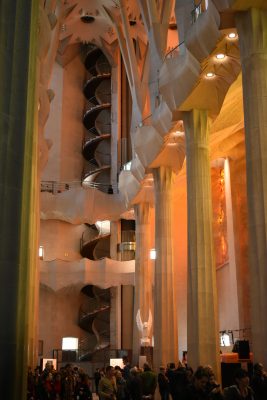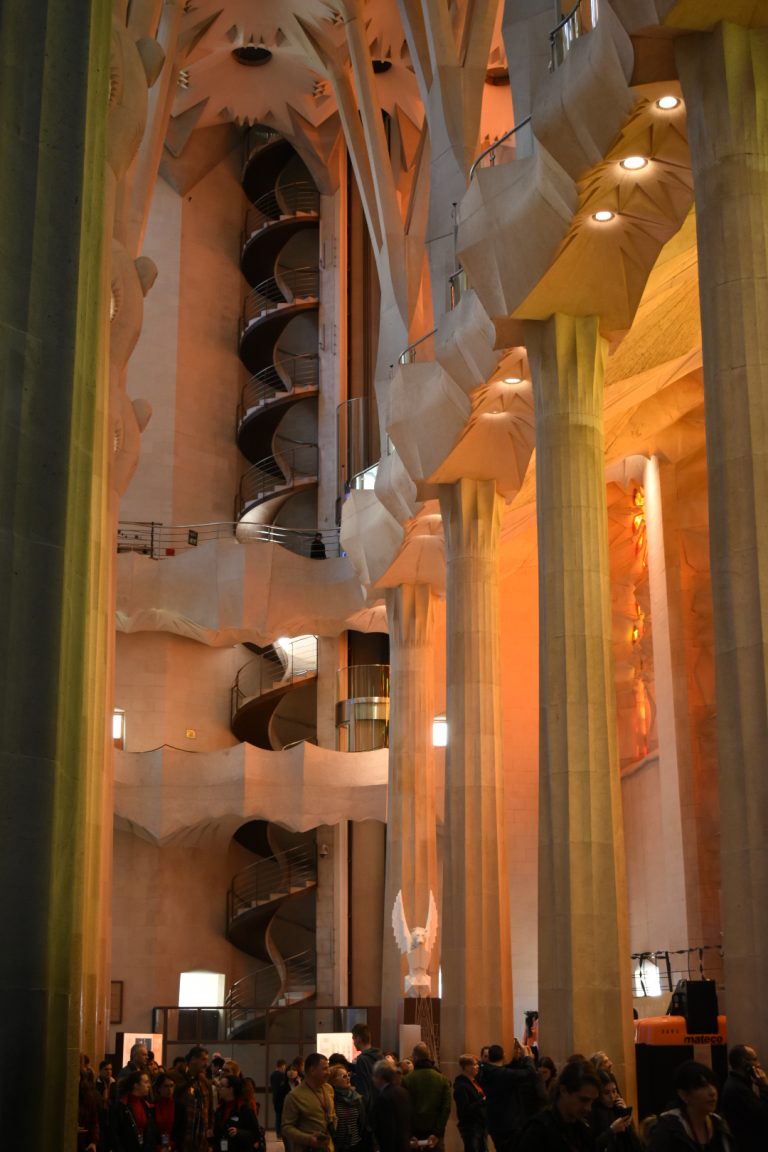 When the building was first started Gaudí estimated it would take 200 years to complete. If he was right that will be around 2080. Time will tell, but regardless this is a definite must-see attraction.
From Barcelona we took a marvel of modern engineering – a high-speed train – to the very southern coast of Spain. It's a great way to travel, much more comfortable than flying, and at 300kph not a lot slower.
So here we are now having done a week's timeshare swap, based in a great resort halfway between Marbella and Gibraltar. It is warm, it's sunny and while we aren't quite swimming in the sea, we have had a couple of swims in the heated pool.
Gibraltar
While here we have visited a couple of local towns along with Gibraltar for a day trip. With Gibraltar we really just wanted to see what the British territory was all about. As you wander thru the town centre, you could be forgiven for thinking that you could be in any typical UK high street. You'll spot all the regular brands, with prices displayed in £s or €s.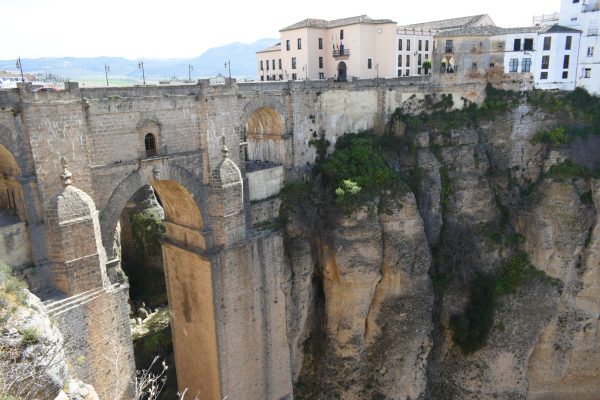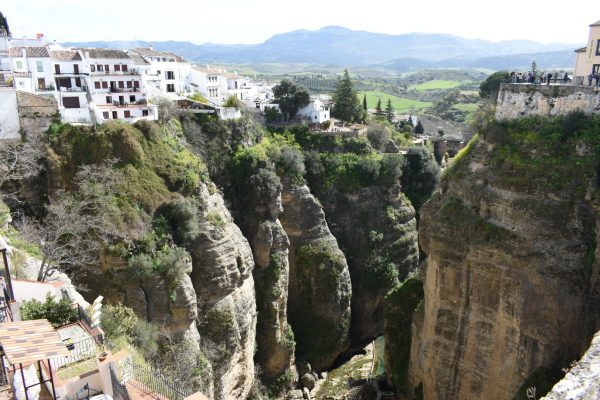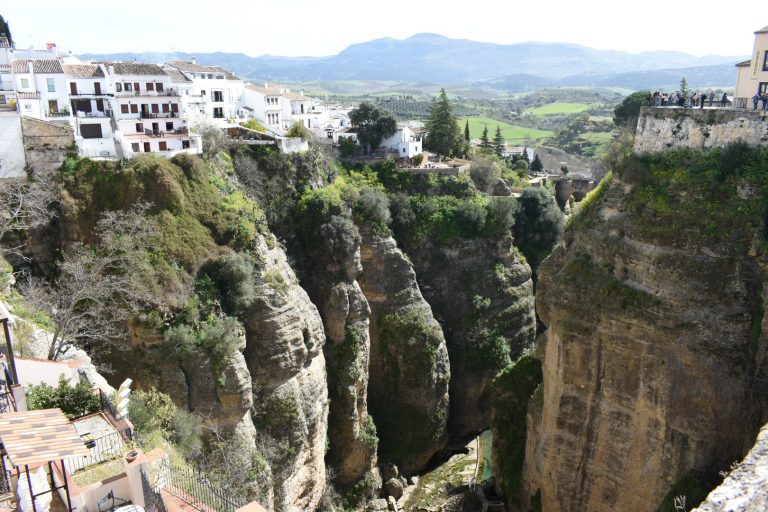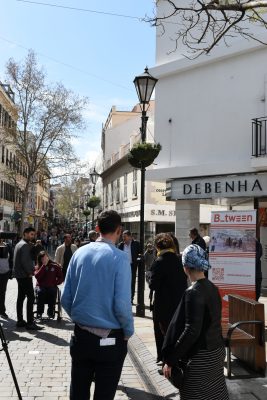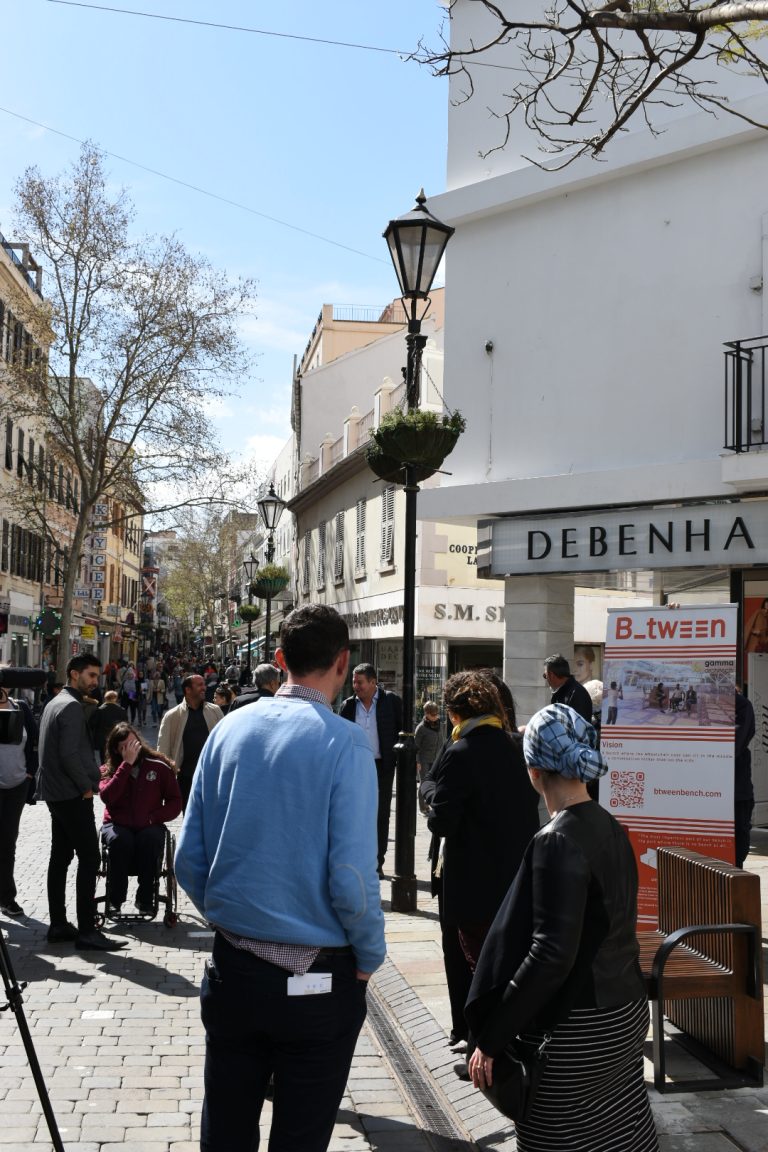 Gibraltar itself has been a strategically important site for generations and the "Rock" has been a heavily fortified site for years, overlooking the entrance to the Mediterranean Sea.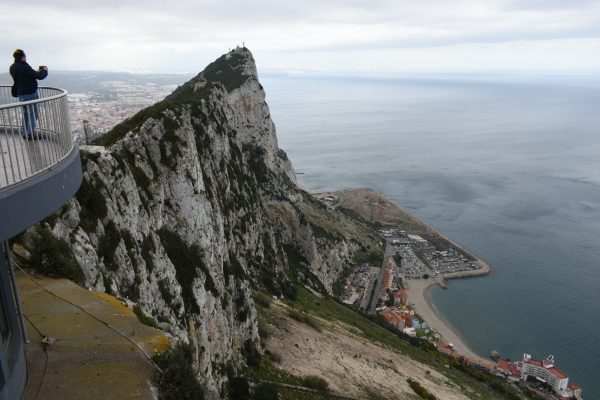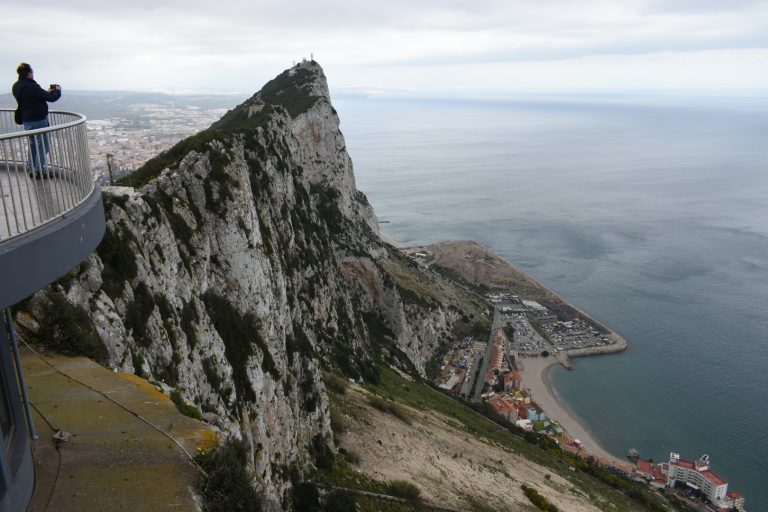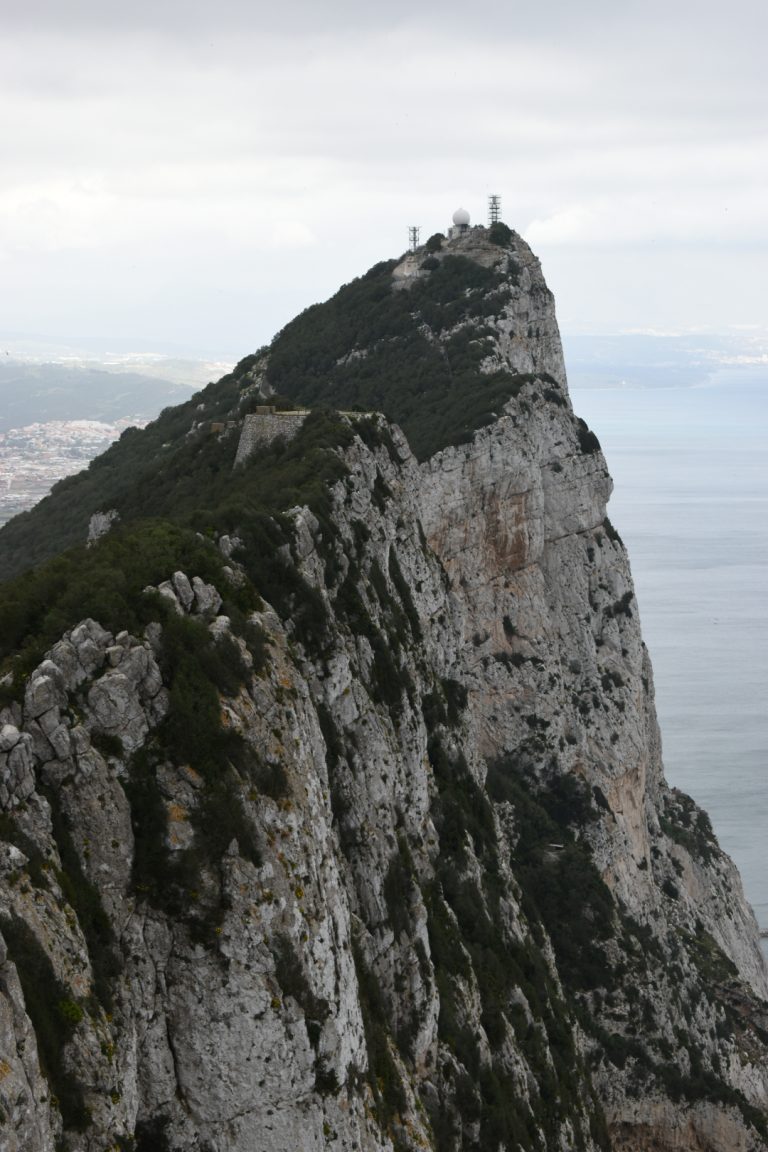 Now a cable car up the "rock" gives you an easy ride to the top and the opportunity to wander around the trails and old fortifications that adorn it.
Crossing into and out of Gibraltar is a slightly different experience. Whether you choose to drive in (definitely not recommended) or walk into Gibraltar, everyone has to cross the Gibraltar International airport runway.  Traffic lights control this process between incoming and outgoing flights. It's certainly different, but I guess Gibraltar doesn't have much in the way of flat ground.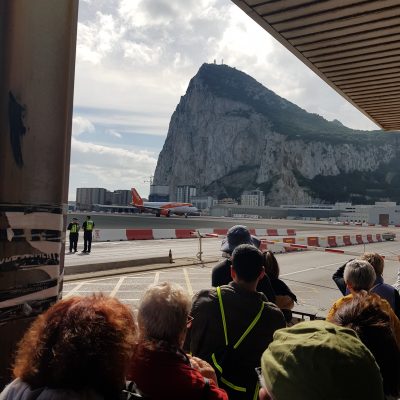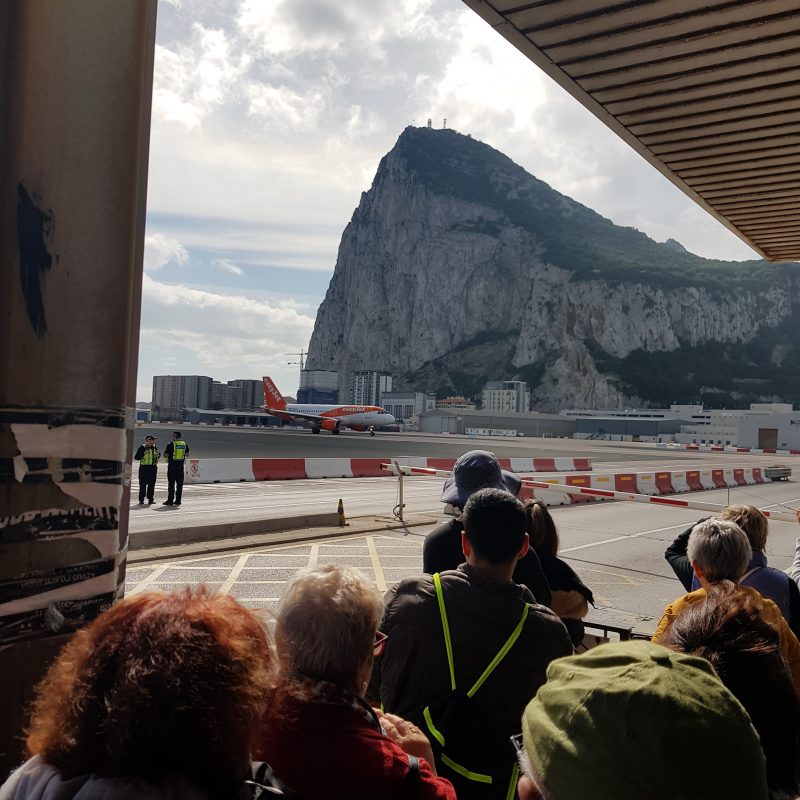 This whole southern area of Spain has for years been a haven for expat UK residents, and the coast is a line up of small Spanish towns, apartment complexes, real estate developments and hotels. They literally run almost seamlessly from one into the other, and looking at the number of cranes on the skyline the developments are still ongoing. Overall this area has been a good spot to chill out for a week or so.
Next stops
In a day or two we head back to the UK and get our motorhome out of storage to hit the road again. Our current plan is to spend a few weeks in France, before making the final decision on whether or not we cross into Italy. We also have a few weeks in Ireland planned, but not before May as it will still be too cold and wet there otherwise. Not much of a plan and very fluid, but with the virus still creating problems globally we have to be mindful of exactly where we decide to visit.
With the current crisis it is very obvious that travel is not necessarily high on everyone's agenda. Reality however suggests there will be some great deals and opportunities available to those who are prepared to still get out there. Travel safe – we weren't made to go into hibernation. 
Come and chat to one of World Travellers Riccarton's travel experts to start planning your next adventure if you're feeling inspired by Jim and Karen's adventures!