From the windy far north of Europe to the sunshine of Hawaii and now the spiritual centre of the Middle East, Jim and Karen have covered a lot of ground on their travels to date. In his latest blog post, Jim recounts the incredible experience of visiting Jerusalem. 
A highlight and must do for us on our travels, was the opportunity to finally visit the Middle East. When we were planning our travels initially we knew we had a couple of "big rocks" so to speak that we wanted to visit/accomplish and it was a case of basing our travels as best we could around them. With the trip to Hawaii happening over the New Years period and us wanting to be in warmer climes over the depth of a European winter, setting up our visit to the Middle East straight after Hawaii was a no brainer.
Why visit Jerusalem?
A visit to Israel and the whole area has always held a huge attraction to us. It's not that we are particularly religious people – in fact I probably more fit into the "lapsed" category. However, I do love the history and culture associated with places we visit. Jerusalem and the Middle East is one area that definitely has history and culture aplenty.
So after leaving the States we flew back to London for one night, the sole purpose being to change our clothes around. Some of our finery we had in Hawaii and the States was unwanted in the Middle East, and some of the things we would need here we had left in London for pick up. So we flew back in for the flying overnighter before hopping on an early morning flight to Tel Aviv. When setting all this up we booked into a hotel out by the airport for ease and convenience as we had an early morning flight. The great thing about Heathrow is the ease with which you can hop on the tube and get in and out of London.
Landing in Tel Aviv we had a speedy and pleasant journey through immigration. It is truly amazing and a little heartening on your travels how many people see a New Zealand passport, and say "ahhh a Kiwi" and then start a conversation. It's even better when that person controls the visa entry stamp and seems to like Kiwis, even trying to do a small haka impersonation. As a result we had the quickest trip through an immigration point that we have had on all our travels so far. Once through it was straight to the airport train station to catch the train to Jerusalem and then it was a short walk to our accommodation in the heart of the city.
Exploring the historical and spiritual city of Jerusalem
Jerusalem is a city that has been inhabited for 5,000 years or so and over its history it has been captured and conquered so many times that all the great founding empires seem to have at one stage owned it, from Egyptians and Persians to Greeks, Romans, Arabs, and the British. Jerusalem has always been seen as the heart of the region and consequently it has huge importance to three of the major religions in the world: Islam, Christianity and Judaism.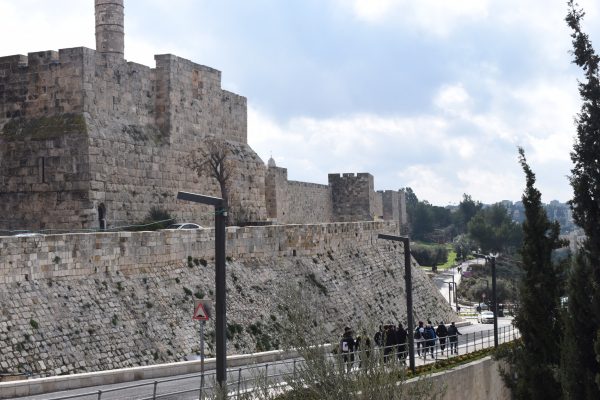 The original walled city has been destroyed and rebuilt so many times through history but each time the rebuild has occurred in substantially the same site. This process has created a city of "layers" as our guide pointed out. Each time the city or an area was rebuilt the lives of the previous inhabitants were buried as life moved on. Hence the archaeological digs that have uncovered the world's history from this time always have the earliest period at the bottom of the dig. In Jerusalem that means some big holes.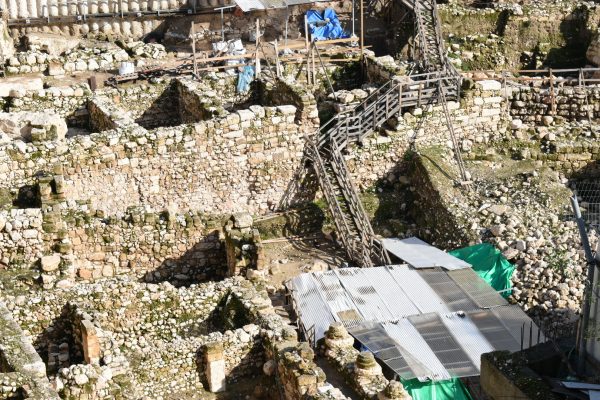 Housed within the walled city now approx. 40,000 people live in one of the four quarters, those being the Jewish, Muslim, Christian and Armenian quarters. The Armenian quarter catches a lot of people by surprise but it turns out Armenia was one of the first countries as a whole to convert to Christianity thousands of years ago, and so pilgrims from early times have established themselves in Jerusalem.
Visiting and walking around inside the city is no problem – it is well used to pilgrims and tourists. In fact as one guide put it to us, there is no such thing as personal space in Jerusalem – just get used to it and don't let the hustle and bustle affect you. We are visiting in the depth of their winter, and while it's not hot hot, it's not bad temperature-wise and at least it's dry. I would imagine this place would be a nightmare in peak season and at the height of their summer.
Things to do in Jerusalem
1. Take a walking tour of the city
We started our time here with a walking tour of the inner city. It is one of the things that seems to work for us helping to give us our bearings and a dose of the history as well. Because you are in a walled city with space at a premium, the roads that exist are narrow and steep and designed for donkeys and man, not for wheeled vehicles.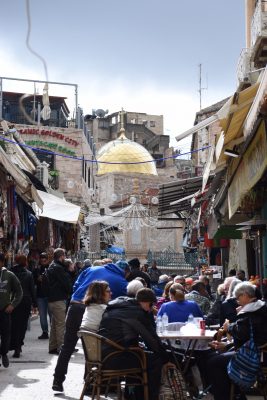 Like a lot of cities in similar situations there are " free walking tours" and we have used a few on our travels. Basically I have to say we haven't had a dud yet, so have no problems tipping at the end of the tour as a means of saying thanks.
2. Visit religious sites
Visiting all the sites that were part of the story of Jesus' life and death here in Jerusalem is powerful. Whether you are religious or not the whole city has a feeling and aura that gets into you. As mentioned it is no trouble to walk round and follow the life of Jesus, but the city is built on the hills so there is some exertion involved.  The Mount of Olives and other sites located outside the walled city are well serviced by taxis but we were happy and enjoyed that exertion even more.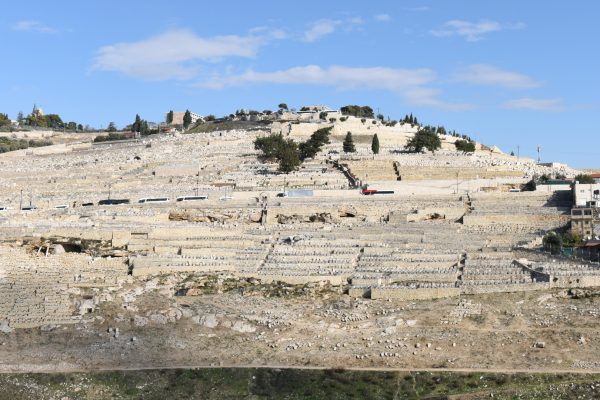 All the sites associated with the life of Jesus have had churches built over them at some stage, and  consequently a lot of the important sites are now well below ground level in the crypts of the churches that protect them. As an example the Church of the Holy Sepulchre covers what was Calvary Hill, where Jesus was crucified and buried, with the tomb being the prime feature.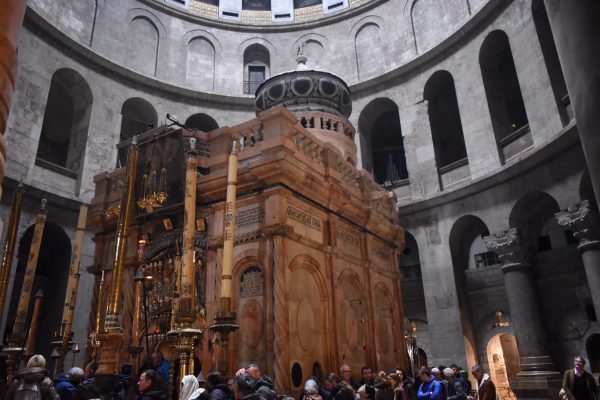 This is one of the more important sites to Christianity, so much so that six of the major Christian religions administer and control everything that happens within the Church.
This Church along with eight other shared sites in Jerusalem and Bethlehem are part of an understanding among the various religious communities that not just one religion owns these holy sites any more, they all take ownership and guardianship of them to protect them for humanity.
This agreement, among other things, provides clauses that nothing can be altered on any of the sites unless all religions agree. Can you imagine that happening? This agreement is exemplified by the "Status Quo ladder" located above the main entry to the Church of the Holy Sepulchre. It was in place in the 1700s when the agreement was reached so it has never been shifted, and will presumably stay there till it rots away.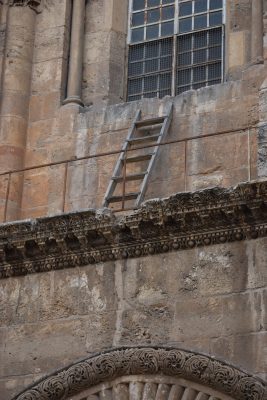 3. The Western Wall
Whereas the Western Wall is of special significance to the Jews,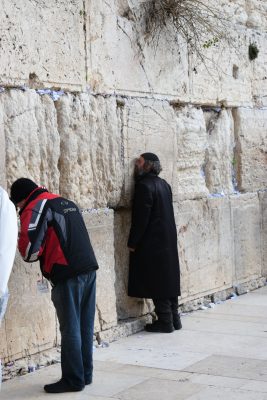 that wall supports the Temple Mount that has the Dome of the Rock on top it which is a major site for Muslims.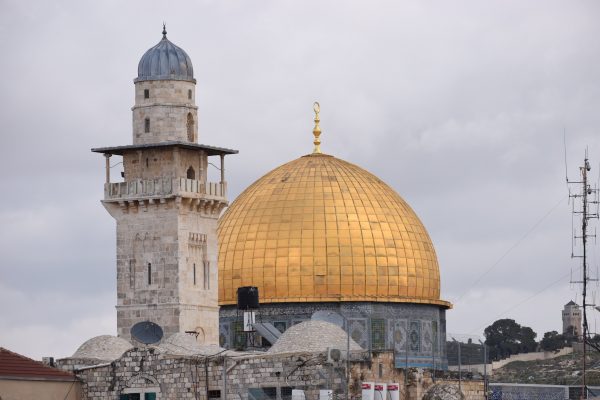 One thing that kept sticking in my mind is the fact that so many religions hold the same sites sacred, plus when you delve into them they have a lot of similarities, yet the fanatics and zealots in all these religions are never prepared to concede any part of what they believe. Hence they all think they are correct and all believe each other has it wrong. The end result of all this has been the religious wars fought down through the ages and still happening today.
4. Yehuda Market
Another place you have to visit is Yehuda Market. It's a Jerusalem staple, packed during the day, teaming at night with all the boutique bars open as well and the food service sites.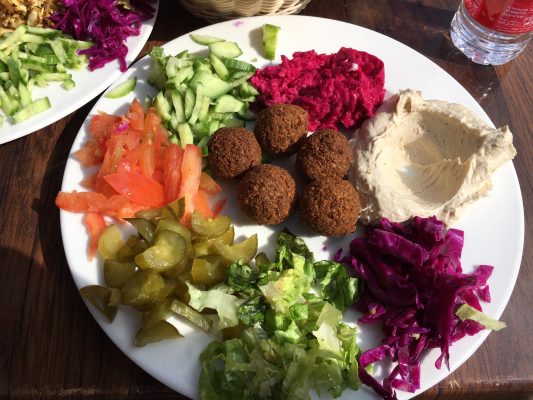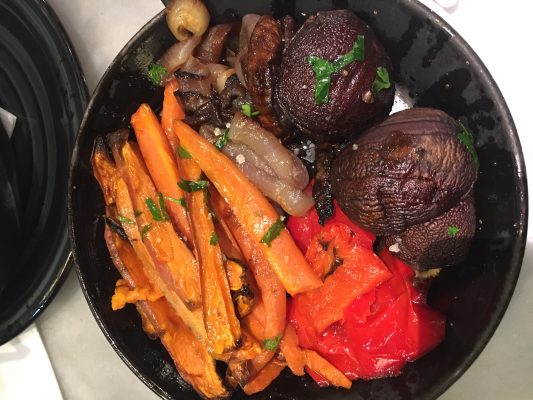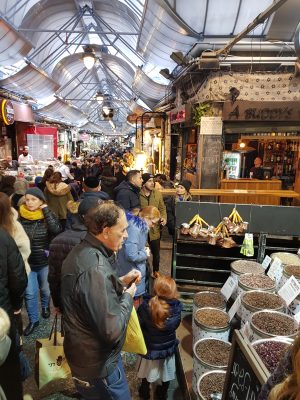 There are as many shoppers at night as during the day, but throw in the noise, music, smells and chatter and the place is a hoot. We were lucky in that it was literally a couple of hundred meters from our accommodation so we visited once or twice.
5. Take a side trip to Bethlehem and the West Bank
While in Jerusalem we ventured out to Bethlehem the birthplace of Jesus, located some 7km outside the city but effectively another world away. Nothing exemplifies all the issues and problems occurring in the Middle East more than visiting Bethlehem. Now let me say here I am not trying to make religious or political statements about our visit, I am just relating how it struck us as closeted Kiwis who have never had to deal with this before.
Bethlehem is located in the Occupied Territory of the West Bank, and so is a Palestinian controlled city. The West Bank and the Gaza Strip are the two Palestinian Territories within what is now the State of Israel.  There is no issue or problem visiting Bethlehem as it is recognised by the Palestinian authorities that it is an important and vital site to maintain for all religions. In fact tourism and pilgrimage to Bethlehem is vital to the Palestinian economy, with Bethlehem seen as the hub for Palestinian tourism. 
There are restrictions in place, however, that make visiting interesting. Israelis in general would not go into Bethlehem and equally Palestinians cannot drive their vehicles in Israel. So getting there in our case involves changing vehicles near the border crossing into vehicles with approved drivers. Hence a visit really is easier if you use a tour company to set up either as a private tour or larger public type tour. As a side line, attempting to drive yourself would be a recipe for disaster. Palestinian drivers are the most balls out I have seen. No one indicates and if you snooze you lose, it is literally every man for themselves and it's compulsory to be talking on a cell phone while doing it.
Once through the border crossing and the Wall (more on that shortly) you can definitely see you are in a different world. Geographically the West Bank is not a big place. It is in fact 1/47th the size of NZ, but five million people are crammed in there, with a further two million in the Gaza Strip. How they survive and what they all do I have no idea but you definitely notice the differences to the Israeli side. To say space is a premium is an understatement.
The tour took us to the Church of the Nativity, which houses and covers the site where Jesus was born and the manger in which he was laid.

It's fair to say it all is rather a rushed visit to see these sites. mainly because there are so many pilgrims queuing up to get a glimpse of the sites and wherever possible to place items on the spots in question so they become blessed and an answer to their prayers. 
Insider tip: If you are planning a visit here avoid doing the big bus tour and pay extra for a private tour. The bus queue line to visit the grotto where Jesus was born was three hours long when we visited, and it's not even peak season. To get round this our private tour guide greased a few palms and we slipped in via the normal "exit" route  for a quick look.

On a side line it was patently obvious that the old "palm greasing" is a time-honoured tradition in this part of the world, and done so smoothly that you really have to be watching to see the transaction happen, I guess  if it didn't occur there would be no point in having a " private tour".
Following our flying visit to the Nativity Church we were taken to the aptly named Milk Grotto, another revered site in a limestone cave. Here, according to legend, while Mary was in hiding from Herod's order to kill all the baby boys, a drop of milk fell on the cave floor while Mary was feeding Jesus and the cave walls all turned white. The site has now taken on huge importance for women with fertility problems, and is a regular pilgrimage site for females in particular.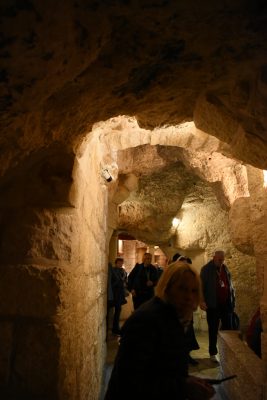 The Franciscan order who oversee this site even have a special museum displaying the letters of thanks from women round the world who have become pregnant after visiting.
Finally on our tour on the way out we have to have a good look at the "Wall" built by the Israelis supposedly to contain the Palestinians within the area, and prevent the terror attacks into Israel proper. Around 800km long this wall hems the Palestinians into their allocated area. I guess the effectiveness has been noted by Donald Trump hence the reason he wants one with Mexico.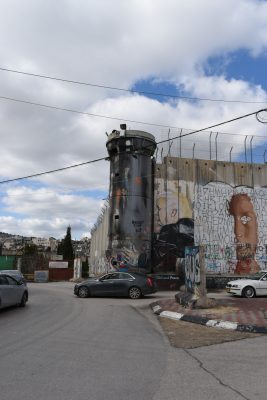 The wall is a sobering structure and the graffiti and artwork on it portrays the hopelessness of the situation for those behind it.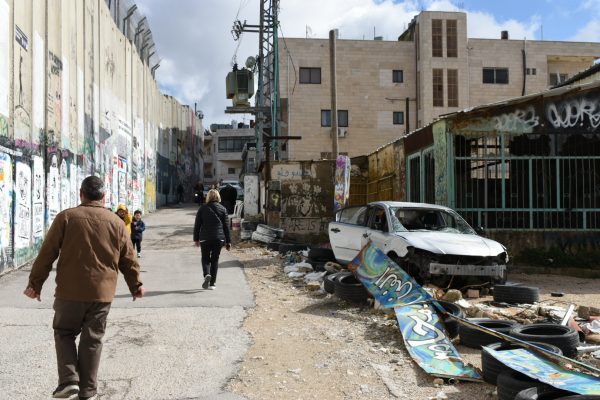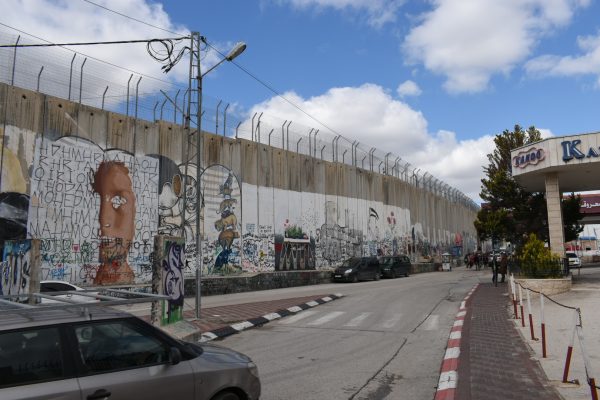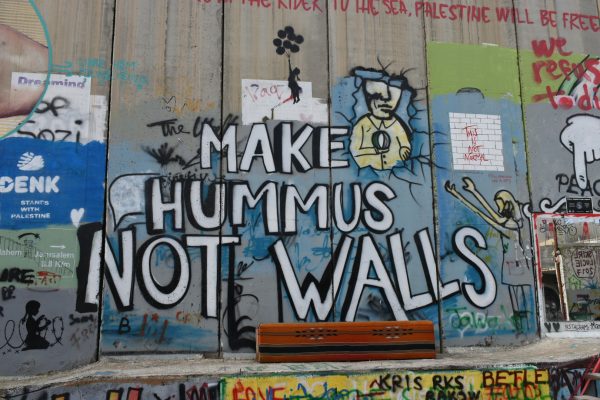 However man's ability to laugh in spite of his situation can still shine through and nothing shows it more than the aptly named "Walled Off Hotel".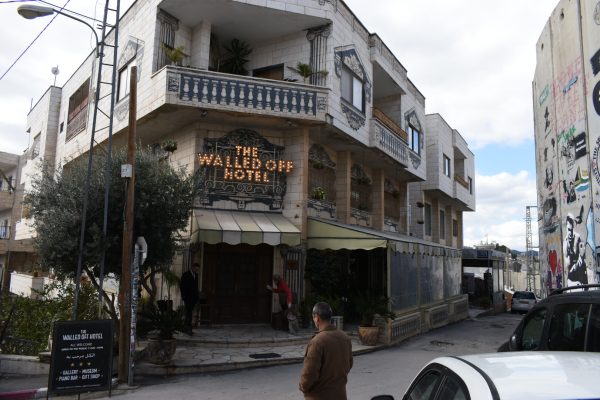 I have to say I really had a good chuckle at this pun. Inside it is a stunning boutique hotel which houses a graphic museum dedicated to the plight of Palestinians in the West Bank. Put this on your list – it really is a  must see attraction in my opinion.
Visiting this area and seeing the conditions reminded me of our visit to the Berlin Wall in 1979. The hope really is that one day this wall will also come down just like it did in Berlin in 1990.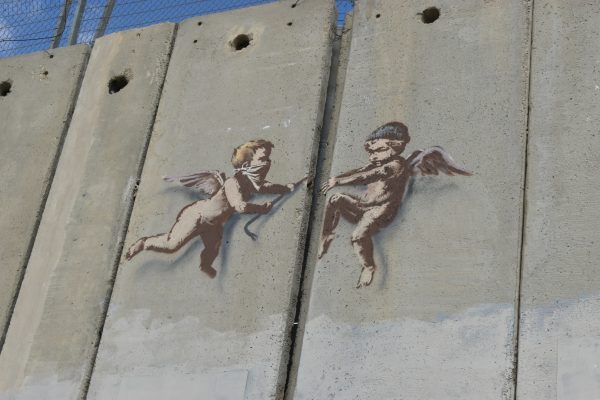 6. Take a side trip to Masada
On our last full day in Jerusalem we ventured further afield, once again on a tour to visit the historic site of Masada. Now a protected national park, Masada has a special place in Israel's psyche, originally built more than 2,200 years ago by the Romans atop a 450m high flat topped mountain as part of a fortress chain.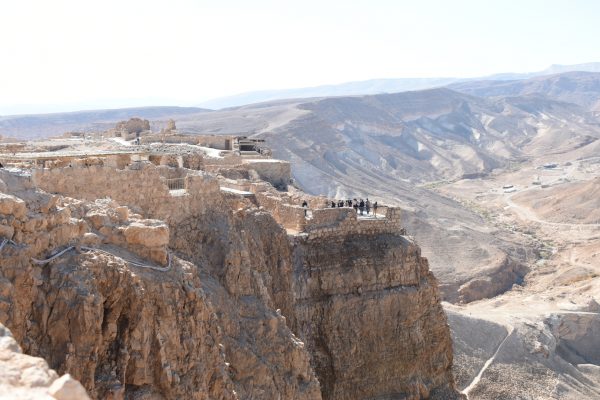 Masada became a favourite of Herod and he built a winter Palace up there. Access was via what they called a snake pass up the steep sides, but Herod had built a magnificent three level palace that included Roman baths and a swimming pool. Believe me you have to see where it is to appreciate what they achieved back then.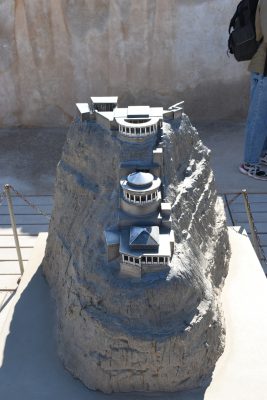 On Herod's death in 4 BCE the place converted to a full time Military fortress. Around 70 CE during a Jewish uprising a group of 900 Jewish Zealots somehow captured the fortress from the Romans killing the garrison of solders up there at the time. Romans then besieged the fortress with over 9,000 troops for over a year before finally taking the site back. They did this by first building a wall and seven smaller fortresses to encircle the site so no one could escape,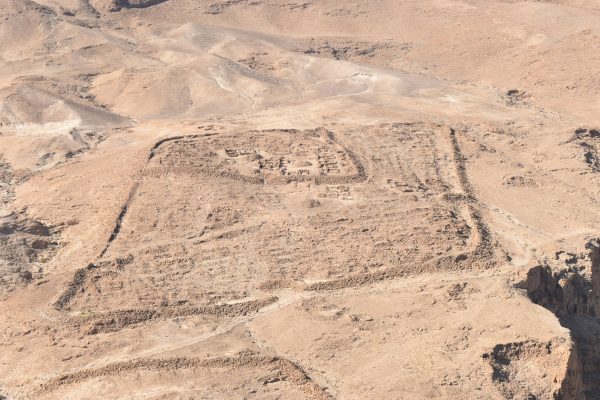 Then they constructed a large ramp so they could get their siege engines and ballistas (catapults) within range of the walls.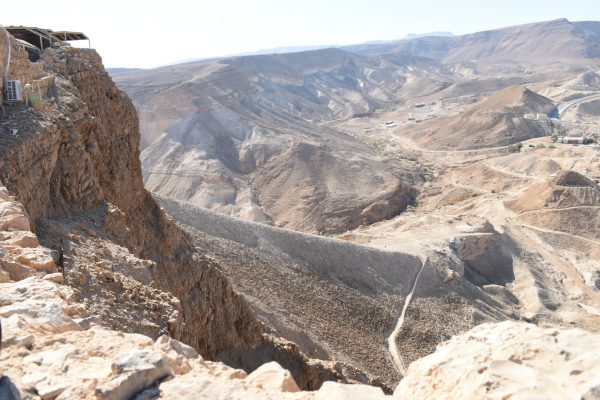 Eventually they breached a wall and when they reentered the fortress they found all the Jews had killed themselves rather that be taken into slavery. Nowadays Israeli soldiers swear an oath at their training graduation that "Masada will never fall again."
The ruins a top the mountain are much more accessible now after they built a gondola up to the top making it easier for everyone to visit. Definitely put Masada on your list.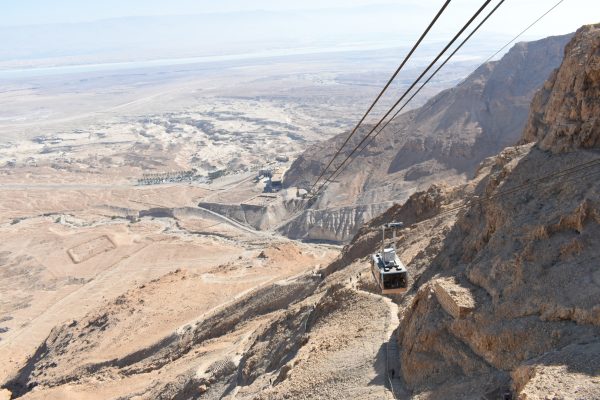 Insider tip: Make sure you visit Masada on its own. We had a combined Masada/Dead Sea tour and it's too quick a visit in my opinion to do both in one day. I personally would have liked more time at Masada.
7. Float in the Dead Sea
On the way back the tour stops off for the obligatory swim or rather float in the Dead Sea. This is another must do when visiting this area, after all everyone will ask you that question when you get home, so it has to be done. Plus it is rather cool.


To sum it all up our first week in Israel has been everything I dreamt of. We have loved what we have seen so far and it's not over yet. There have been no concerns regarding our safety or the area. Interestingly when we first arrived in Jerusalem we were surprised at the heavy police and army presence everywhere, but we eventually realised our first few days coincided with a global conference on anti semitism, attended by Prince Charles, the French President Emmanuel Macron, along with a host of other dignitaries, so it was no wonder. Having said all that there is one rather unusual and disturbing sight you see regularly, which is people and mostly young-looking people in civvies, walking round with machine guns on their shoulders. It turns out when we asked one of them, they are all off duty solders doing their compulsory national service, and they are not allowed to leave their machine guns unattended, even at home. So they have to carry them round with them at all times when on leave, even if on a date.
Where to next?
As I write this we are in the very south of Israel by the Red Sea in the resort town of Eilat. We will use this as a base to get over our flu, and see the bottom part of the country before crossing through into Jordan. Harking back to my comment at the start about people loving and recognising a Kiwi, we stopped into the tourist info office here in Eilat today, and while talking with the lady there she said to us: "You have the white stuff in New Zealand don't you?" It took us a few moments and asking again to get what she meant about white stuff as her English was obviously different. Eventually we realised she meant snow.
Turns out she has never seen snow, lived all her life down here in the southern part of the desert, and in fact when it rains here the three times a year that it might happen, the population all run outside to stand in it because it's so unusual.
Loving what we have seen of Israel so far, and we will write more on the north later in the month when we get there. Just hoping there might be slightly fewer wild cats floating around up North, I have never seen so many cats around as we do here in Israel. There are virtually no roaming dogs but literally dozens and dozens of wild cats.
In three days we cross the border into Jordan and head to Petra and Amman. Looking forward to that so stay tuned.
Plan your very own trip to Israel with a World Travellers Riccarton expert travel consultant. Come in for a chat or reach out to one of our expert consultants.